Interaction of the New Inhibitor Paxlovid (PF-07321332) and Ivermectin With the Monomer of the Main Protease SARS-CoV-2: A Volumetric Study Based on Molecular Dynamics, Elastic Networks, Classical Thermodynamics and SPT
In Silico
study comparing ivermectin and paxlovid M
pro
interaction, showing similar interaction for paxlovid and the ivermectin B1a homologue, a different mechanism for ivermectin B1b, and interaction at different sites for paxlovid.
58 preclinical studies support the efficacy of ivermectin for COVID-19:
24 In Silico studies
Alvarado, Aminpour, Bello, Chellasamy, Choudhury, Eweas, Francés-Monerris, Francés-Monerris (B), González-Paz, González-Paz (B), Kern, Lehrer, Muthusamy, Parvez, Qureshi, Rana, Saha, Schöning, Suravajhala, Swargiary, Udofia, Umar, Vottero, Zhao
21 In Vitro studies
Boschi, Caly, Croci, De Forni, Delandre, García-Aguilar, Jeffreys, Jitobaom, Jitobaom (B), Li, Liu, Liu (B), Mody, Mountain Valley MD, Munson, Saha (B), Segatori, Surnar, Yesilbag, Zhang, Zheng
Ivermectin, better known for antiparasitic activity, is a broad spectrum antiviral with activity against many viruses including H7N7
Götz
, Dengue
Tay, Wagstaff
, HIV-1
Wagstaff
, Simian virus 40
Wagstaff (B)
, Zika
Barrows, Yang
, West Nile
Yang
, Yellow Fever
Mastrangelo, Varghese
, Japanese encephalitis
Mastrangelo
, Chikungunya
Varghese
, Semliki Forest virus
Varghese
, Human papillomavirus
Li
, Epstein-Barr
Li
, BK Polyomavirus
Bennett
, and Sindbis virus
Varghese
.
Ivermectin is an inhibitor of importin-α/β-dependent nuclear import of viral proteins
Götz, Kosyna, Wagstaff, Wagstaff (B)
, a SARS-CoV-2 3CL
pro
inhibitor
Mody
, binds to glycan sites on the SARS-CoV-2 spike protein preventing interaction with blood and epithelial cells and inhibiting hemagglutination
Boschi
, exhibits dose-dependent inhibition of lung injury
Abd-Elmawla, Ma
, may inhibit SARS-CoV-2 induced formation of fibrin clots resistant to degradation
Vottero
, shows protection against inflammation, cytokine storm, and mortality in an LPS mouse model of severe infection/inflammation that shares key pathological features of severe COVID-19
DiNicolantonio, Zhang
, may be beneficial in severe COVID-19 by binding IGF1 to inhibit the promotion of inflammation, fibrosis, and cell proliferation that leads to lung damage
Zhao
, may minimize SARS-CoV-2 induced cardiac damage
Liu, Liu (B)
, increases Bifidobacterium which plays a key role in the immune system
Hazan
, has immunomodulatory
Munson
and anti-inflammatory
DiNicolantonio (B), Yan
properties, and has an extensive and very positive safety profile
Descotes
.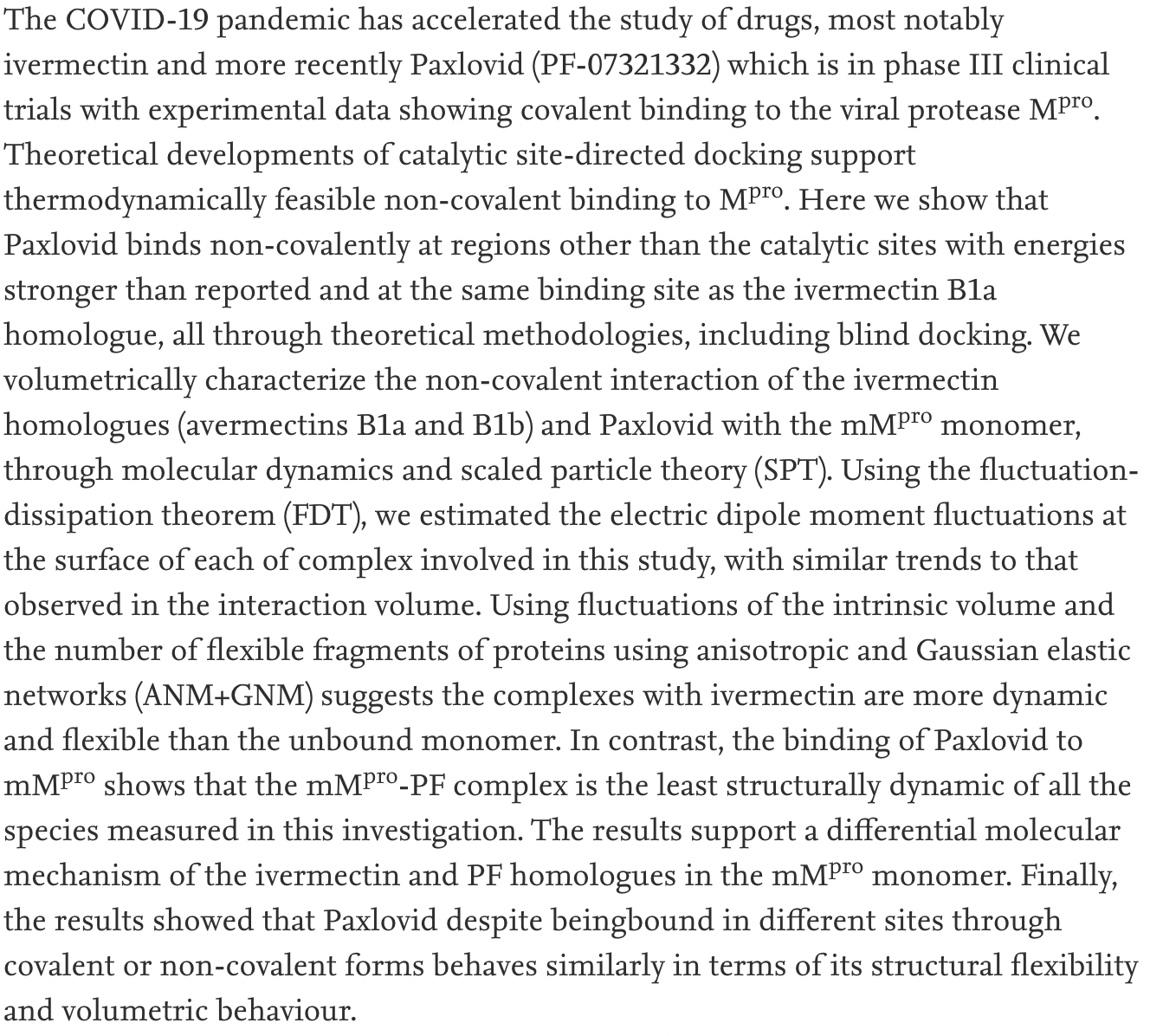 Alvarado et al., 14 May 2022, peer-reviewed, 12 authors.
Contact: alvaradoysaias@gmail.com, lgonzalezpaz@gmail.com.
In Silico studies are an important part of preclinical research, however results may be very different in vivo.
Interaction of the new inhibitor paxlovid (PF-07321332) and ivermectin with the monomer of the main protease SARS-CoV-2: A volumetric study based on molecular dynamics, elastic networks, classical thermodynamics and SPT
Computational Biology and Chemistry, doi:10.1016/j.compbiolchem.2022.107692
This is a PDF file of an article that has undergone enhancements after acceptance, such as the addition of a cover page and metadata, and formatting for readability, but it is not yet the definitive version of record. This version will undergo additional copyediting, typesetting and review before it is published in its final form, but we are providing this version to give early visibility of the article. Please note that, during the production process, errors may be discovered which could affect the content, and all legal disclaimers that apply to the journal pertain.
Under this same study strategy, it was found that PF-07321332 can also covalently bind to another region of the monomer (a drug multi-site for M pro ), but both complexes have similar structural flexibility and volumetric properties. Finally, we consider that this type of study can help to understand the mechanism by which a ligand can block the homodimerization of this important monomer to form the dimeric protease dM pro and in turn help in studies of activity-structure relationships for the design of new drugs. Declaration of competing interest. The authors declare that they have no known competing financial interests or personal relationships that could have appeared to influence the work reported in this paper. Highlights
References
Alvarado, Rodríguez-Lugo, Vera-Villalobos, Ferrer-Amado, Ferrebuz et al., Non-intrinsic contribution to the limiting partial molar volume of globular proteins in water: a study comparative between a new refractometric strategy and densitometric classical approach, Biointerface Res. Appl. Chem
Carvallo, Hirsch, Ivermectin, aspirin, dexametasone and enoxaparin as treatment for COVID 19, J Am Med Assoc