Red blood cell-hitchhiking mediated pulmonary delivery of ivermectin: Effects of nanoparticle properties
Red blood cell-hitchhiking mediated pulmonary delivery of ivermectin: Effects of nanoparticle properties
,
International Journal of Pharmaceutics, doi:10.1016/j.ijpharm.2022.121719
,
In Vitro and mouse study proposing a method for improving ivermectin pharmacokinetics and bioavailability using delivery via red blood cells.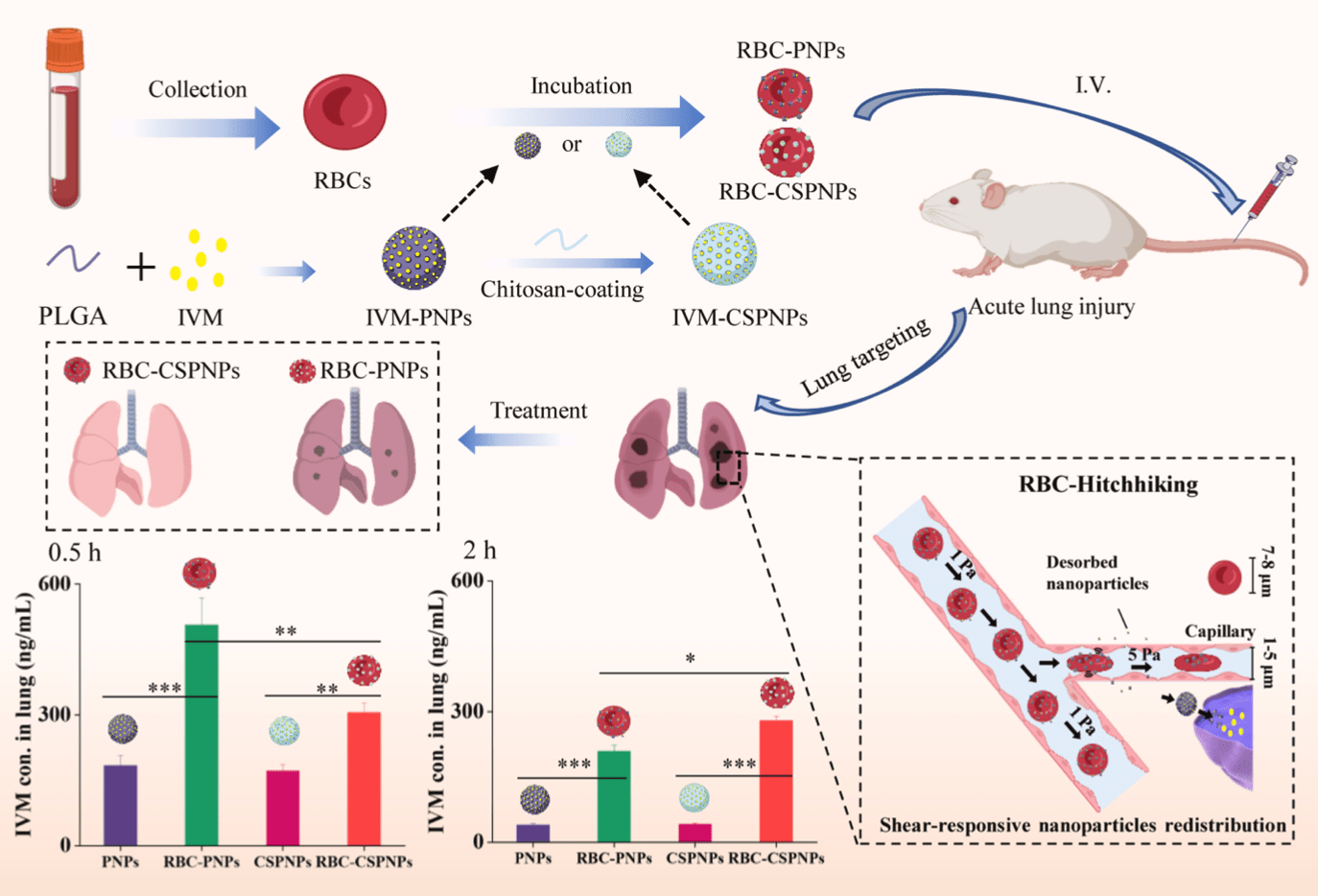 Zheng et al., 31 May 2022, China, peer-reviewed, 13 authors.
Contact: usnitro2004@126.com, gaocs@bmi.ac.cn.
Abstract: International Journal of Pharmaceutics 619 (2022) 121719 Contents lists available at ScienceDirect International Journal of Pharmaceutics journal homepage: www.elsevier.com/locate/ijpharm Red blood cell-hitchhiking mediated pulmonary delivery of ivermectin: Effects of nanoparticle properties Jinpeng Zheng a, Caihong Lu a, b, Yaning Ding a, c, Jinbang Zhang a, d, Fangyun Tan a, b, Jingzhou Liu a, Guobao Yang a, Yuli Wang a, Zhiping Li a, Meiyan Yang a, Yang Yang a, Wei Gong a, *, Chunsheng Gao a, * a State Key Laboratory of Toxicology and Medical Countermeasures, Beijing Institute of Pharmacology and Toxicology, Beijing 100850, PR China School of Pharmacy, Guangxi Medical University, Nanning 530021, PR China School of Pharmaceutical Engineering, Shenyang Pharmaceutical University, Benxi 117004, PR China d College of Pharmacy, Henan University, Kaifeng 475000, PR China b c A R T I C L E I N F O A B S T R A C T Keywords: Ivermectin PLGA nanoparticle chitosan RBC-hitchhiking acute lung injury Recent studies have demonstrated that ivermectin (IVM) exhibits antiviral activity against severe acute respi­ ratory syndrome coronavirus 2 (SARS-CoV-2), the causative virus of coronavirus disease 2019 (COVID-19). However, the repurposing of IVM for the treatment of COVID-19 has presented challenges primarily due to the low IVM plasma concentration after oral administration, which was well below IC50. Here, a red blood cell (RBC)-hitchhiking strategy was used for the targeted delivery of IVM-loaded nanoparticles (NPs) to the lung. IVM-loaded poly (lactic-co-glycolic acid) (PLGA) NPs (IVM-PNPs) and chitosan-coating IVM-PNPs (IVM-CSPNPs) were prepared and adsorbed onto RBCs. Both RBC-hitchhiked IVM-PNPs and IVM-CSPNPs could significantly enhance IVM delivery to lungs, improve IVM accumulation in lung tissue, inhibit the inflammatory responses and finally significantly alleviate the progression of acute lung injury. Specifically, the redistribution and circulation effects were related to the properties of NPs. RBC-hitchhiked cationic IVM-CSPNPs showed a longer circulation time, slower accumulation and elimination rates, and higher anti-inflammatory activities than RBC-hitchhiked anionic IVM-PNPs. Therefore, RBC-hitchhiking provides an alternative strategy to improve IVM pharmacoki­ netics and bioavailability for repurposing of IVM to treat COVID-19. Furthermore, according to different redistribution effects of different NPs, RBC-hitchhiked NPs may achieve various accumulation rates and circu­ lation times for different requirements of drug delivery.
Please send us corrections, updates, or comments. Vaccines and treatments are complementary. All practical, effective, and safe means should be used based on risk/benefit analysis. No treatment, vaccine, or intervention is 100% available and effective for all current and future variants. We do not provide medical advice. Before taking any medication, consult a qualified physician who can provide personalized advice and details of risks and benefits based on your medical history and situation.
FLCCC
and
WCH
provide treatment protocols.
Submit