In Silico
study reporting that ivermectin had the best affinity towards all targeted proteins and showed efficient binding to non-structural proteins.
57 preclinical studies support the efficacy of ivermectin for COVID-19:
24 In Silico studies
Alvarado, Aminpour, Bello, Chellasamy, Choudhury, Eweas, Francés-Monerris, Francés-Monerris (B), González-Paz, González-Paz (B), Kern, Lehrer, Muthusamy, Parvez, Qureshi, Rana, Saha, Schöning, Suravajhala, Swargiary, Udofia, Umar, Vottero, Zhao
20 In Vitro studies
Boschi, Caly, Croci, De Forni, Delandre, Jeffreys, Jitobaom, Jitobaom (B), Li, Liu, Liu (B), Mody, Mountain Valley MD, Munson, Saha (B), Segatori, Surnar, Yesilbag, Zhang, Zheng
Ivermectin, better known for antiparasitic activity, is a broad spectrum antiviral with activity against many viruses including H7N7
Götz
, Dengue
Tay, Wagstaff
, HIV-1
Wagstaff
, Simian virus 40
Wagstaff (B)
, Zika
Barrows, Yang
, West Nile
Yang
, Yellow Fever
Mastrangelo, Varghese
, Japanese encephalitis
Mastrangelo
, Chikungunya
Varghese
, Semliki Forest virus
Varghese
, Human papillomavirus
Li
, Epstein-Barr
Li
, BK Polyomavirus
Bennett
, and Sindbis virus
Varghese
.
Ivermectin is an inhibitor of importin-α/β-dependent nuclear import of viral proteins
Götz, Kosyna, Wagstaff, Wagstaff (B)
, a SARS-CoV-2 3CL
pro
inhibitor
Mody
, binds to glycan sites on the SARS-CoV-2 spike protein preventing interaction with blood and epithelial cells and inhibiting hemagglutination
Boschi
, exhibits dose-dependent inhibition of lung injury
Abd-Elmawla, Ma
, may inhibit SARS-CoV-2 induced formation of fibrin clots resistant to degradation
Vottero
, shows protection against inflammation, cytokine storm, and mortality in an LPS mouse model of severe infection/inflammation that shares key pathological features of severe COVID-19
DiNicolantonio, Zhang
, may be beneficial in severe COVID-19 by binding IGF1 to inhibit the promotion of inflammation, fibrosis, and cell proliferation that leads to lung damage
Zhao
, may minimize SARS-CoV-2 induced cardiac damage
Liu, Liu (B)
, has immunomodulatory
Munson
and anti-inflammatory
DiNicolantonio (B), Yan
properties, and has an extensive and very positive safety profile
Descotes
.
This study includes ivermectin and
curcumin
.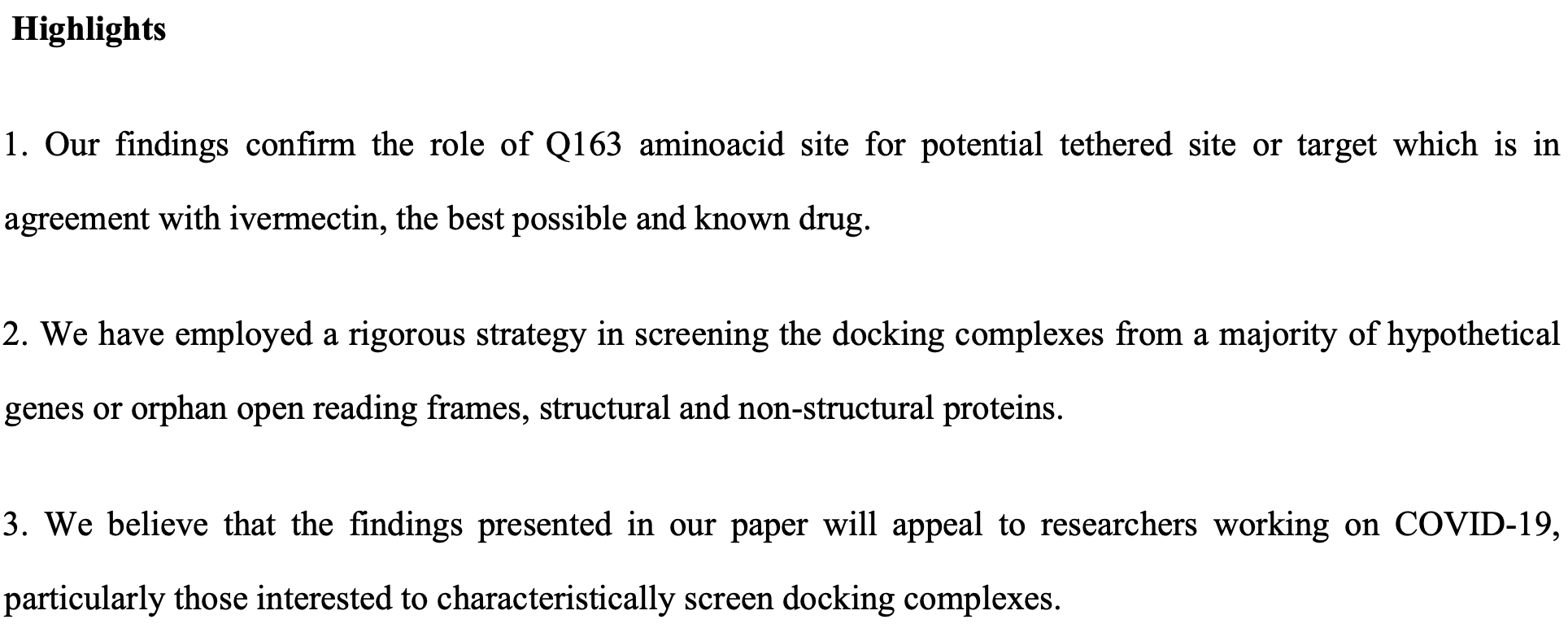 Suravajhala et al., 7 Jun 2020, preprint, 8 authors.
Contact: giri@genomixbiotech.com (corresponding author), prash@bisr.res.in.
In Silico studies are an important part of preclinical research, however results may be very different in vivo.
Comparative Docking Studies on Curcumin with COVID-19 Proteins
doi:10.20944/preprints202005.0439.v3
Highlights 1. Our findings confirm the role of Q163 aminoacid site for potential tethered site or target which is in agreement with ivermectin, the best possible and known drug. 2. We have employed a rigorous strategy in screening the docking complexes from a majority of hypothetical genes or orphan open reading frames, structural and non-structural proteins. 3. We believe that the findings presented in our paper will appeal to researchers working on COVID-19, particularly those interested to characteristically screen docking complexes.
Author contributions: GP, PBK and RP ideated the project. RS and AP jointly analysed the structures and modelled the docking complexes. PS performeddid the protein interaction analyses. AP and RS wrote the first draft with PS, PBK, BM and RP. GP, PBK, PS, VAN and RP proofread the manuscript. Competing interests: None
References
Delano, The PyMOL Molecular Graphics System; DeLano Scientific
Kang, Yang, Hong, Crystal structure of SARS-CoV-2 nucleocapsid protein RNA binding domain reveals potential unique drug targeting sites
Pettersen, Goddard, Huang, Couch, Greenblatt et al., UCSF Chimera -A Visualization System for Exploratory Research and Analysis, J. Comput. Chem
Sampangi-Ramaiah, Vishwakarma, Shaanker, Molecular docking analysis of selected natural products from plants for inhibition of SARS-CoV-2 main protease, Current Science