Liposomal Systems as Nanocarriers for the Antiviral Agent Ivermectin
et al., International Journal of Biomaterials,
Liposomal Systems as Nanocarriers for the Antiviral Agent Ivermectin
,
International Journal of Biomaterials, doi:10.1155/2016/8043983 (In Vitro)
,
In Vitro
study of liposomal formulations of ivermectin showing up to 5 times lower cytotoxicity and increased antiviral activity in Dengue strains.
15 In Vitro studies
support the efficacy of ivermectin
[Boschi, Caly, Croci, De Forni, Delandre, Jeffreys, Jitobaom, Jitobaom (B), Li, Liu, Mody, Mountain Valley MD, Segatori, Surnar, Yesilbag]
.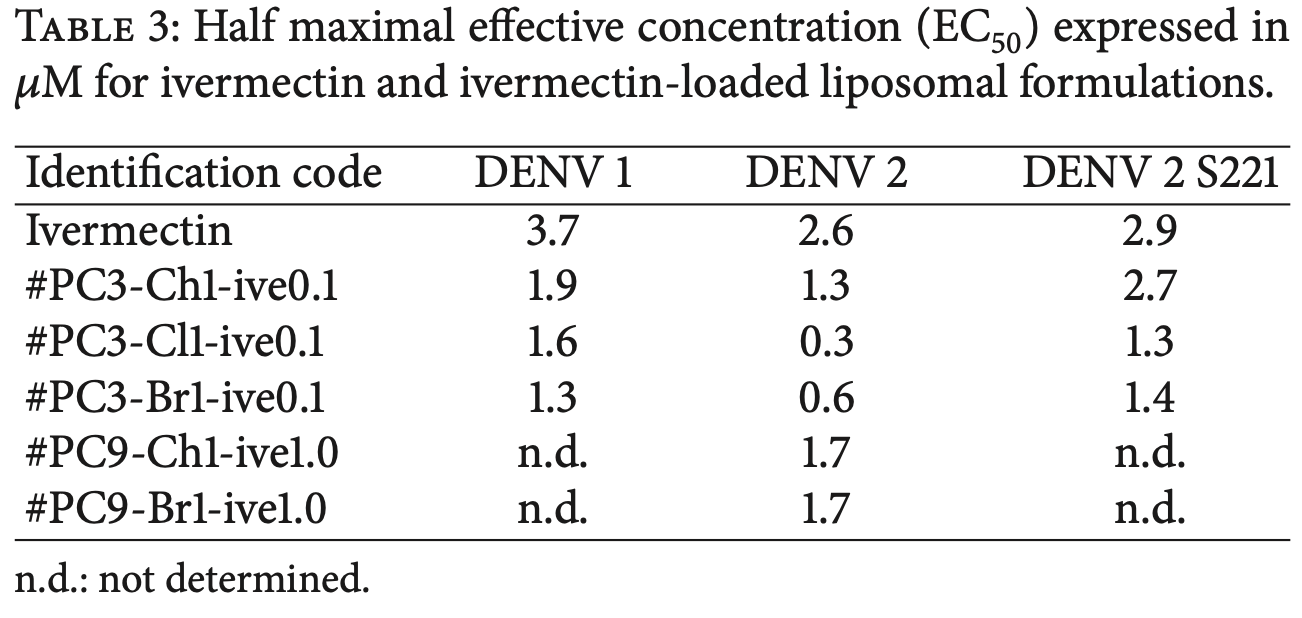 Croci et al., 8 May 2022, peer-reviewed, 7 authors.
Contact: nas@unife.it.
In Vitro studies are an important part of preclinical research, however results may be very different in vivo.
Abstract: Hindawi Publishing Corporation International Journal of Biomaterials Volume 2016, Article ID 8043983, 15 pages http://dx.doi.org/10.1155/2016/8043983 Research Article Liposomal Systems as Nanocarriers for the Antiviral Agent Ivermectin Romina Croci,1 Elisabetta Bottaro,2 Kitti Wing Ki Chan,3 Satoru Watanabe,3 Margherita Pezzullo,1 Eloise Mastrangelo,1,4 and Claudio Nastruzzi2 1 Department of Bioscience, University of Milan, 20133 Milan, Italy Department of Life Sciences and Biotechnology, University of Ferrara, 44121 Ferrara, Italy 3 Program in Emerging Infectious Diseases, Duke-NUS Graduate Medical School, Singapore 169857 4 Institute of Biophysics, National Research Council, 20133 Milan, Italy 2 Correspondence should be addressed to Claudio Nastruzzi; nas@unife.it Received 22 December 2015; Revised 17 March 2016; Accepted 31 March 2016 Academic Editor: Rosalind Labow Copyright © 2016 Romina Croci et al. This is an open access article distributed under the Creative Commons Attribution License, which permits unrestricted use, distribution, and reproduction in any medium, provided the original work is properly cited. RNA virus infections can lead to the onset of severe diseases such as fever with haemorrhage, multiorgan failure, and mortality. The emergence and reemergence of RNA viruses continue to pose a significant public health threat worldwide with particular attention to the increasing incidence of flaviviruses, among others Dengue, West Nile Virus, and Yellow Fever viruses. Development of new and potent antivirals is thus urgently needed. Ivermectin, an already known antihelminthic drug, has shown potent effects in vitro on Flavivirus helicase, with EC50 values in the subnanomolar range for Yellow Fever and submicromolar EC50 for Dengue Fever, Japanese encephalitis, and tick-borne encephalitis viruses. However ivermectin is hampered in its application by pharmacokinetic problems (little solubility and high cytotoxicity). To overcome such problems we engineered different compositions of liposomes as ivermectin carriers characterizing and testing them on several cell lines for cytotoxicity. The engineered liposomes were less cytotoxic than ivermectin alone and they showed a significant increase of the antiviral activity in all the Dengue stains tested (1, 2, and S221). In the current study ivermectin is confirmed to be an effective potential antiviral and liposomes, as drug carriers, are shown to modulate the drug activity. All together the results represent a promising starting point for future improvement of ivermectin as antiviral and its delivery.
Please send us corrections, updates, or comments. Vaccines and treatments are complementary. All practical, effective, and safe means should be used based on risk/benefit analysis. No treatment, vaccine, or intervention is 100% available and effective for all current and future variants. We do not provide medical advice. Before taking any medication, consult a qualified physician who can provide personalized advice and details of risks and benefits based on your medical history and situation.
FLCCC
and
WCH
provide treatment protocols.
Submit