Favipiravir and Ivermectin Showed in Vitro Synergistic Antiviral Activity against SARS-CoV-2
et al., Research Square,
Favipiravir and Ivermectin Showed in Vitro Synergistic Antiviral Activity against SARS-CoV-2
,
Research Square, doi:10.21203/rs.3.rs-941811/v1 (Preprint) (In Vitro)
,
In Vitro
study showing a strong synergistic effect of ivermectin and favipiravir. Combining multiple antiviral drugs with different mechanisms of action helps to minimize drug resistance and toxicity.For ivermectin alone, IC
50
for Calu-3 was 0.2µM, supporting
in vivo
efficacy at 0.6 mg/kg.
15 In Vitro studies
support the efficacy of ivermectin
[Boschi, Caly, Croci, De Forni, Delandre, Jeffreys, Jitobaom, Jitobaom (B), Li, Liu, Mody, Mountain Valley MD, Segatori, Surnar, Yesilbag]
.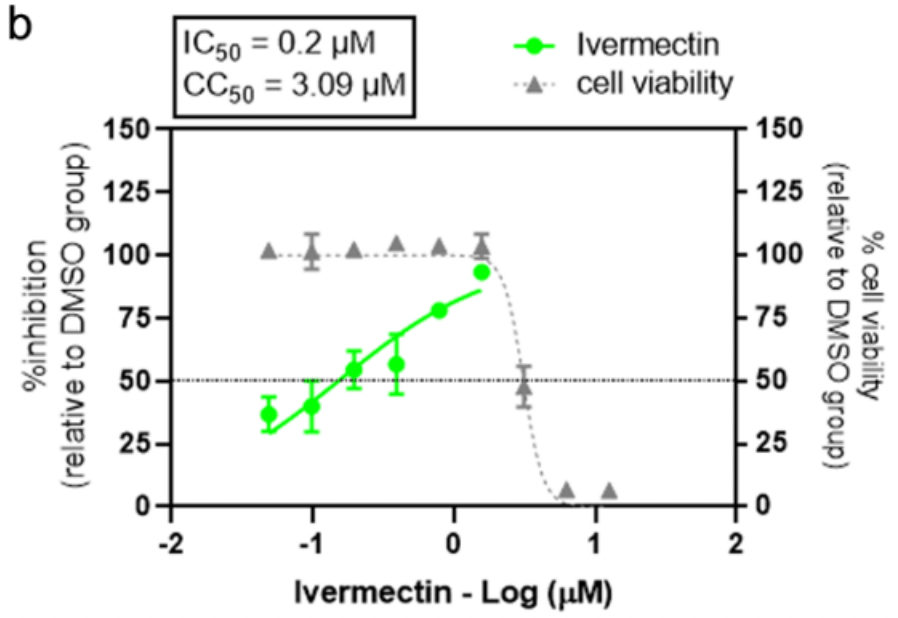 Jitobaom et al., 14 Oct 2021, preprint, 8 authors.
In Vitro studies are an important part of preclinical research, however results may be very different in vivo.
Abstract: Favipiravir and Ivermectin Showed in Vitro Synergistic Antiviral Activity against SARS-CoV-2 Kunlakanya Jitobaom Siriraj Hospital Chompunuch Boonarkart Siriraj Hospital Suwimon Manopwisedjaroen Mahidol University Nuntaya Punyadee Siriraj Hospital Suparerk Borwornpinyo Mahidol University Arunee Thitithanyanont Mahidol University Panisadee Avirutnan Siriraj Hospital Prasert Auewarakul (  prasert.aue@mahidol.ac.th ) Siriraj Hospital Research Article Keywords: SARS-CoV-2, Favipiravir, Ivermectin, anti-parasitic drugs, repurposed drugs, drug combination Posted Date: October 14th, 2021 DOI: https://doi.org/10.21203/rs.3.rs-941811/v1 License:   This work is licensed under a Creative Commons Attribution 4.0 International License. Read Full License Page 1/28 Abstract Despite the urgent need for effective antivirals against SARS-CoV-2 to mitigate the catastrophic impact of the COVID-19 pandemic, there are still no proven effective and widely available antivirals for COVID-19 treatment. Favipiravir and Ivermectin are among common repurposed drugs, which have been provisionally used in some countries. There have been clinical trials with mixed results, and therefore, it is still inconclusive whether they are effective or should be dismissed. It is plausible that the lack of clearcut clinical benefits was due to the finding of only marginal levels of in vivo antiviral activity. An obvious way to improve the activity of antivirals is to use them in synergistic combinations. Here we show that Favipiravir and Ivermectin had the synergistic effects against SARS-CoV-2 in Vero cells. The combination may provide better efficacy in COVID-19 treatment. In addition, we found that Favipiravir had an additive effect with Niclosamide, another repurposed anti-parasitic drug with anti-SARS-CoV-2 activity. However, the anti-SARS-CoV-2 activity of Favipiravir was drastically reduced when tested in Calu-3 cells. This suggested that this cell type might not be able to metabolize Favipiravir into its active form, and that this deficiency in some cell types may affect in vivo efficacy of this drug.
Please send us corrections, updates, or comments. Vaccines and treatments are complementary. All practical, effective, and safe means should be used based on risk/benefit analysis. No treatment, vaccine, or intervention is 100% available and effective for all current and future variants. We do not provide medical advice. Before taking any medication, consult a qualified physician who can provide personalized advice and details of risks and benefits based on your medical history and situation.
FLCCC
and
WCH
provide treatment protocols.
Submit