Gene expression analysis of nasopharyngeal swabs of COVID-19 positive and negative patients, and
in vitro
study supporting the use of ivermectin and atorvastatin for COVID-19, and the efficacy of ivermectin at clinically relevant dosages.Experiments showed that ivermectin and atorvastatin halted NF-κB activation, impaired importin and Rho GTPases gene expression, and inhibited importin α nuclear accumulation. Authors note that ivermectin and atorvastatin's targetting of importin-mediated nuclear trafficking may also indicate applicability to other infections including dengue fever, zika, and influenza.Authors show that an ivermectin concentration as low as 0.2μM for 24h produced a similar effect on the inhibition of importin α nuclear to cytoplasmic distribution as that of a 2.5μM for 1h. This suggests that a sustained exposure to lower concentrations could interfere with the host cell machinery that SARS-CoV-2 requires for replication. Experiments also indicate improved results with the combination of ivermectin and atorvastatin.
16 In Vitro studies
support the efficacy of ivermectin
[Boschi, Caly, Croci, De Forni, Delandre, Jeffreys, Jitobaom, Jitobaom (B), Li, Liu, Mody, Mountain Valley MD, Munson, Segatori, Surnar, Yesilbag]
.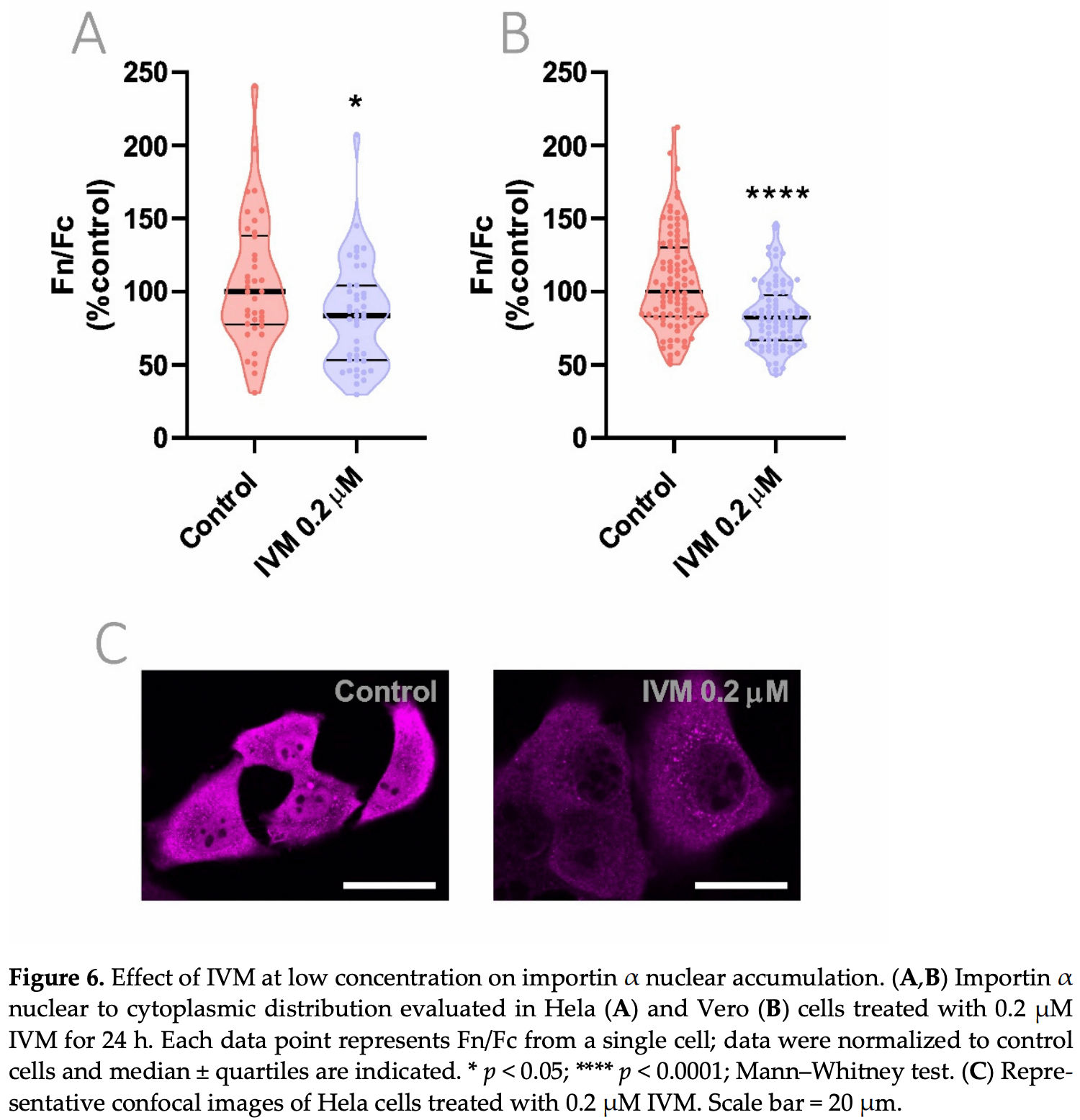 Segatori et al., 15 Oct 2021, peer-reviewed, 11 authors.
In Vitro studies are an important part of preclinical research, however results may be very different in vivo.
Effect of Ivermectin and Atorvastatin on Nuclear Localization of Importin Alpha and Drug Target Expression Profiling in Host Cells from Nasopharyngeal Swabs of SARS-CoV-2- Positive Patients
Viruses, doi:10.3390/v13102084
Nuclear transport and vesicle trafficking are key cellular functions involved in the pathogenesis of RNA viruses. Among other pleiotropic effects on virus-infected host cells, ivermectin (IVM) inhibits nuclear transport mechanisms mediated by importins and atorvastatin (ATV) affects actin cytoskeleton-dependent trafficking controlled by Rho GTPases signaling. In this work, we first analyzed the response to infection in nasopharyngeal swabs from SARS-CoV-2-positive and -negative patients by assessing the gene expression of the respective host cell drug targets importins and Rho GTPases. COVID-19 patients showed alterations in KPNA3, KPNA5, KPNA7, KPNB1, RHOA, and CDC42 expression compared with non-COVID-19 patients. An in vitro model of infection with Poly(I:C), a synthetic analog of viral double-stranded RNA, triggered NF-κB activation, an effect that was halted by IVM and ATV treatment. Importin and Rho GTPases gene expression was also impaired by these drugs. Furthermore, through confocal microscopy, we analyzed the effects of IVM and ATV on nuclear to cytoplasmic importin α distribution, alone or in combination. Results showed a significant inhibition of importin α nuclear accumulation under IVM and ATV treatments. These findings confirm transcriptional alterations in importins and Rho GTPases upon SARS-CoV-2 infection and point to IVM and ATV as valid drugs to impair nuclear localization of importin α when used at clinically-relevant concentrations.
Supplementary Materials: The following are available online at www.mdpi.com/article/10.3390/v13102084/s1; Table S1 : Patient demographics for GSE152075 dataset. Figure S1 : Gene expression in COVID-19 and non-COVID-19 patients categorized by sex. Figure S2 : Gene expression of importins and Rho GTPases in A549 cells and ferrets. Figure S3 : Importin and Rho GTPases gene expression analysis in A549 and HMVEC cells. Author Contributions: Conceptualization, D.F.A., G.G., and E.S.; Methodology, V.I.S., J.G., L.G.C., J.B., R.L., A.T., and P.S.; Software, J.B., R.L., A.T., and P.S.; Validation, J.B., R.L., A.T., and P.S.; Formal analysis, V.I.S., J.G.,J.B., R.L., A.T., and P.S.; Investigation, V.I.S., J.G., J.B., R.L., A.T., and P.S.; Data curation, J.B., R.L., A.T., and P.S.; Writing-original draft preparation, V.I.S., J.G., G.G., and D.F.A.; Writing-review & editing, V.I.S., J.G., J.B., R.L., A.T., P.S., E.S., A.K., G.G., and D.F.A.; Supervision, D.F.A. and G.G.; Project administration, V.I.S. and J.G.; Funding acquisition, G.G., D.F.A., and A.K. All authors have read and agreed to the published version of the manuscript.
References
Core, R: A Language and Environment for Statistical Computing; R Foundation for Statistical Computing
Kassambara, Based Publication Ready Plots. R package version 0
Schloerke, Cook, Larmarange, Francois, Marbach et al., Extension to "ggplot2
Wickham, Elegant Graphics for Data Analysis