Safety of oral administration of high doses of ivermectin by means of biocompatible polyelectrolytes formulation
In vivo analysis of the safety of high dose ivermectin with a Corydoras fish animal model.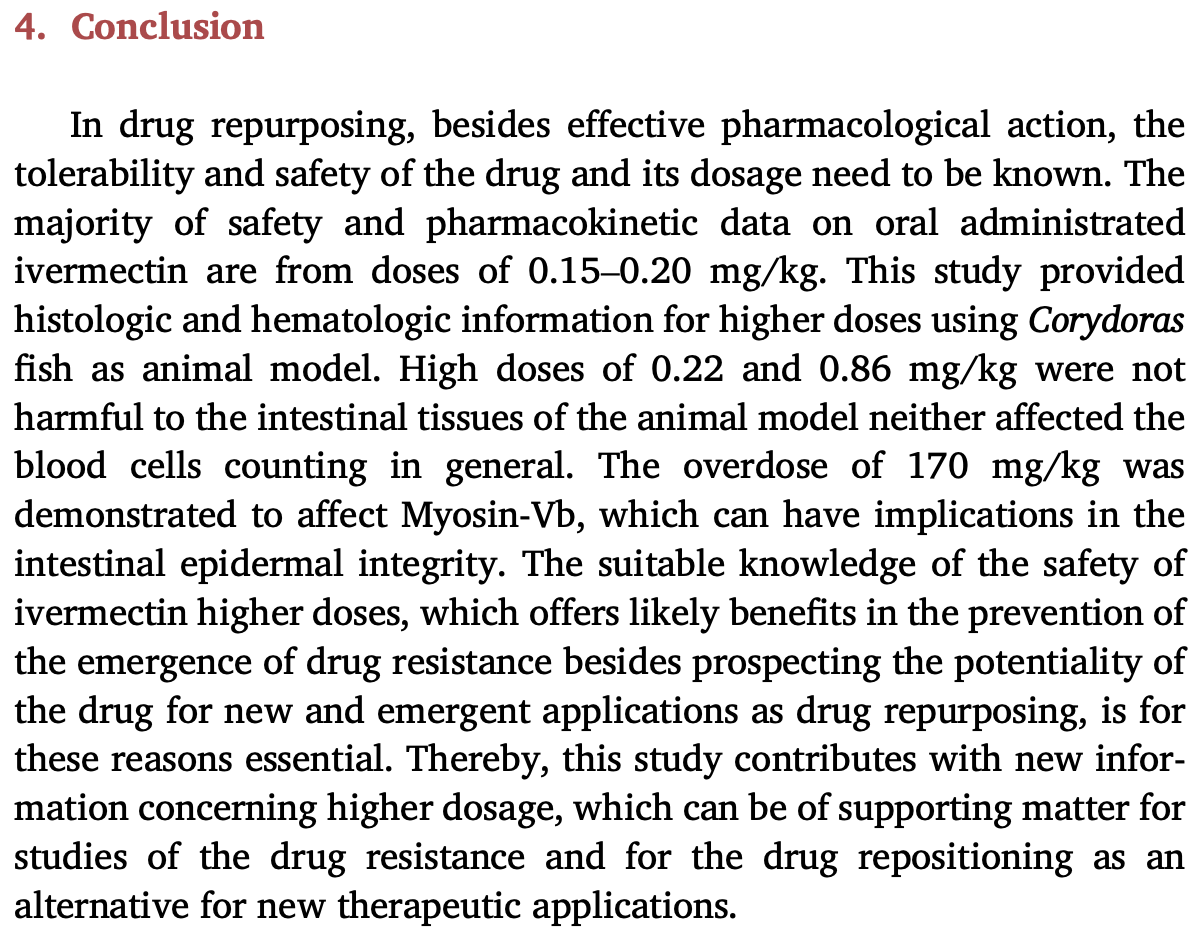 Madrid et al., 31 Dec 2020, peer-reviewed, 8 authors.
Abstract: Heliyon 7 (2021) e05820 Contents lists available at ScienceDirect Heliyon journal homepage: www.cell.com/heliyon Research article Safety of oral administration of high doses of ivermectin by means of biocompatible polyelectrolytes formulation Rafael R.M. Madrid a, Patrick D. Mathews a, *, Ana C.M.F. Patta a, Anai P. Gonzales-Flores b, c, Carlos A.B. Ramirez a, Vera L.S. Rigoni a, Marcos Tavares-Dias d, Omar Mertins a, ** a Laboratory of Nano Bio Materials (LNBM), Department of Biophysics, Paulista Medical School, Federal University of Sao Paulo (UNIFESP), 04023-062 Sao Paulo, SP, Brazil b Post-Graduate Program in Tropical Biodiversity, Federal University of Amap a, 68903-419 Macap a, AP, Brazil c Institute of Research of the Peruvian Amazon (IIAP, AQUAREC), 17000 Puerto Maldonado, Peru d Embrapa Amapá , 68903-419 Macap a, AP, Brazil A R T I C L E I N F O A B S T R A C T Keywords: High dosage Drug repurposing Animal model Histochemistry Formulation Immunofluorescence The FDA-approved drug ivermectin is applied for treatments of onchocerciasis and lymphatic filariasis. The anticancer and anti-viral activities have been demonstrated stressing possibilities for the drug repurposing and therefore new information on high dosage safety is on demand. We analyzed in vivo tissue responses for high doses of ivermectin using Corydoras fish as animal model. We made intestinal histology and hematologic assays after oral administration of ivermectin transported with polyelectrolytes formulation. Histology showed any apparent damage of intestinal tissues at 0.22–170 mg of ivermectin/kg body weight. Immunofluorescence evidenced delocalization of Myosin-Vb at enterocytes only for the higher dose. Hematology parameters showed random variations after 7 days from administration, but a later apparent recover after 14 and 21 days. The study evaluated the potential of high doses of oral administration of ivermectin formulation, which could be an alternative with benefits in high compliance therapies.
Please send us corrections, updates, or comments. Vaccines and treatments are complementary. All practical, effective, and safe means should be used based on risk/benefit analysis. No treatment, vaccine, or intervention is 100% available and effective for all current and future variants. We do not provide medical advice. Before taking any medication, consult a qualified physician who can provide personalized advice and details of risks and benefits based on your medical history and situation.
FLCCC
and
WCH
provide treatment protocols.
Submit