Animal study showing that ivermectin alleviated pulmonary inflammation and fibrosis induced by bleomycin in a rat model. Authors note this may add to the clinical usefulness of ivermectin for patients with pulmonary fibrosis from COVID-19 or other causes. Results suggest that ivermectin's benefits in reducing lung inflammation and fibrosis involve inhibition of pro-inflammatory signaling pathways NLRP3 inflammasome, NF-kB, and HIF-1α.
57 preclinical studies support the efficacy of ivermectin for COVID-19:
24 In Silico studies
Alvarado, Aminpour, Bello, Chellasamy, Choudhury, Eweas, Francés-Monerris, Francés-Monerris (B), González-Paz, González-Paz (B), Kern, Lehrer, Muthusamy, Parvez, Qureshi, Rana, Saha, Schöning, Suravajhala, Swargiary, Udofia, Umar, Vottero, Zhao
20 In Vitro studies
Boschi, Caly, Croci, De Forni, Delandre, Jeffreys, Jitobaom, Jitobaom (B), Li, Liu, Liu (B), Mody, Mountain Valley MD, Munson, Saha (B), Segatori, Surnar, Yesilbag, Zhang, Zheng
Ivermectin, better known for antiparasitic activity, is a broad spectrum antiviral with activity against many viruses including H7N7
Götz
, Dengue
Tay, Wagstaff
, HIV-1
Wagstaff
, Simian virus 40
Wagstaff (B)
, Zika
Barrows, Yang
, West Nile
Yang
, Yellow Fever
Mastrangelo, Varghese
, Japanese encephalitis
Mastrangelo
, Chikungunya
Varghese
, Semliki Forest virus
Varghese
, Human papillomavirus
Li
, Epstein-Barr
Li
, BK Polyomavirus
Bennett
, and Sindbis virus
Varghese
.
Ivermectin is an inhibitor of importin-α/β-dependent nuclear import of viral proteins
Götz, Kosyna, Wagstaff, Wagstaff (B)
, a SARS-CoV-2 3CL
pro
inhibitor
Mody
, binds to glycan sites on the SARS-CoV-2 spike protein preventing interaction with blood and epithelial cells and inhibiting hemagglutination
Boschi
, exhibits dose-dependent inhibition of lung injury
Abd-Elmawla, Ma
, may inhibit SARS-CoV-2 induced formation of fibrin clots resistant to degradation
Vottero
, shows protection against inflammation, cytokine storm, and mortality in an LPS mouse model of severe infection/inflammation that shares key pathological features of severe COVID-19
DiNicolantonio, Zhang
, may be beneficial in severe COVID-19 by binding IGF1 to inhibit the promotion of inflammation, fibrosis, and cell proliferation that leads to lung damage
Zhao
, may minimize SARS-CoV-2 induced cardiac damage
Liu, Liu (B)
, has immunomodulatory
Munson
and anti-inflammatory
DiNicolantonio (B), Yan
properties, and has an extensive and very positive safety profile
Descotes
.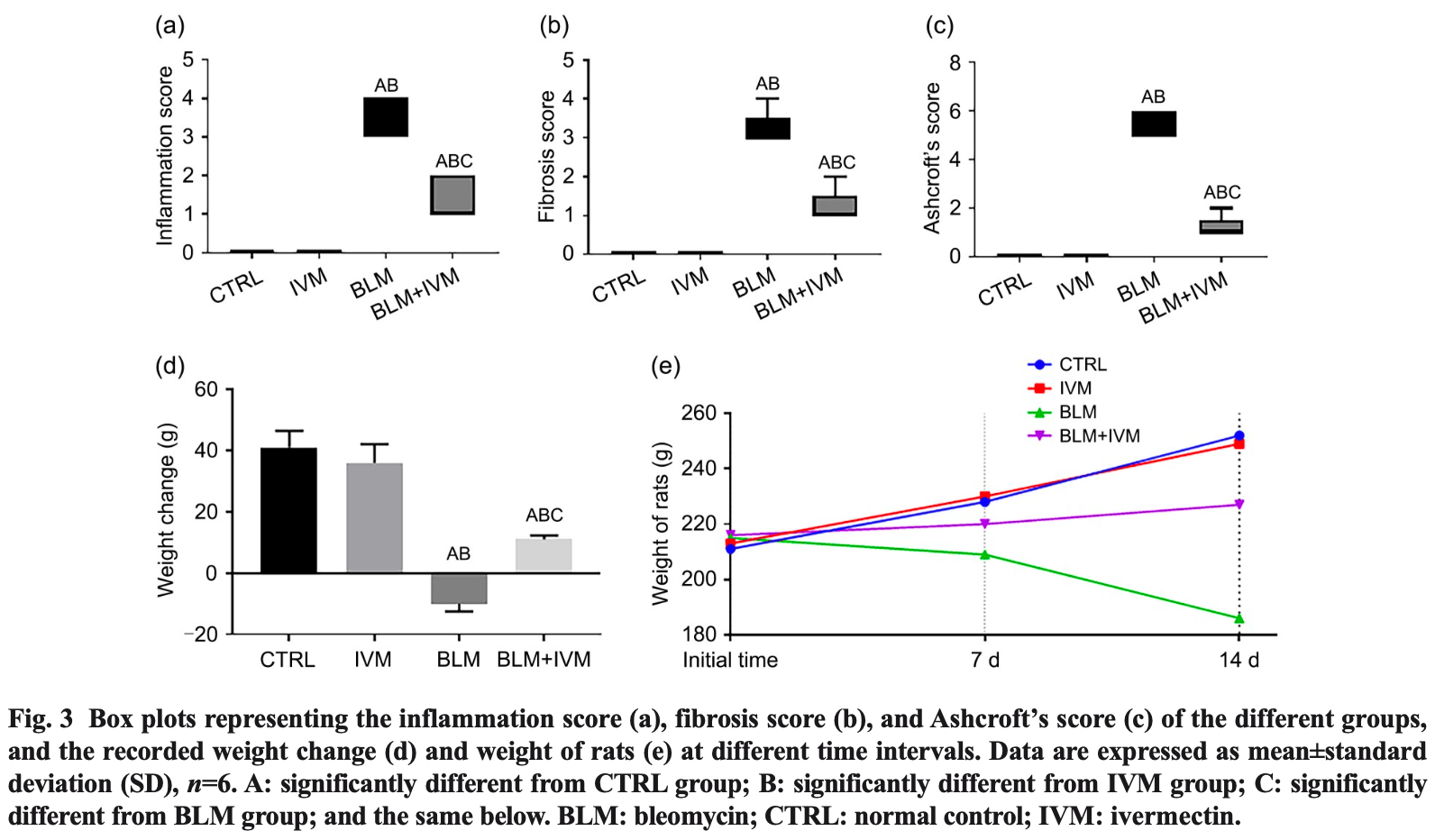 Abd-Elmawla et al., 1 Jul 2023, peer-reviewed, 5 authors.
Contact: jzus_b@zju.edu.cn, heba.mosalam@pharma.cu.edu.eg, mei.abdelmawla@pharma.cu.edu.eg.
伊维菌素抑制NLRP3炎症小体可改善博来霉素诱导的肺纤维化
Journal of Zhejiang University-SCIENCE B, doi:10.1631/jzus.b2200385
Ivermectin is a US Food and Drug Administration (FDA)-approved antiparasitic agent with antiviral and anti-inflammatory properties. Although recent studies reported the possible anti-inflammatory activity of ivermectin in respiratory injuries, its potential therapeutic effect on pulmonary fibrosis (PF) has not been investigated. This study aimed to explore the ability of ivermectin (0.6 mg/kg) to alleviate bleomycin-induced biochemical derangements and histological changes in an experimental PF rat model. This can provide the means to validate the clinical utility of ivermectin as a treatment option for idiopathic PF. The results showed that ivermectin mitigated the bleomycin-evoked pulmonary injury, as manifested by the reduced infiltration of inflammatory cells, as well as decreased the inflammation and fibrosis scores. Intriguingly, ivermectin decreased collagen fiber deposition and suppressed transforming growth factor-β1 (TGF-β1) and fibronectin protein expression, highlighting its anti-fibrotic activity. This study revealed for the first time that ivermectin can suppress the nucleotide-binding oligomerization domain (NOD)-like receptor family pyrin domain-containing protein 3 (NLRP3) inflammasome, as manifested by the reduced gene expression of NLRP3 and the apoptosis-associated speck-like protein containing a caspase recruitment domain (ASC), with a subsequent decline in the interleukin-1β (IL-1β) level. In addition, ivermectin inhibited the expression of intracellular nuclear factor-κB (NF-κB) and hypoxia-inducible factor-1α (HIF-1α) proteins along with lowering the oxidative stress and apoptotic markers. Altogether, this study revealed that ivermectin could ameliorate pulmonary inflammation and fibrosis induced by bleomycin. These beneficial effects were mediated, at least partly, via the downregulation of TGF-β1 and fibronectin, as well as the suppression of NLRP3 inflammasome through modulating the expression of HIF-1α and NF-κB.
Author contributions All authors contributed to the study conception and design. Mai A. ABD-ELMAWLA, Heba R. GHAIAD, and Maha ABDELMONEM: study conception, material preparation, data collection & analysis, and writing; Enas S. GAD and Kawkab A. AHMED: material preparation, data collection & analysis, and writing. All authors wrote the first draft of the manuscript, and they all commented on previous versions of the manuscript. All authors have read and approved the final manuscript, and therefore, have full access to all the data in the study and take responsibility for the integrity and security of the data. The authors declare that all data were generated in-house and that no paper mill was used. Compliance with ethics guidelines Mai A. ABD-ELMAWLA, Heba R. GHAIAD, Enas S. GAD, Kawkab A. AHMED, and Maha ABDELMONEM declare that they have no conflict of interest. All institutional and national guidelines for the care and use of laboratory animals were followed. All animals' procedures were performed in accordance with the Research Ethics Committee of the Faculty of Pharmacy, Cairo University (REC-FOPCU), Egypt (No. BC3203) and with the Helsinki Declaration of 1975, as revised in 2013. Open Access This article is distributed under the terms of the Creative Commons Attribution 4.0 International License (http:// creativecommons.org/licenses/by/4.0/), which permits use, duplication, adaptation, distribution, and reproduction in any medium or format, as long as you..
References
Shin, Seol, Son, Interpretation of animal dose and human equivalent dose for drug development, J Korean Orient Med