PSM retrospective 41,608 patients in the USA, 1,072 treated with ivermectin and 40,536 treated with remdesivir, showing lower mortality with ivermectin treatment.This study was presented at a conference (IMED 2021). Submissions were peer-reviewed. The treatment/control group sizes align with the estimated percentage of hospitals that used ivermectin vs. remdesivir. Hospitals in the USA receive financial incentives to use remdesivir.Authors have self-censored the conference report of this result, not due to any error in the analysis, but because they believe ivermectin "has proven to be ineffective in clinical trials". This is incorrect, while some studies show no statistically significant effect, 58 studies show statistically significant positive results for one or more outcomes (32 prospective and 26 retrospective studies, including 22 RCTs)
[Abbas, Ahmed, Ahsan, Alam, Aref, Aref (B), Babalola, Behera, Behera (B), Bernigaud, Biber, Borody, Budhiraja, Bukhari, Cadegiani, Carvallo, Carvallo (B), Chaccour, Chahla, Chahla (B), Chowdhury, de Jesús Ascencio-Montiel, de la Rocha, Efimenko, Elalfy, Espitia-Hernandez, Faisal, Ghauri, Gorial, Hashim, Hellwig, IVERCOR PREP, Kerr, Khan, Lim, Lima-Morales, Mahmud, Mayer, Merino, Mondal, Morgenstern, Mourya, Naggie, Okumuş, Ozer, Qadeer, Rajter, Rezai, Rezk, Samajdar, Seet, Shahbaznejad, Shimizu, Shouman, Soto-Becerra, Spoorthi, Tanioka, Thairu]
.The self-censorship and decision not to submit to a journal provide further evidence of a negative publication bias for ivermectin research.
risk of death,

69.2% lower

, OR 0.31, p < 0.001
, treatment 1,072, control 40,536, propensity score matching, RR approximated with OR.
Effect extraction follows pre-specified rules prioritizing more serious outcomes. Submit updates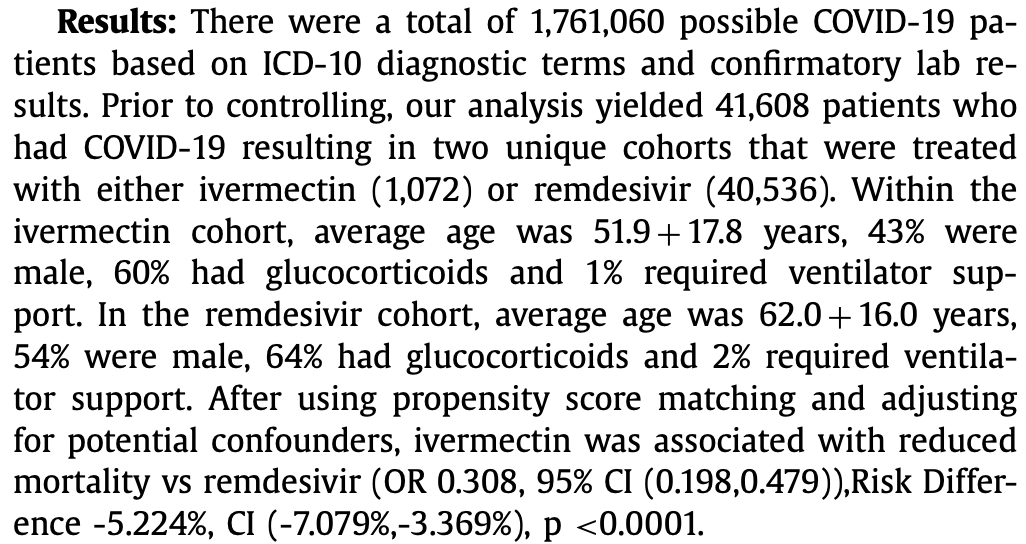 Efimenko et al., 28 Feb 2022, retrospective, propensity score matching, USA, peer-reviewed, 6 authors, study period 1 January, 2020 - 11 July, 2021, dosage not specified, this trial compares with another treatment - results may be better when compared to placebo.