PSM retrospective 41,608 patients in the USA, 1,072 treated with ivermectin and 40,536 treated with remdesivir, showing lower mortality with ivermectin treatment.This study was presented at a conference (IMED 2021). Submissions were peer-reviewed. The treatment/control group sizes align with the estimated percentage of hospitals that used ivermectin vs. remdesivir. Hospitals in the USA receive financial incentives to use remdesivir.Authors have self-censored the conference report of this result, not due to any error in the analysis, but because they believe ivermectin "has proven to be ineffective in clinical trials". This is incorrect, while some studies show no statistically significant effect, 60 studies show statistically significant positive results for one or more outcomes (33 prospective and 27 retrospective studies, including 23 RCTs)
Abbas, Ahmed, Ahsan, Alam, Aref, Aref (B), Babalola, Behera, Behera (B), Bernigaud, Biber, Borody, Budhiraja, Bukhari, Cadegiani, Carvallo, Carvallo (B), Chaccour, Chahla, Chahla (B), Chowdhury, de Jesús Ascencio-Montiel, de la Rocha, Desort-Henin, Efimenko, Elalfy, Espitia-Hernandez, Faisal, Ghauri, Gorial, Hashim, Hellwig, IVERCOR PREP, Kerr, Khan, Lim, Lima-Morales, Mahmud, Mayer, Merino, Mondal, Morgenstern, Mourya, Naggie, Okumuş, Osati, Ozer, Qadeer, Rajter, Rezai, Rezk, Samajdar, Seet, Shahbaznejad, Shimizu, Shouman, Soto-Becerra, Spoorthi, Tanioka, Thairu
.The self-censorship and decision not to submit to a journal provide further evidence of a negative publication bias for ivermectin research.This is the
80th of 99 COVID-19 controlled studies
for ivermectin, which collectively show efficacy with
p<0.0000000001 (1 in 2 sextillion)
.
46 studies are RCTs
, which show efficacy with
p=0.00000014
.
risk of death,

69.2% lower

, OR 0.31, p < 0.001
, treatment 1,072, control 40,536, propensity score matching, RR approximated with OR.
Effect extraction follows pre-specified rules prioritizing more serious outcomes. Submit updates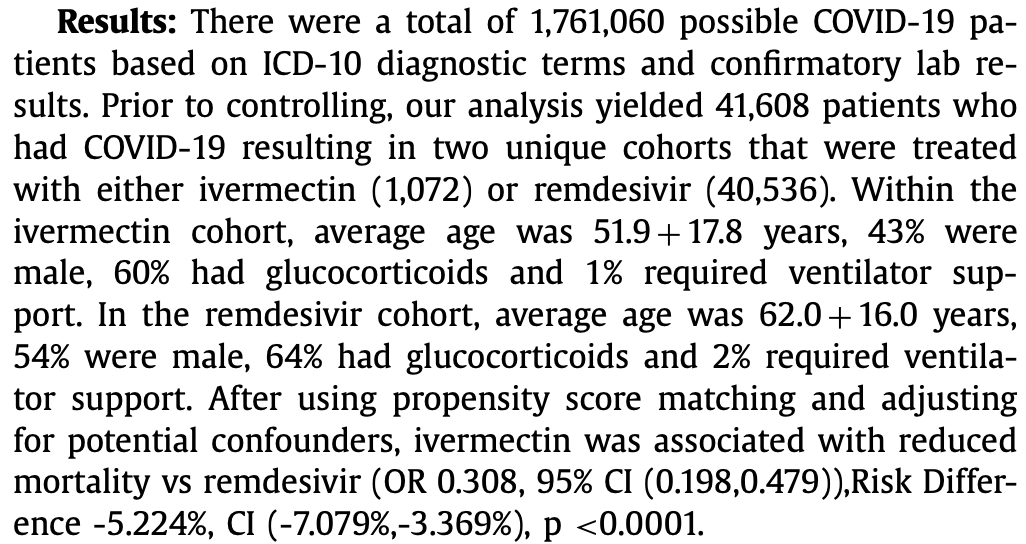 Efimenko et al., 28 Feb 2022, retrospective, propensity score matching, USA, peer-reviewed, 6 authors, study period 1 January, 2020 - 11 July, 2021, dosage not specified, this trial compares with another treatment - results may be better when compared to placebo.
Development of Duplex and Multiplex Reverse Transcription Loop Mediated Isothermal Amplification (RT-LAMP) Assays for Clinical Diagnosis of SARS-COV-2 in Sri Lanka
International Journal of Infectious Diseases, doi:10.1016/j.ijid.2021.12.095
Purpose: Despite the rollout of several vaccines targeting SARS-CoV-2, attainment of near-universal vaccination is a challenging task, particularly for low-and middle-income nations such as Sri Lanka. Rapid, reliable diagnostics for the detection of the virus is of vital importance for the predominantly export-and tourismbased economy of the country. Herein, we report the development of a RT-LAMP assay as an alternative to the gold-standard RT-qPCR method for diagnostic laboratories in Sri Lanka in a cost-effective and highly reliable manner. Methods & Materials: About 313 nasopharyngeal and oropharyngeal samples from the community were collected and subjected to RNA purification and subjected to simultaneous RT-qPCR and RT-LAMP experiments by using previously published primers in a thermocycler. Duplex (containing N and E gene primers) and multiplex (containing N, E and ORF1ab gene primers) RT-LAMP assay results were compared with standard RT-qPCR results using an agreement attribute statistical test. The effect of guanidine hydrochloride was also analyzed. Results: The limit of detection for the duplex assay was found to be 10 copies μL-1 at a constant temperature of 63 °C, and 5 copies μL-1 for multiplex assays at 66.4 °C. Both types of RT-LAMP assay were specific only for the SARS-COV-2 virus, successfully distinguishing it from multiple other human viruses. Attribute agreement analysis between duplex-and multiplex RT-LAMP vs RT-qPCR yielded 93% and 96.5% scores, respectively. Moreover, both RT-LAMP assays showed 100% agreement with RT-qPCR when Ct was < 25 in positive samples and showed 100% (duplex) or 97.22% (multiplex) at 35 ≥ Ct ≥25. The discrepancy between agreements at higher Ct values was attributed to the higher sensitivity of the multiplex RT-LAMP assay. The addition of guanidine hydrochloride increased the sensitivity and decreased detection time significantly for both the duplex and multiplex assays. Conclusion: Overall, we have demonstrated a potentially rapidly deployable diagnostic test kit not only for widespread community use but particularly for high-risk locations such as ports of entry or manufacturing facilities to mitigate the effects of the SARS-CoV-2 virus in Sri Lanka.