96 patient RCT showing faster resolution of post-COVID anosmia with an ivermectin nanosuspension nasal spray.
Targeted administration to the respiratory tract provides treatment directly to the typical source of initial SARS-CoV-2 infection and replication, and allows for rapid onset of action, higher local drug concentration, and reduced systemic side effects (early treatment may be more beneficial).
This is the
42nd of 46 COVID-19 RCTs
for ivermectin, which collectively show efficacy with
p=0.00000014
.This is the
92nd of 99 COVID-19 controlled studies
for ivermectin, which collectively show efficacy with
p<0.0000000001 (1 in 2 sextillion)
.
recovery time,

74.0% lower

, relative time 0.26, p < 0.001
, treatment 49, control 47, anosmia.
Effect extraction follows pre-specified rules prioritizing more serious outcomes. Submit updates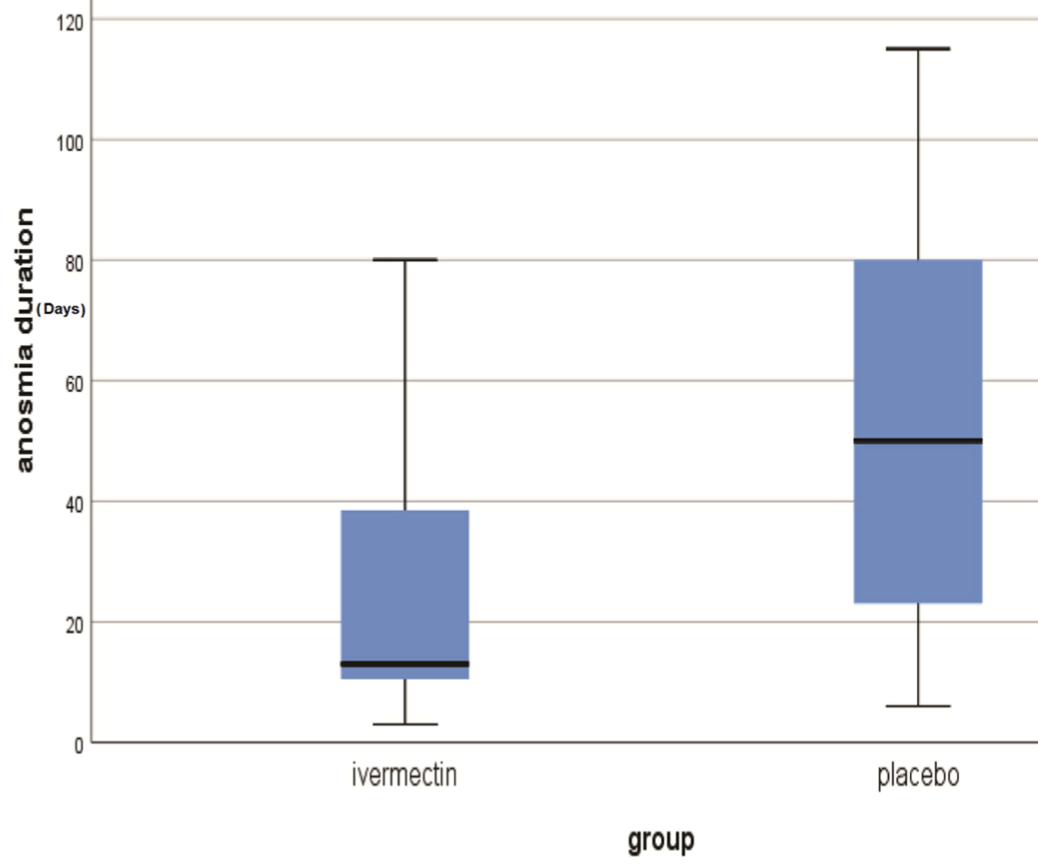 Aref et al., 19 Sep 2022, Randomized Controlled Trial, placebo-controlled, Egypt, peer-reviewed, 9 authors, study period 1 March, 2021 - 30 April, 2021, dosage 2 puffs of 70 μg/mL nasal ivermectin, trial
NCT04951362
(history)
.
Contact: mohammedhosnyhassaan@yahoo.com, mohammedhosnyhassaan@med.svu.edu.eg.
Possible Role of Ivermectin Mucoadhesive Nanosuspension Nasal Spray in Recovery of Post-COVID-19 Anosmia
Infection and Drug Resistance, doi:10.2147/idr.s381715
Anosmia or hyposmia, with or without taste changes, are common symptoms that occur in SARS-CoV-2 infection and frequently persist as post-COVID-19 manifestations. This is the first trial to assess the potential value of using local ivermectin in the form of a mucoadhesive nanosuspension nasal spray to treat post-COVID-19 anosmia. Methods: It is a controlled, randomized trial. Participants were recruited from South Valley University Hospitals in Qena, Upper Egypt, from the ENT and Chest Diseases Departments and outpatient clinics. Patients with persistent post COVID-19 anosmia were randomly divided into two groups, the first group "ivermectin group" included 49 patients treated by ivermectin nanosuspension mucoadhesive nasal spray (two puffs per day). The second group included 47 patients "placebo group" who received saline nasal spray. Follow-up of anosmia [using Visual analogue scale (VAS)] in all patients for three months or appearance of any drug related side effects was done. Results: The mean duration of pre-treatment post COVID-19 anosmia was 19.5± 5.8 days in the ivermectin group and 19.1± 5.9 days in the placebo group,p˃0.05. Regarding the median duration of anosmia recovery, the ivermectin group recovered from post COVID-19 anosmia in 13 days compared to 50 days in the placebo group, p˂ 0.001. Following the first week of ivermectin nanosuspension mucoadhesive nasal spray therapy, the ivermectin group had a significantly higher percentage of anosmia recovery (59.2%) than the placebo group (27.7%), p˂ 0.01, with no significant differences in recovery rates between the two groups at 1, 2, and 3 months of follow up, p˃0.05. Conclusion: In the small number of patients treated, local Ivermectin exhibited no side effects. In persistent post-COVID-19 anosmia, it could be used for one week at the most as the treatment was extended to one, two and three months, with no difference in recovery compared to the placebo treatment. Trial Registration No: NCT04951362.
Consent for Publication Not applicable because the manuscript lacked the names, identifiers, or images of the patients. Consent for Participation After thorough explanation of the study's objectives and procedures, informed written consent was obtained from each participant in the trial, or from relatives if the patients were less than 18 years old and those who supplied consent on their behalf were their parents or legal guardians. Author Contributions All authors made a significant contribution to the work reported, whether that is in the conception, study design, execution, acquisition of data, analysis and interpretation, or in all these areas; took part in drafting, revising or critically reviewing the article; gave final approval of the version to be published; have agreed on the journal to which the article has been submitted; and agree to be accountable for all aspects of the work. Disclosure The authors report no conflicts of interest in relation to this work. Infection and Drug Resistance Dovepress
References
Abdelmaksoud, Ghweil, Hassan, Olfactory Disturbances as Presenting Manifestation Among Egyptian Patients with COVID-19: possible Role of Zinc, Biol Trace Elem Res
Cazzolla, Lovero, Muzio, Taste and Smell Disorders in COVID-19 Patients: role of Interleukin-6, ACS Chem. Neurosci
Maraie, Almajidi, Application of nanoemulsion technology for preparation and evaluation of intranasal mucoadhesive nano-in-situ gel for ondansetron HCl, J Glob Pharm Technol