risk of death,

31.5% lower

, OR 0.68, p = 0.02
, treatment 448, control 849, adjusted per study, inverted to make OR<1 favor treatment, multivariable, RR approximated with OR.
Effect extraction follows pre-specified rules prioritizing more serious outcomes. Submit updates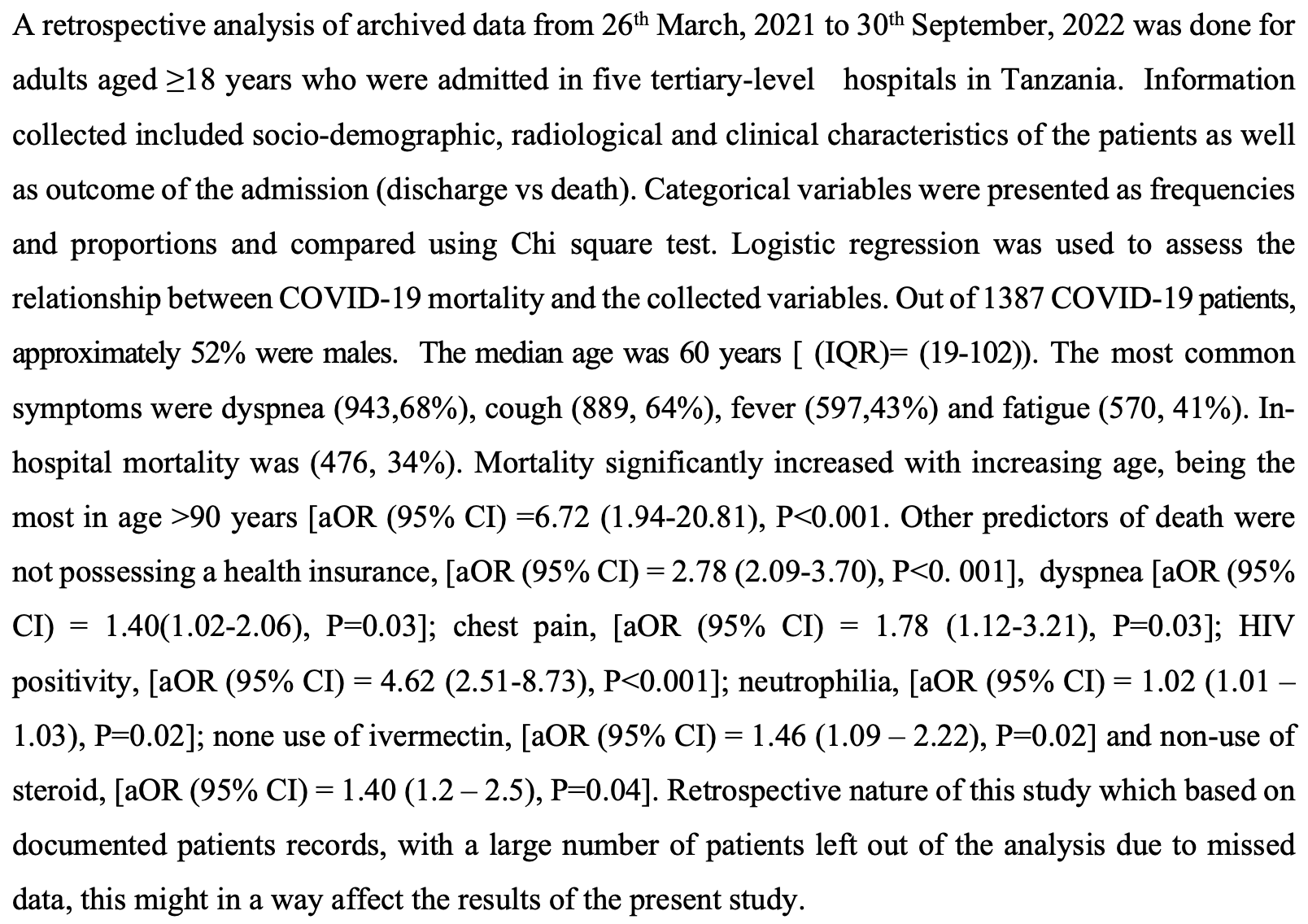 Osati et al., 16 Jul 2023, retrospective, Tanzania, preprint, median age 60.0, 22 authors, study period 26 March, 2021 - 30 July, 2022.
Contact: elishaoosati@gmail.com.
Clinical manifestations and mortality among hospitalized COVID-19 patients in Tanzania, 2021-2022
doi:10.1101/2023.07.13.23292643
Background There have been differential mortality rates from Corona Virus Disease of 2019 (COVID-19) in different parts of the world. It is not clear whether the clinical presentation does also differ, thus the need for this study in a Sub-Saharan African country. The aim of this study was to describe clinical manifestations and outcome of patients diagnosed with COVID-19 in selected tertiary hospitals in Tanzania. Methods and Findings A retrospective analysis of archived data from 26 th March, 2021 to 30 th September, 2022 was done for adults aged ≥18 years who were admitted in five tertiary-level hospitals in Tanzania. Information collected included socio-demographic, radiological and clinical characteristics of the patients as well as outcome of the admission (discharge vs death). Categorical variables were presented as frequencies and proportions and compared using Chi square test. Logistic regression was used to assess the relationship between COVID-19 mortality and the collected variables. Out of 1387 COVID-19 patients, approximately 52% were males. The median age was 60 years [ (IQR)= (19-102)). The most common symptoms were dyspnea (943,68%), cough (889, 64%), fever (597,43%) and fatigue (570, 41%). Inhospital mortality was (476, 34%). Mortality significantly increased with increasing age, being the most in age >90 years [aOR (95% CI) =6.72 (1.94-20.81), P<0.001. Other predictors of death were not possessing a health insurance, [aOR (95% CI) = 2.78 (2.09-3.70), P<0. 001], dyspnea [aOR (95% CI) = 1.40(1.02-2.06), P=0.03]; chest pain, [aOR (95% CI) = 1.78 (1.12-3.21), P=0.03]; HIV positivity, [aOR (95% CI) = 4.62 (2.51-8.73), P<0.001]; neutrophilia, [aOR (95% CI) = 1.02 (1.01 -1.03), P=0.02]; none use of ivermectin, [aOR (95% CI) = 1.46 (1.09 -2.22), P=0.02] and non-use of steroid, [aOR (95% CI) = 1.40 (1.2 -2.5), P=0.04]. Retrospective nature of this study which based on documented patients records, with a large number of patients left out of the analysis due to missed data, this might in a way affect the results of the present study. Conclusions The most common presenting symptoms were dyspnea, cough and fever, just as what was common elsewhere in the world. Mortality increased significantly with age, in HIV-infected patients, in those without a health insurance, those presenting with dyspnea, chest pain, or neutrophilia and those who did not use steroid or ivermectin. Clinicians should actively look for the predictors of mortality and take appropriate management to reduce mortality.
Similar to other studies 7, 24, 25 , the majority of patients in this study were male. One-third of COVID-19 patients died in the hospital. The odds ratio of death increased significantly as patients age increased above 60 years. There were almost 3-folds increased odds of dying in the age group 60-74 years while the odds of dying were almost 7-folds in the age above 90 years. The relationship between age and COVID-19 deaths in this study reflects not only WHO data, 1 but also the findings of other studies of COVID-19 done elsewhere. For example, a study done in Sudan by Hasabo E, et al, 7 Lombardy Region, Italy by Cecconi M, et al 24 and Grasselli G, et al 25 which indicated that majority of confirmed COVID-19 deaths were among patients aged above 60 years. Male sex has been found to be an independent factor associated with severe COVID-19 and mortality. 14, 15, 23 In our study sex was not found to be a risk factor for death. Patients who died were more likely to be unemployed, uninsured and with no formal education. The risk of deaths was almost 3-fold in uninsured group compared to insured one. Being . Competing Interests Authors declare that they have no conflict of interest. Author's Contribution Elisha Osati designed the study. Elisha Osati, Naveeda Adams, Dr. Athumani Ramadhani, Mary Nicolaus, Denis Rainer, Christian Mbije, Martha Nkya, did data collection. Elisha Osati, Grace Shayo, Kajiru Kilonzo, John Meda, Gervas Nyaisonga, Bahati Wanja, Albert Muniko..
References
Charpentrat, Miracle" drug ivermectin unproven against COVID, scientists warn. CTV News
Esr, None
Fukumoto, Leung, Jr, Oxidative stress induces club cell proliferation and pulmonary fibrosis in Atp8b1 mutant mice, Aging (Albany NY)
Stokes, Zambrano, Anderson, MMWR -Coronavirus Disease 2019 Case Surveillance -United States
Who, Tuberculosis deaths and disease increase during the COVID-19 pandemic. WHO Newsletters News release 27th October
Who, WHO Coronavirus (COVID-19) Dashboard _ WHO Coronavirus (COVID-19) Dashboard With Vaccination Data