Hypothesis for an additional mechanism of action for ivermectin: inhibition of pro-inflammatory cytokines due to enhanced replication of Bifidobacterium. This article was censored by the journal stating concerns "regarding the scientific validity", but providing no actual claim for any issue. The article only provides a hypothesis, while noting that supporting data is forthcoming.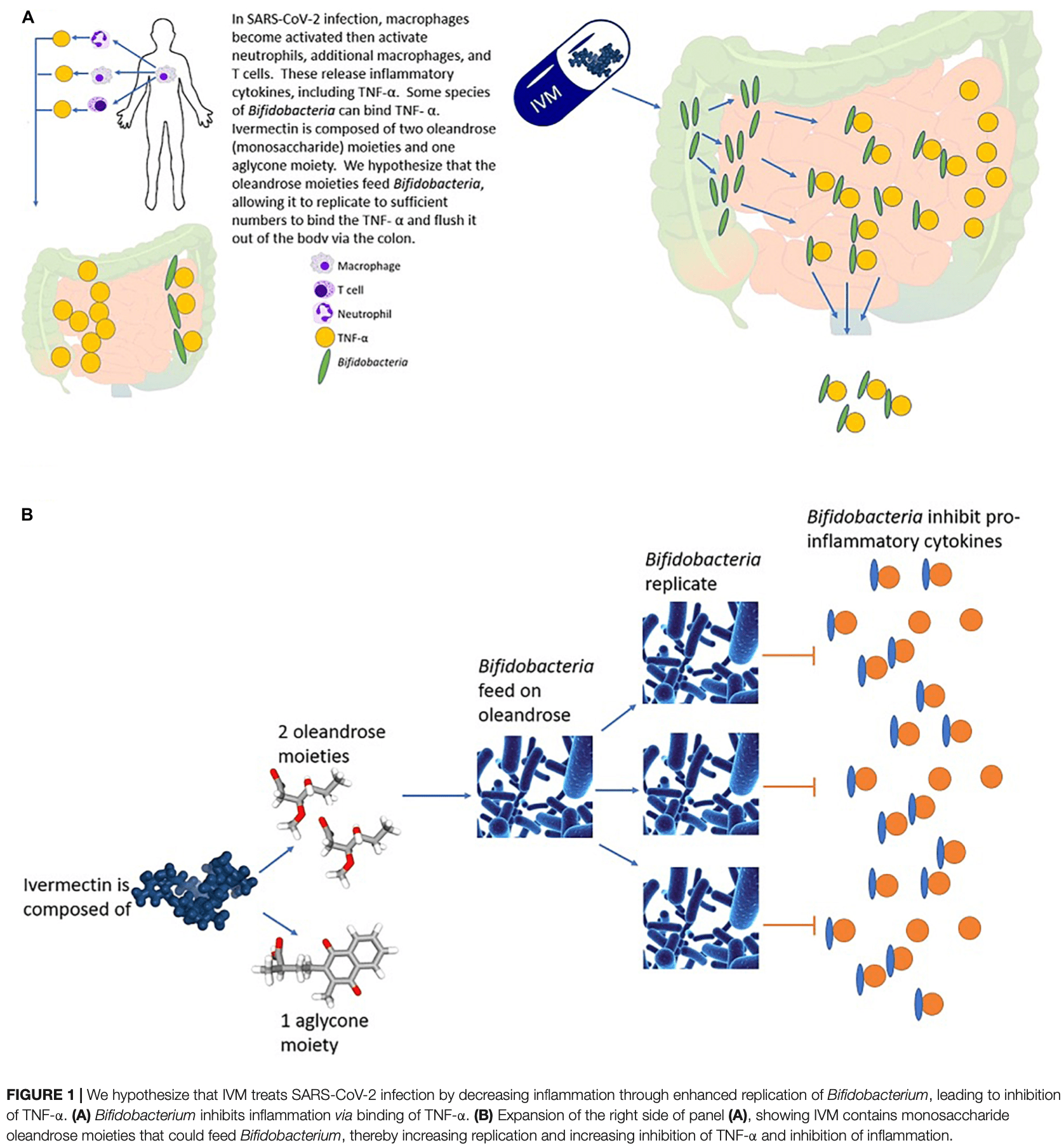 Hazan et al., 11 Jul 2022, peer-reviewed, 1 author.
Contact: drhazan@progenabiome.com.
Microbiome-Based Hypothesis on Ivermectin's Mechanism in COVID-19: Ivermectin Feeds Bifidobacteria to Boost Immunity
Frontiers in Microbiology, doi:10.3389/fmicb.2022.952321
Ivermectin is an anti-parasitic agent that has gained attention as a potential COVID-19 therapeutic. It is a compound of the type Avermectin, which is a fermented by-product of Streptomyces avermitilis. Bifidobacterium is a member of the same phylum as Streptomyces spp., suggesting it may have a symbiotic relation with Streptomyces. Decreased Bifidobacterium levels are observed in COVID-19 susceptibility states, including old age, autoimmune disorder, and obesity. We hypothesize that Ivermectin, as a by-product of Streptomyces fermentation, is capable of feeding Bifidobacterium, thereby possibly preventing against COVID-19 susceptibilities. Moreover, Bifidobacterium may be capable of boosting natural immunity, offering more direct COVID-19 protection. These data concord with our study, as well as others, that show Ivermectin protects against COVID-19.
AUTHOR CONTRIBUTIONS The author confirms being the sole contributor of this work and has approved it for publication. Publisher's Note: All claims expressed in this article are solely those of the authors and do not necessarily represent those of their affiliated organizations, or those of the publisher, the editors and the reviewers. Any product that may be evaluated in this article, or claim that may be made by its manufacturer, is not guaranteed or endorsed by the publisher. Copyright © 2022 Hazan. This is an open-access article distributed under the terms of the Creative Commons Attribution License (CC BY). The use, distribution or reproduction in other forums is permitted, provided the original author(s) and the copyright owner(s) are credited and that the original publication in this journal is cited, in accordance with accepted academic practice. No use, distribution or reproduction is permitted which does not comply with these terms.
References
Abbas, Muhammad, Ding, The effect of ivermectin on reducing viral symptoms in patients with mild COVID-19
Barton, Nakanishi, Meth-Cohn, Comprehensive Natural Products Chemistry
Bernstein, Cha, Second-Week Crash' is Time of Peril for Some Covid-19 Patients
Chaccour, Casellas, Blanco-Di Matteo, Pineda, Fernandez-Montero et al., The effect of early treatment with Hazan Ivermectin Feeds Bifidobacterium Fighting COVID-19
Xu, Cai, Shen, Ni, Chen et al., Management of corona virus disease-19 (COVID-19): the Zhejiang experience
Xuexuebao, Xue Ban, None, Zhejiang Univ. Med. Sci
Zuo, Wu, Wen, Lan, Gut microbiome alterations in COVID-19, Genomics Proteomics Bioinformatics