Small RCT of hospitalized patients in India with 19 ivermectin patients and 13 control patients, with all receiving SOC including HCQ, showing no significant differences. The patient population is biased because the study recruited patients that did not respond to standard treatment. Authors do not specify the treatment delay but it is likely relatively late because the patients had already undergone standard treatment. Criteria for discharge are not provided. The time of discharge status is not specified and may not have been an equal time since treatment initiation for all patients.Authors indicate 19 treatment and 16 control patients, but the results only show 13 control patients. Authors do not indicate why the other 3 are missing.Randomization in this small sample resulted in very large differences in the groups, with over twice as many in the ivermectin group with age >40, and the only 2 patients with age >60 both in the ivermectin group. Authors did not adjust for these differences.
risk of no hospital discharge,

7.5% higher

, RR 1.08, p = 1.00
, treatment 11 of 19 (57.9%), control 7 of 13 (53.8%).
risk of no viral clearance,

7.5% higher

, RR 1.08, p = 1.00
, treatment 11 of 19 (57.9%), control 7 of 13 (53.8%), day 3, primary outcome.
risk of no viral clearance,

220.0% higher

, RR 3.20, p = 0.45
, treatment 1 of 5 (20.0%), control 0 of 6 (0.0%), continuity correction due to zero event (with reciprocal of the contrasting arm), day 5.
Effect extraction follows pre-specified rules prioritizing more serious outcomes. Submit updates
This study is excluded in the after exclusion results of meta analysis: excessive unadjusted differences between groups.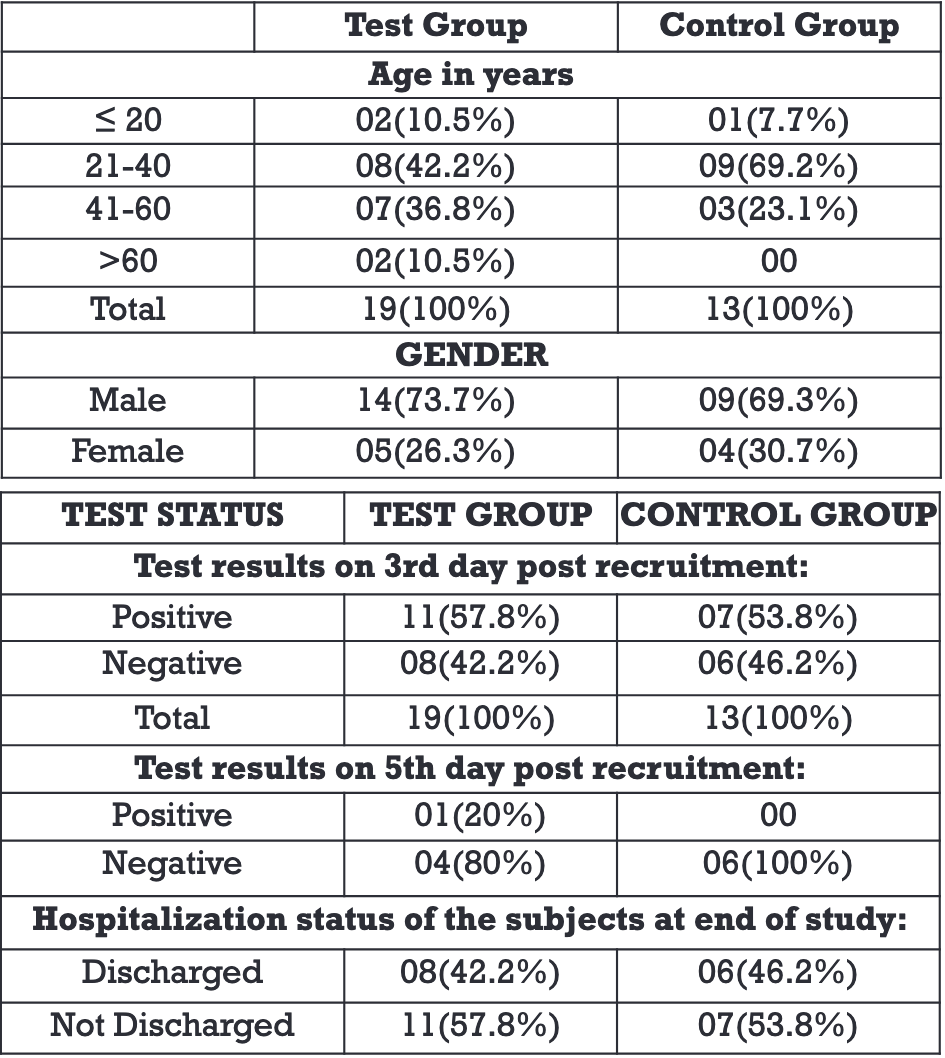 Kishoria et al., 31 Aug 2020, Randomized Controlled Trial, India, peer-reviewed, 7 authors, dosage 12mg single dose.