Retrospective 230 hospitalized patients in Brazil showing no significant difference with ivermectin treatment. Authors note that the treatments were more likely to be offered to sicker patients. Authors note that they do not know if treatment was started before or after ICU admission and intubation.Baseline total chest CT opacities were higher for ivermectin (20% vs. 15%). 25% of control patients were admitted within 3 days, compared to 5 days for ivermectin. Only 38% of patients in the ivermectin arm were treated within 7 days, compared to 61% for HCQ. These are consistent with ivermectin being used for more severe patients. Dosage is unknown.This is the
69th of 99 COVID-19 controlled studies
for ivermectin, which collectively show efficacy with
p<0.0000000001 (1 in 2 sextillion)
.
46 studies are RCTs
, which show efficacy with
p=0.00000014
. This study is excluded in the after exclusion results of meta analysis: unadjusted results with no group details; substantial unadjusted
confounding by indication
likely.
This study includes
HCQ
and ivermectin.
risk of death,

5.0% higher

, RR 1.05, p = 1.00
, treatment 3 of 21 (14.3%), control 11 of 81 (13.6%).
risk of death/intubation,

54.3% higher

, RR 1.54, p = 0.37
, treatment 6 of 21 (28.6%), control 15 of 81 (18.5%).
risk of death/intubation/ICU,

62.4% higher

, RR 1.62, p = 0.27
, treatment 8 of 21 (38.1%), control 19 of 81 (23.5%).
Effect extraction follows pre-specified rules prioritizing more serious outcomes. Submit updates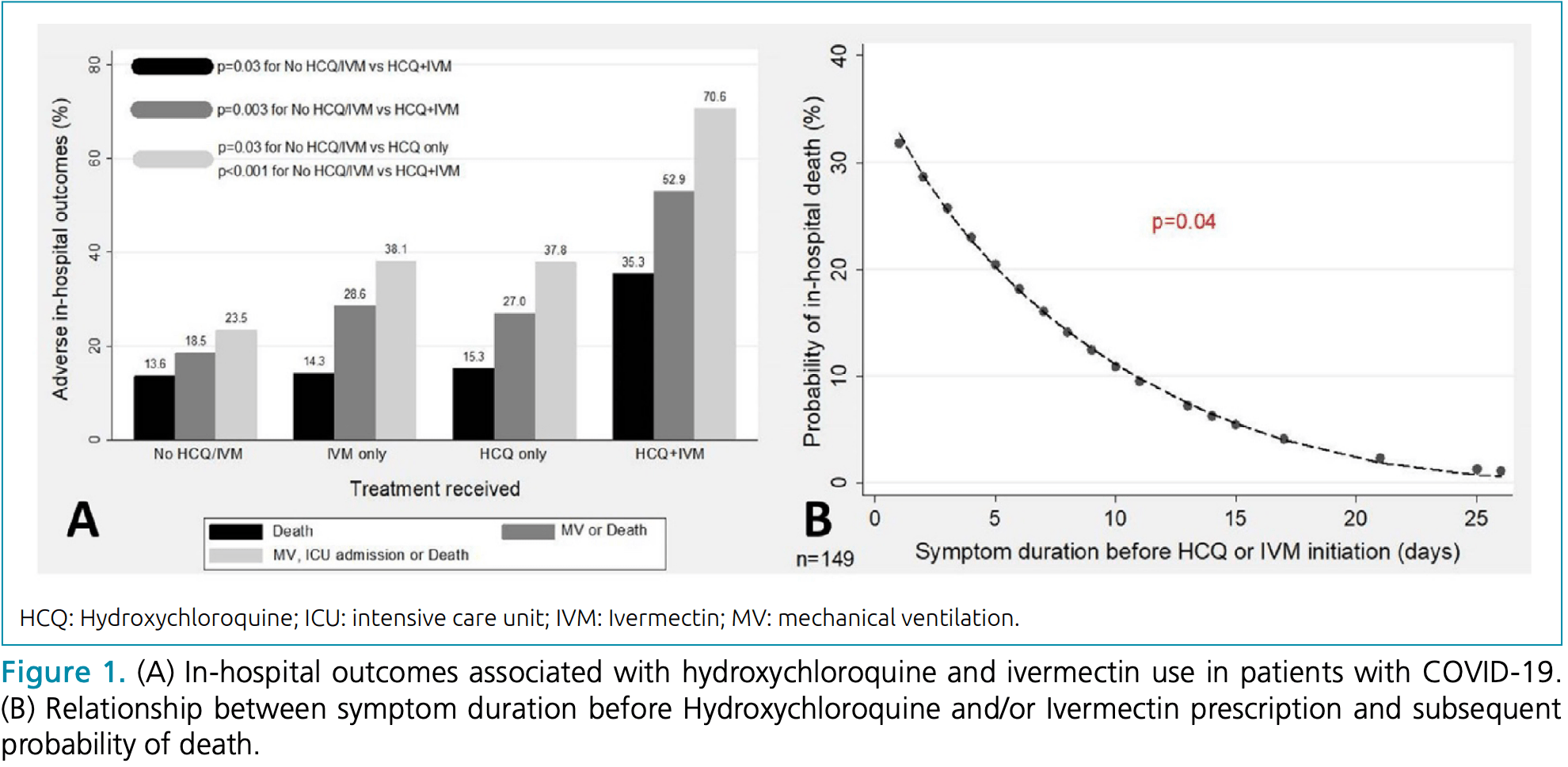 Ferreira et al., 26 Nov 2021, retrospective, Brazil, peer-reviewed, 5 authors, study period 12 March, 2020 - 8 July, 2020, average treatment delay 7.0 days, dosage not specified.
Outcomes associated with Hydroxychloroquine and Ivermectin in hospitalized patients with COVID-19: a single-center experience
Revista da Associação Médica Brasileira, doi:10.1590/1806-9282.20210661
OBJECTIVE: Hydroxychloroquine and Ivermectin are advocated as potential treatments for coronavirus disease 2019 (COVID-19) despite the lack of supportive clinical evidence. In this study, outcomes associated with Hydroxychloroquine and/or Ivermectin were determined in a series of patients with confirmed COVID-19 from a single institution in Brazil. METHODS: Consecutive patients admitted between March and July 2020 were retrospectively analyzed and divided into four treatment categories: no treatment (Group 0), Ivermectin only (Group I), Hydroxychloroquine only (Group II), and Hydroxychloroquine and Ivermectin (Group III). Intensive care unit admission, mechanical ventilation, and death were compared between the Groups. RESULTS: A total of 230 patients were included, with the following treatment distribution: 35.2% (0), 9.1% (I), 48.3% (II), and 7.4% (III). Groups I, II, and III had the higher rates of Intensive care unit admission, mechanical ventilation, or death (0: 23.5% versus I: 38.1% versus II: 37.8% versus III: 70.6%, p=0.002), and the greatest mortality was found in Group III (0 versus III: 13.6% versus 35.3%, p=0.03). In the multivariate analysis, Hydroxychloroquine remained significantly associated with death (OR 3.3, 95%CI 1.1-9.6, p=0.03). CONCLUSION: In a series of consecutive hospitalized patients with COVID-19, Ivermectin was not associated with improved outcomes and Hydroxychloroquine may have resulted in a harmful effect.
AUTHORS' CONTRIBUTIONS RMF
References
Bhimraj, Morgan, Shumaker, Lavergne, Baden et al., IDSA guidelines on the treatment and management of patients with COVID-19
Gupta, Sahoo, Singh, Ivermectin: potential candidate for the treatment of Covid 19, Braz J Infect Dis
Virgínia, Infectious diseases society of America