Effect of Early Treatment with Ivermectin among Patients with Covid-19
et al., New England Journal of Medicine,
Effect of Early Treatment with Ivermectin among Patients with Covid-19
,
New England Journal of Medicine, doi:10.1056/NEJMoa2115869 (results released 8/6/2021), TOGETHER, NCT04727424
,
Extreme COI, impossible data, blinding failure, randomization failure, uncorrected errors, protocol violations, no response from authors, refusal to release data
This trial uses a soft primary outcome, easily subject to bias and event inflation in both arms (e.g., observe >6 hours independent of indication). There is also an unusual inclusion criteria: "patients with expected hospital stays of <= 5 days". This is similar to "patients less likely to need treatment beyond SOC to recover", and would make it very easy to reduce the effect seen. This is not in either of the published protocols.
The local Brazilian investigator also reports that nitazoxanide was tested in the same location, however very few patients reportedly experienced urine discoloration, while all are expected to experience this side effect. They also suggest that 6-hour observation is a poor choice because it is almost impossible to stay less than 6 hours in Brazil.
risk of death,

12.0% lower

, RR 0.88, p = 0.68
, treatment 21 of 679 (3.1%), control 24 of 679 (3.5%), NNT 226.
risk of mechanical ventilation,

23.0% lower

, RR 0.77, p = 0.38
, treatment 19 of 679 (2.8%), control 25 of 679 (3.7%), NNT 113.
risk of hospitalization,

17.0% lower

, RR 0.83, p = 0.19
, treatment 79 of 679 (11.6%), control 95 of 679 (14.0%), NNT 42.
extended ER observation or hospitalization,

10.0% lower

, RR 0.90, p = 0.42
, treatment 100 of 679 (14.7%), control 111 of 679 (16.3%), NNT 62, primary outcome.
viral clearance,

no change

, RR 1.00, p = 1.00
, treatment 106 of 142 (74.6%), control 123 of 165 (74.5%), day 7.
viral clearance,

31.6% higher

, RR 1.32, p = 0.46
, treatment 148, control 170, inverted to make RR<1 favor treatment, day 3.
Effect extraction follows pre-specified rules prioritizing more serious outcomes. Submit updates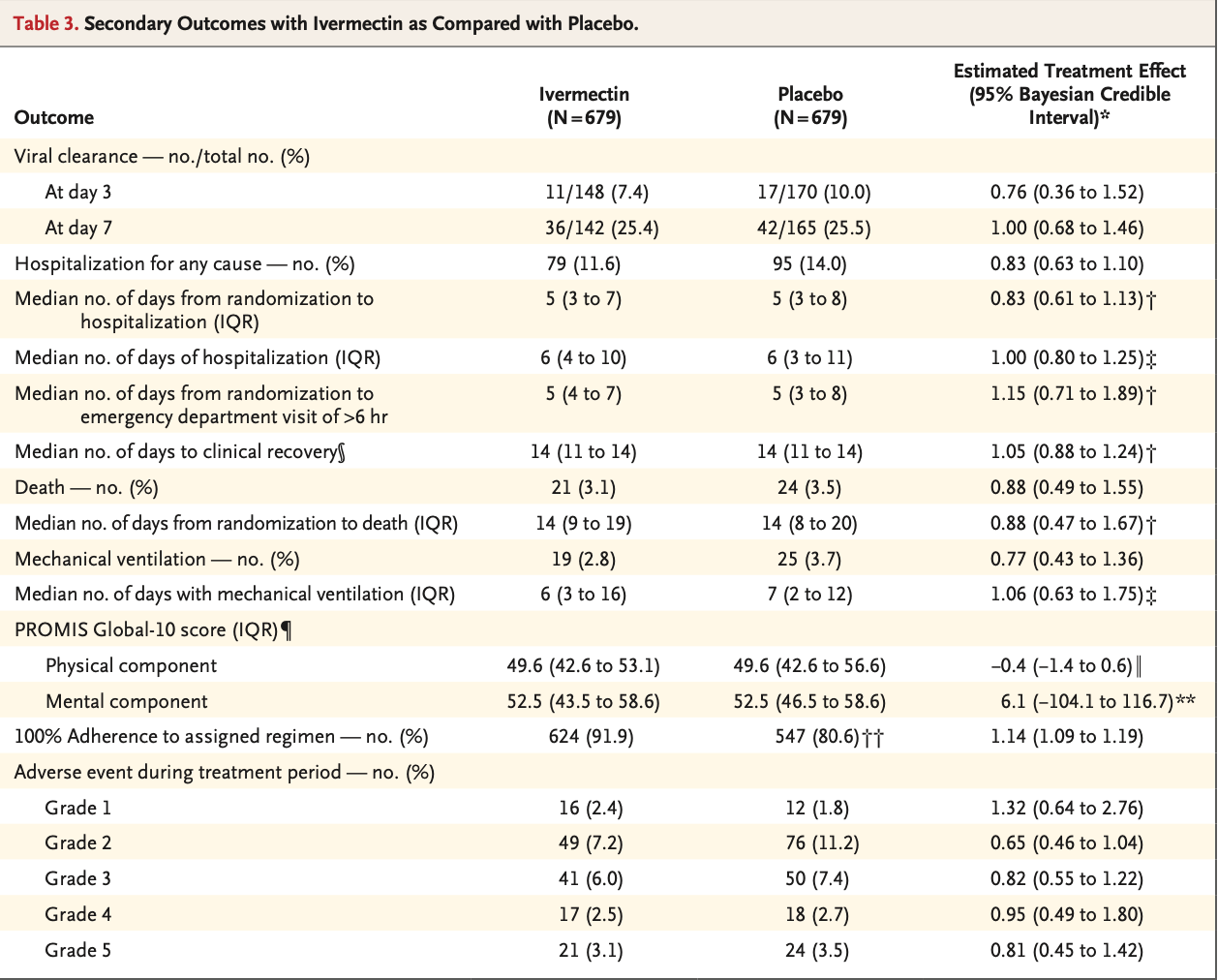 Reis et al., 6 Aug 2021, Double Blind Randomized Controlled Trial, Brazil, peer-reviewed, 27 authors, study period 23 March, 2021 - 6 August, 2021, dosage 400μg/kg days 1-3, impossible data, see notes, trial
NCT04727424
(history)
(TOGETHER).
Abstract: T h e n e w e ng l a n d j o u r na l o f m e dic i n e Original Article Effect of Early Treatment with Ivermectin among Patients with Covid-19 G. Reis, E.A.S.M. Silva, D.C.M. Silva, L. Thabane, A.C. Milagres, T.S. Ferreira, C.V.Q. dos Santos, V.H.S. Campos, A.M.R. Nogueira, A.P.F.G. de Almeida, E.D. Callegari, A.D.F. Neto, L.C.M. Savassi, M.I.C. Simplicio, L.B. Ribeiro, R. Oliveira, O. Harari, J.I. Forrest, H. Ruton, S. Sprague, P. McKay, C.M. Guo, K. Rowland‑Yeo, G.H. Guyatt, D.R. Boulware, C.R. Rayner, and E.J. Mills, for the TOGETHER Investigators*​​ A BS T R AC T BACKGROUND The efficacy of ivermectin in preventing hospitalization or extended observation in an emergency setting among outpatients with acutely symptomatic coronavirus disease 2019 (Covid-19), the disease caused by severe acute respiratory syndrome coronavirus 2 (SARS-CoV-2), is unclear. METHODS We conducted a double-blind, randomized, placebo-controlled, adaptive platform trial involving symptomatic SARS-CoV-2–positive adults recruited from 12 public health clinics in Brazil. Patients who had had symptoms of Covid-19 for up to 7 days and had at least one risk factor for disease progression were randomly assigned to receive ivermectin (400 μg per kilogram of body weight) once daily for 3 days or placebo. (The trial also involved other interventions that are not reported here.) The primary composite outcome was hospitalization due to Covid-19 within 28 days after randomization or an emergency department visit due to clinical worsening of Covid-19 (defined as the participant remaining under observation for >6 hours) within 28 days after randomization. The authors' full names, academic degrees, and affiliations are listed in the Appendix. Dr. Reis can be contacted at ­thetogethertrial@​­gmail​.­com or at the Research Division, Cardresearch–Cardiologia Assistencial e de Pesquisa, Rua Domingos Vieira 300, Sala 606, Belo Horizonte 30150-242, Brazil. Dr. Rayner can be contacted at ­ thetogethertrial@​ ­gmail​.­com or at the Monash Institute of Pharmaceutical Sciences, 381 Royal Parade, Parkville, Melbourne, VIC 3052, Australia. *A list of the TOGETHER Investigators is provided in the Supplementary Appendix, available at NEJM.org. This article was published on March 30, 2022, and updated on April 5, 2022, at NEJM.org. DOI: 10.1056/NEJMoa2115869 RESULTS A total of 3515 patients were randomly assigned to receive ivermectin (679 patients), placebo (679), or another intervention (2157). Overall, 100 patients (14.7%) in the ivermectin group had a primary-outcome event, as compared with 111 (16.3%) in the placebo group (relative risk, 0.90; 95% Bayesian credible interval, 0.70 to 1.16). Of the 211 primary-outcome events, 171 (81.0%) were hospital admissions. Findings were similar to the primary analysis in a modified intention-to-treat analysis that included only patients who received at least one dose of ivermectin or placebo (relative risk, 0.89; 95% Bayesian credible interval, 0.69 to 1.15) and in a per-protocol analysis that included only patients who reported 100% adherence to the assigned regimen (relative risk, 0.94; 95% Bayesian credible interval, 0.67 to 1.35). There were no significant effects of ivermectin use on secondary outcomes or adverse events. Copyright © 2022 Massachusetts Medical Society. CONCLUSIONS Treatment with ivermectin did not result in a lower incidence of medical admission to a hospital due to progression of Covid-19 or of prolonged emergency..
Please send us corrections, updates, or comments. Vaccines and treatments are complementary. All practical, effective, and safe means should be used based on risk/benefit analysis. No treatment, vaccine, or intervention is 100% available and effective for all current and future variants. We do not provide medical advice. Before taking any medication, consult a qualified physician who can provide personalized advice and details of risks and benefits based on your medical history and situation.
FLCCC
and
WCH
provide treatment protocols.
Submit