Review of how ivermectin was identified for use in COVID-19, mechanisms of action, and selected clinical trials.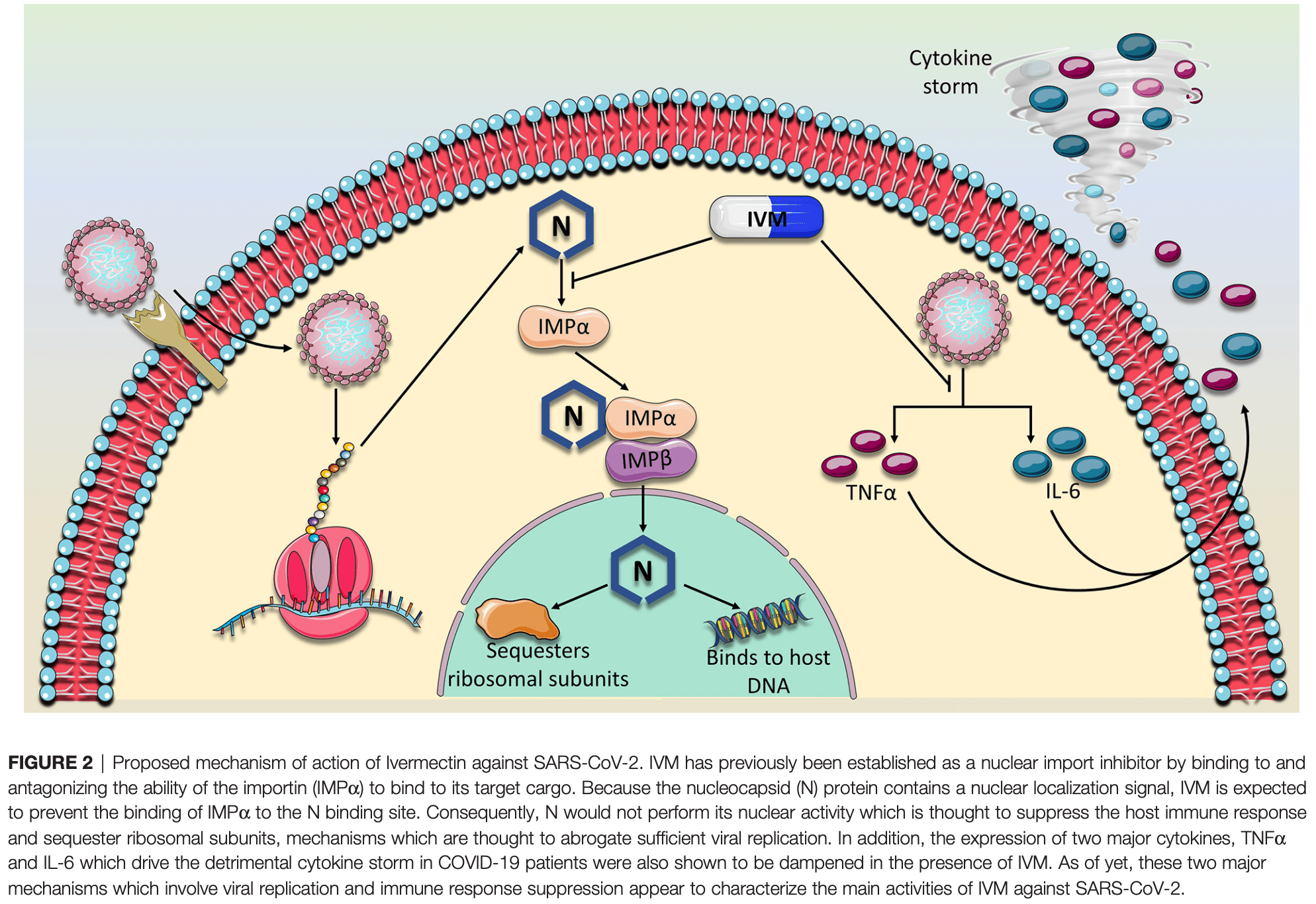 Wehbe et al., 30 Mar 2021, peer-reviewed, 7 authors.
Repurposing Ivermectin for COVID-19: Molecular Aspects and Therapeutic Possibilities
Frontiers in Immunology, doi:10.3389/fimmu.2021.663586
As of January 2021, SARS-CoV-2 has killed over 2 million individuals across the world. As such, there is an urgent need for vaccines and therapeutics to reduce the burden of COVID-19. Several vaccines, including mRNA, vector-based vaccines, and inactivated vaccines, have been approved for emergency use in various countries. However, the slow roll-out of vaccines and insufficient global supply remains a challenge to turn the tide of the pandemic. Moreover, vaccines are important tools for preventing the disease but therapeutic tools to treat patients are also needed. As such, since the beginning of the pandemic, repurposed FDA-approved drugs have been sought as potential therapeutic options for COVID-19 due to their known safety profiles and potential anti-viral effects. One of these drugs is ivermectin (IVM), an antiparasitic drug created in the 1970s. IVM later exerted antiviral activity against various viruses including SARS-CoV-2. In this review, we delineate the story of how this antiparasitic drug was eventually identified as a potential treatment option for COVID-19. We review SARS-CoV-2 lifecycle, the role of the nucleocapsid protein, the turning points in past research that provided initial 'hints' for IVM's antiviral activity and its molecular mechanism of action-and finally, we culminate with the current clinical findings.
AUTHOR CONTRIBUTIONS AE generated the concept. ZW and MW wrote the first draft. All authors revised the manuscript and approved it before submission. HY generated funding. Conflict of Interest: The authors declare that the research was conducted in the absence of any commercial or financial relationships that could be construed as a potential conflict of interest.
References
Juarez, Schcolnik-Cabrera, Dueñas-Gonzalez, The multitargeted drug ivermectin: from an antiparasitic agent to a repositioned cancer drug, Am J Cancer Res
Schröder, Swan, Soll, Hotson, Efficacy of ivermectin against ectoparasites of cattle in South Africa, J S Afr Vet Assoc
Seward, Reactions in dogs given ivermectin, J Am Vet Med Assoc
Tablets, STROMECTOL ® (IVERMECTIN