Review of the quality of medical products in Zimbabwe during the pandemic, noting reports of inauthentic ivermectin in South Africa that was tested and found to have low or no active ingredient.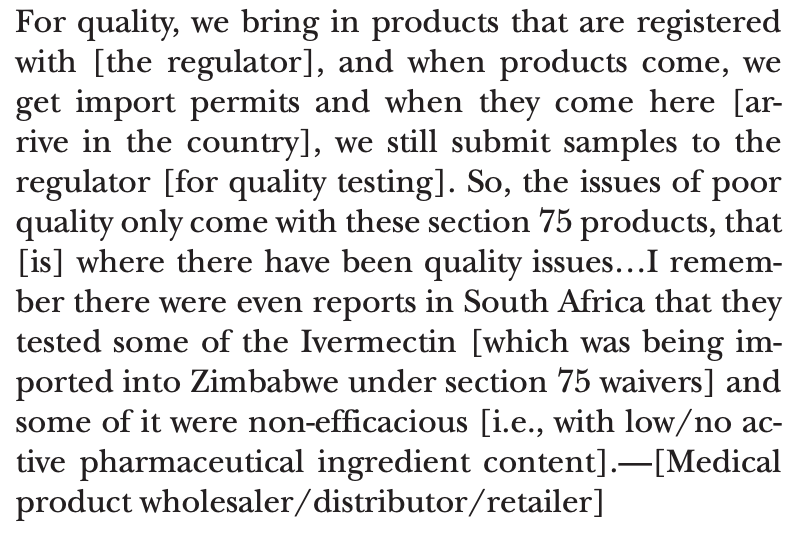 Yemeke et al., 8 Jun 2023, peer-reviewed, 4 authors.
Impact of the COVID-19 pandemic on the quality of medical products in Zimbabwe: a qualitative study based on key informant interviews with health system stakeholders
BMJ Open, doi:10.1136/bmjopen-2022-068923
Objective To explore the impact of the Coronavirus disease 2019 (COVID-19) pandemic on the quality of medical products in Zimbabwe, including market risks for substandard and falsified products and impacts on quality assurance activities. Design Qualitative study based on in-depth key informant interviews. Setting Health system stakeholders across the medical product supply chain in Zimbabwe. Participants 36 key informants were interviewed between April and June 2021. Results We found that the COVID-19 pandemic disrupted quality assurance and regulatory activities of medical products in Zimbabwe, resulted in observations of poorquality personal protective equipment (PPE) and other COVID-19-related products and led to increased risks to quality. Risks to quality due to COVID-19-related disruptions included increased layers of agents in the supply chain and an influx of non-traditional suppliers. COVID-19-related movement restrictions reduced access to health facilities and thus may have increased the usage of the informal market where smuggled and unregistered medical products are sold with less oversight by the regulator. Most reports of poor-quality medical products were for PPE, such as masks and infrared thermometers, used for the COVID-19 response. Besides these reports, many participants stated that the quality of essential medicines in the formal sector, not related to COVID-19, had largely been maintained during the pandemic due to the regulator's stringent quality assurance process. Incentives for suppliers to maintain quality to retain large donor-funded contracts, and the need for local wholesalers and distributors to comply with quality-related aspects of distribution agreements with global manufacturers of brand-name medical products, mitigated threats to quality. Conclusions The COVID-19 pandemic presented opportunities and market risks for circulation of substandard and falsified medical products in Zimbabwe. There is a need for policymakers to invest in measures to safeguard the quality of medical products during emergencies and to build resiliency against future supply chain shocks.
Competing interests None declared. Patient and public involvement Patients and/or the public were involved in the design, or conduct, or reporting, or dissemination plans of this research. Refer to the Methods section for further details. Patient consent for publication Not applicable. Ethics approval The study received ethical approval from the research ethics review boards at the University of North Carolina at Chapel Hill (IRB # 20-3065) and from the Medical Research Council of Zimbabwe (MRCZ/A/2596). Additional permission to interview key informants affiliated with the Ministry of Health and Child Care (MOHCC) was granted by the National Institute of Health Research within the MOHCC. Participants gave informed consent to participate in the study before taking part. Provenance and peer review Not commissioned; externally peer reviewed. Data availability statement Data are available on reasonable request. All data relevant to the study are included in the article or uploaded as online supplemental file. Study interview guide and codebook are available as article supplementary files. De-identified qualitative memos summarizing participant interviews are available upon reasonable request. Requests should be directed to the corresponding author. Supplemental material This content has been supplied by the author(s). It has not been vetted by BMJ Publishing Group Limited (BMJ) and may not have been peer-reviewed. Any opinions or recommendations discussed are solely those of..
References
Bank, World Bank Country and Lending Groups
Borse, Cha, Chase, Responding to the surge of substandard and falsified health products triggered by the Covid-19 pandemic
Kaddu, 'amore, Clark, Strengthening Regulatory Systems To Improve Medical Product Quality in Low-and MiddleIncome Countries
Maguire, Delahunt, Doing a thematic analysis: A practical, stepby-step guide
Pecchia, Health technology assessment of medical devices in low and middle income countries: study design and preliminary