Ecological analysis showing that ivermectin distribution correlated significantly (p<0.002) with the reduction in excess deaths across 25 states in Peru.Ivermectin was authorized for COVID-19 treatment in Peru in May 2020 and distributed to varying degrees across the states. 10 states had mass ivermectin distributions through the Mega-Operación Tayta (MOT) program. Excess deaths were calculated using mortality data from Peru's national health system.In the 10 MOT states with maximal ivermectin usage, excess deaths dropped by 74% on average 30 days after peak deaths. In 14 states with moderate ivermectin usage, deaths dropped 53%. In Lima with minimal ivermectin usage, deaths dropped 25%.Reductions in excess deaths correlated significantly (p<0.002) with extent of ivermectin distributions across the 25 states.After the new Peruvian president restricted ivermectin use in November 2020, nationwide excess deaths increased 13-fold over the next 2 months.The significant correlation between ivermectin usage and reduced excess deaths held despite considering other potential confounding factors like mobility, viral strains, and seropositivity.In summary, this ecological study found that ivermectin usage correlated with reduced COVID-19 mortality across Peru in 2020, based on data for excess deaths and ivermectin distributions across 25 states.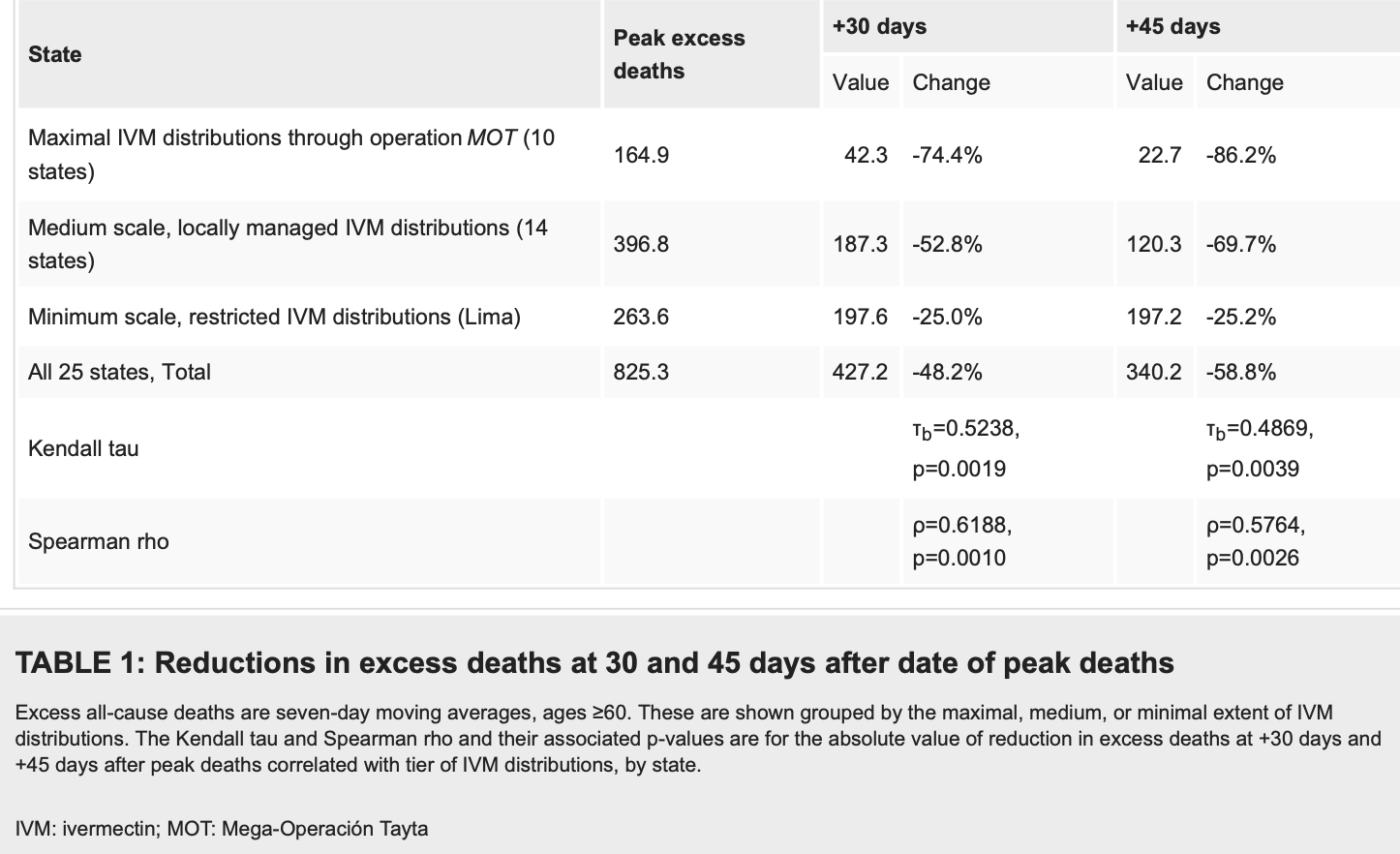 Chamie et al., 8 Aug 2023, placebo-controlled, Peru, peer-reviewed, 3 authors, study period 1 August, 2020 - 1 December, 2020.
Contact: dscheim@alum.mit.edu.
COVID-19 Excess Deaths in Peru's 25 States in 2020: Nationwide Trends, Confounding Factors, and Correlations With the Extent of Ivermectin Treatment by State
Cureus, doi:10.7759/cureus.43168
Introduction In 2020, nations hastened to contain an emerging COVID-19 pandemic by deploying diverse public health approaches, but conclusive appraisals of the efficacy of these approaches are elusive in most cases. One of the medicines deployed, ivermectin (IVM), a macrocyclic lactone having biochemical activity against SARS-CoV-2 through competitive binding to its spike protein, has yielded mixed results in randomized clinical trials (RCTs) for COVID-19 treatments. In Peru, an opportunity to track the efficacy of IVM with a close consideration of confounding factors was provided through data for excess deaths as correlated with IVM use in 2020, under semi-autonomous policies in its 25 states. Methods To evaluate possible IVM treatment effects, excess deaths as determined from Peruvian national health data were analyzed by state for ages ≥60 in Peru's 25 states. These data were compared with monthly summary data for excess deaths in Peru for the period 2020-2021 as published by the WHO in 2022. To identify potential confounding factors, Google mobility data, population densities, SARS-CoV-2 genetic variations, and seropositivity rates were also examined. Results Reductions in excess deaths over a period of 30 days after peak deaths averaged 74% in the 10 states with the most intensive IVM use. As determined across all 25 states, these reductions in excess deaths correlated closely with the extent of IVM use (p<0.002). During four months of IVM use in 2020, before a new president of Peru restricted its use, there was a 14-fold reduction in nationwide excess deaths and then a 13-fold increase in the two months following the restriction of IVM use. Notably, these trends in nationwide excess deaths align with WHO summary data for the same period in Peru. Conclusions The natural experiment that was put into motion with the authorization of IVM use for COVID-19 in Peru in May 2020, as analyzed using data on excess deaths by locality and by state from Peruvian national health sources, resulted in strong evidence for the drug's effectiveness. Several potential confounding factors, including effects of a social isolation mandate imposed in May 2020, variations in the genetic makeup of the SARS-CoV-2 virus, and differences in seropositivity rates and population densities across the 25 states, were considered but did not appear to have significantly influenced these outcomes.
Additional Information Disclosures Human subjects: All authors have confirmed that this study did not involve human participants or tissue.
References
Bermúdez, If a doctor evaluates a person and prescribes ivermectin, they can use it
Breakwater, IDL Reporters
Cabezas, Fiestas, García-Mendoza, Palomino, Mamani et al., Dengue in Peru: a quarter of a century after its reemergence, Revista Peruana de Medicina Experimental y Salud Publica
Chamie-Quintero, Hibberd, Scheim, Ivermectin for COVID-19 in Peru: 14-fold reduction in nationwide excess deaths, p<0.002 for effect by state, then 13-fold increase after ivermectin use restricted
Comercio, A trip to the black market of COVID-19
Desort-Henin, Kostova, Babiker, Caramel, Malamut, The SAIVE Trial, post-exposure use of ivermectin in COVID-19 prevention: efficacy and safety results
Hibberd, Scheim, Google community mobility trends, seropositivity rates, comparisons of SINADEF data with who summary data, and other data items as useful in analysis of excess deaths during the COVID-19 pandemic in Peru
Hibberd, Scheim, Sharp reductions in COVID-19 case fatalities and excess deaths in Peru in close time conjunction, state-bystate
Juarez, Schcolnik-Cabrera, Dueñas-Gonzalez, The multitargeted drug ivermectin: from an antiparasitic agent to a repositioned cancer drug, Am J Cancer Res
Lima, None
López-Medina, 38 switched ivermectin (IVM) and placebo doses, failure of blinding, ubiquitous IVM use OTC in Cali, and nearly identical AEs for the IVM and control groups
Nih Covid-, Fluvoxamine: selected clinical data, limitations and interpretation
Puno, Starting tomorrow they will implement the Tayta operation led by the Peruvian Army
Shouman, Hegazy, Nafae, Use of ivermectin as a prophylactic option in asymptomatic family close contacts with patients of COVID-19 (NCT number: 04422561), J Clin Diagnostic Res
Wessa, net Free Statistics Software, Office for Research Development and Education, version 1.2.1
Yagisawa, Foster, Hanaki, Omura, Global trends in clinical studies of ivermectin in COVID-19, Jpn J Antibiot