Retrospective severe COVID-19 patients in Zimbabwe treated with ivermectin, doxycycline, and zinc. For 34 with SpO
2
tracking, there was rapid improvement in SpO
2
, with 55% recovery towards SpO
2
=97 within 12 hours. The preprint shows further analysis of all 92 severe cases: there were 2 deaths and 2 additional progressions prior to recovery, significantly less than a predicted 7 deaths and 17 deteriorations based on demographics and risk factors
researchsquare.com
.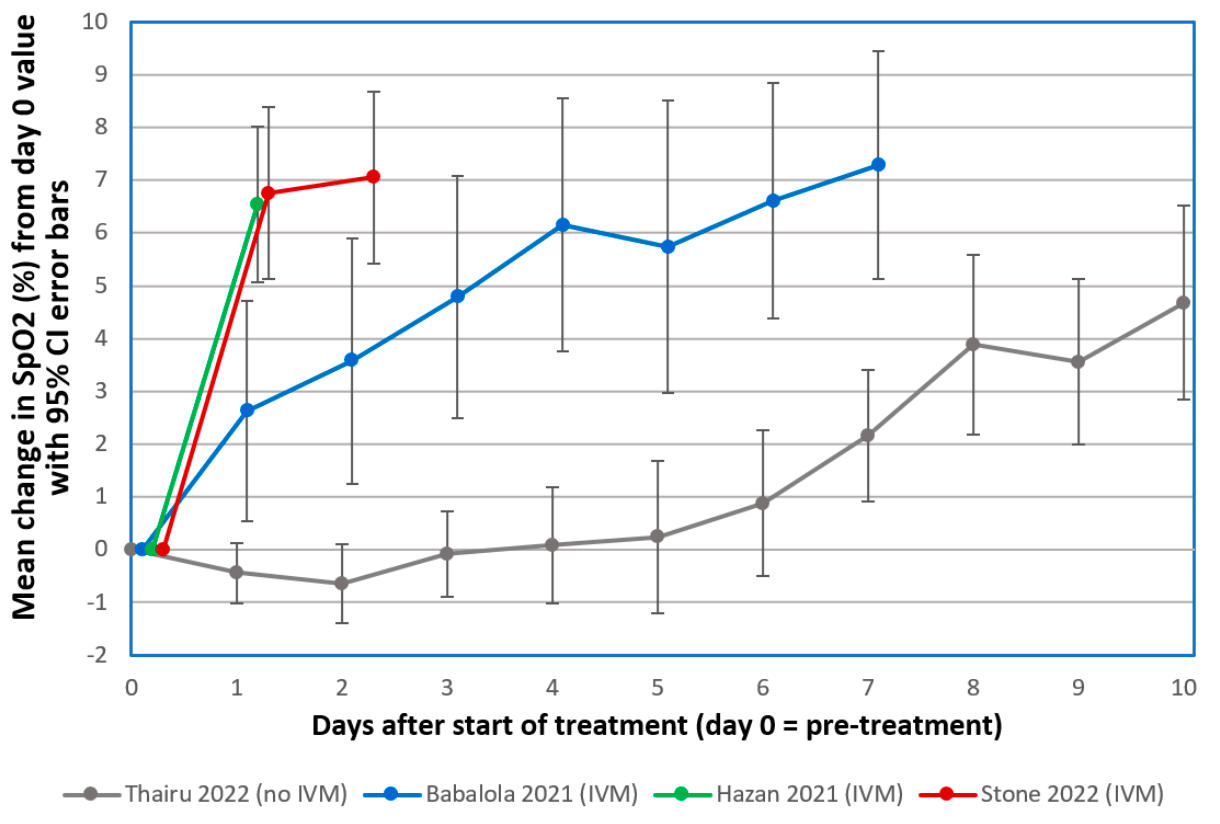 Stone et al., 9 Nov 2021, retrospective, South Africa, peer-reviewed, mean age 55.0, 7 authors, study period August 2020 - May 2021.
Contact: dscheim@alum.mit.edu (corresponding author).
Changes in SpO2 on Room Air for 34 Severe COVID-19 Patients after Ivermectin-Based Combination Treatment: 62% Normalization within 24 Hours
Biologics, doi:10.3390/biologics2030015
The emergence of COVID-19 in March 2020 challenged Zimbabwe to respond with limited medical facilities and therapeutic options. Based on early clinical indications of efficacy for the macrocyclic lactone, Ivermectin (IVM), against COVID-19, IVM-based combination treatments were deployed to treat it. Oxygen saturation (SpO2) data were retrospectively analyzed for 34 severe, hypoxic COVID-19 patients all on room air (without supplemental oxygen). The patients, median age 56.5, were treated at clinics or at home between August 2020 and May 2021. All but three of these 34 patients had significantly increased SpO2 values within 24 h after the first IVM dose. The mean increase in SpO2 as a percentage of full normalization to SpO2 = 97 was 55.1% at +12 h and 62.3% at +24 h after the first IVM dose (paired t-test, p < 0.0000001). These results parallel similar sharp, rapid increases in SpO2, all on room air, for 24 mostly severe COVID-19 patients in the USA (California) who were given an IVM-based combination treatment. All patients in both of these critical series recovered. These rapid increases in SpO2 values after IVM treatment stand in sharp contrast to declines in SpO2 and associated pulmonary function through the second week following the onset of moderate or severe COVID-19 symptoms under standard care.
Informed Consent Statement: Informed consent was obtained from all subjects involved in the study. Abbreviations The
References
Arévalo, Pagotto, Pórfido, Daghero, Segovia et al., Ivermectin reduces in vivo coronavirus infection in a mouse experimental model, Sci. Rep
Babalola, Karu, Personal communication
Chirisa, Zimbabwe Confirms Its First Case of Coronavirus
De Castro, Jr, Gregianin, Burger, Continuous high-dose ivermectin appears to be safe in patients with acute myelogenous leukemia and could inform clinical repurposing for COVID-19 infection, Leuk Lymphoma
De Melo, Lazarini, Levallois, Hautefort, Michel et al., COVID-19-related anosmia is associated with viral persistence and inflammation in human olfactory epithelium and brain infection in hamsters, Sci. Transl. Med
Navarro, Camprubí, Requena-Méndez, Buonfrate, Giorli et al., Safety of high-dose ivermectin: A systematic review and meta-analysis, J. Antimicrob. Chemother
Quispe-Cholan, Anticona-De-La-Cruz, Cornejo-Cruz, Quispe-Chirinos, Moreno-Lazaro et al., Tomographic findings in patients with COVID-19 according to evolution of the disease, J. Radiol. Nucl. Med
Rajter, None
Stone, Ndarukwa, Scheim, Dancis, Dancis et al., Rapid increase of SpO 2 on room air for 34 severe COVID-19 patients after ivermectin-based combination treatment: 55-62% normalization within, Res. Sq
Who, COVID-19)
Yagisawa, Foster, Hanaki, Omura, Global trends in clinical studies of ivermectin in COVID-19, Jpn. J. Antibiot