PSM multivariable analysis of the Itajaí trial showing significantly lower mortality with regular use of ivermectin prophylaxis.
Immortal time bias
may significantly affect these results. See
Redação MPV
regarding
medrxiv.org
.
risk of death,

92.0% lower

, RR 0.08, p < 0.001
, treatment 2 of 283 (0.7%), control 15 of 283 (5.3%), NNT 22, adjusted per study, strictly regular use vs. non-use, propensity score matching, multivariable.
Effect extraction follows pre-specified rules prioritizing more serious outcomes. Submit updates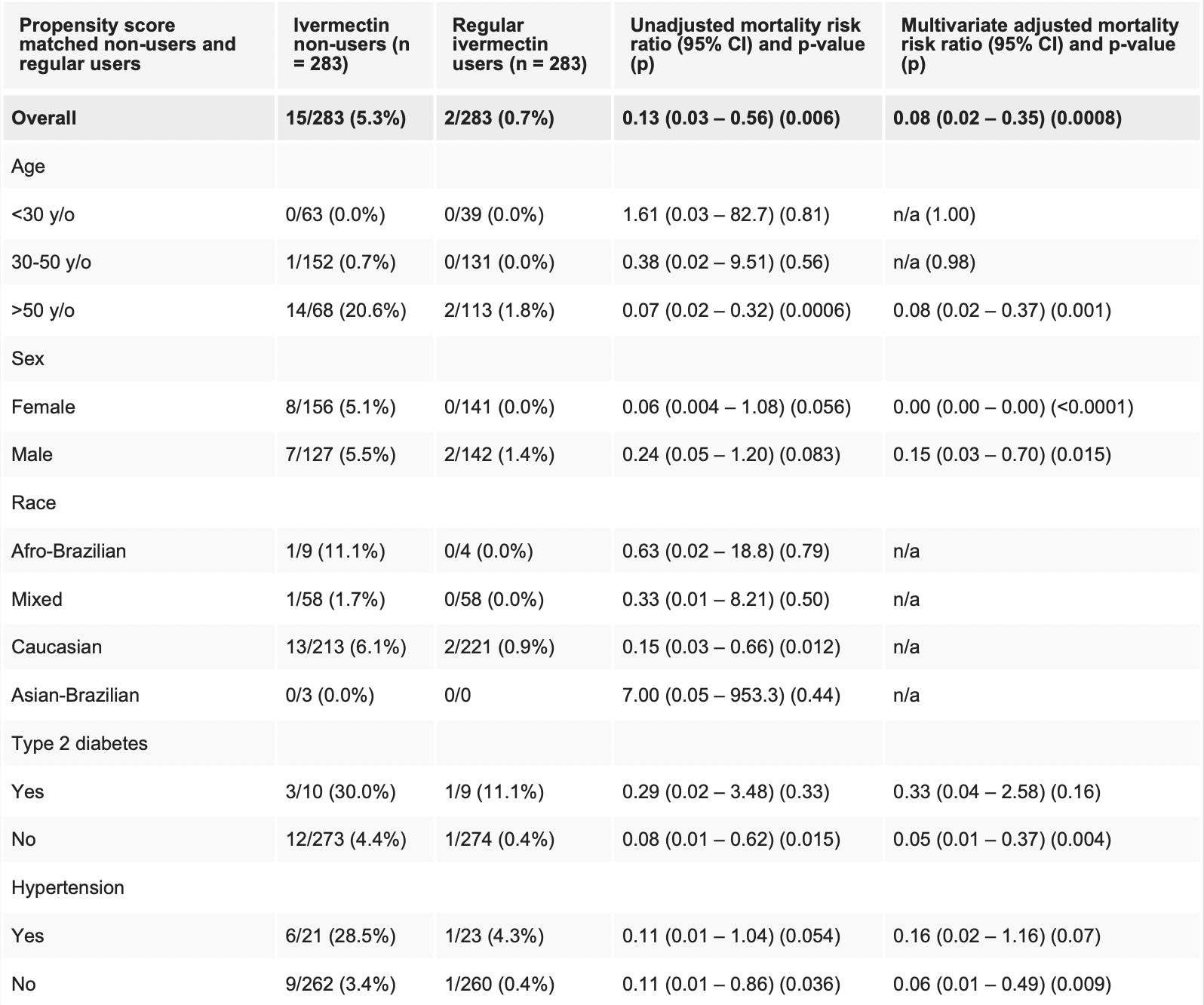 Kerr et al., 6 Feb 2022, retrospective, propensity score matching, multivariable, Brazil, peer-reviewed, 9 authors, study period 7 July, 2020 - 2 December, 2020, dosage 200μg/kg days 1, 2, 16, 17, 0.2mg/kg/day for 2 days every 15 days.
Regular Use of Ivermectin as Prophylaxis for COVID-19 Led Up to a 92% Reduction in COVID-19 Mortality Rate in a Dose-Response Manner: Results of a Prospective Observational Study of a Strictly Controlled Population of 88,012 Subjects
Cureus, doi:10.7759/cureus.28624
Background We have previously demonstrated that ivermectin used as prophylaxis for coronavirus disease 2019 , irrespective of the regularity, in a strictly controlled citywide program in Southern Brazil (Itajaí, Brazil), was associated with reductions in COVID-19 infection, hospitalization, and mortality rates. In this study, our objective was to determine if the regular use of ivermectin impacted the level of protection from COVID-19 and related outcomes, reinforcing the efficacy of ivermectin through the demonstration of a doseresponse effect. Methods This exploratory analysis of a prospective observational study involved a program that used ivermectin at a dose of 0.2 mg/kg/day for two consecutive days, every 15 days, for 150 days. Regularity definitions were as follows: regular users had 180 mg or more of ivermectin and irregular users had up to 60 mg, in total, throughout the program. Comparisons were made between non-users (subjects who did not use ivermectin), and regular and irregular users after multivariate adjustments. The full city database was used to calculate and compare COVID-19 infection and the risk of dying from COVID-19. The COVID-19 database was used and propensity score matching (PSM) was employed for hospitalization and mortality rates. Results Among 223,128 subjects from the city of Itajaí, 159,560 were 18 years old or up and were not infected by COVID-19 until July 7, 2020, from which 45,716 (28.7%) did not use and 113,844 (71.3%) used ivermectin. Among ivermectin users, 33,971 (29.8%) used irregularly (up to 60 mg) and 8,325 (7.3%) used regularly (more than 180 mg). The remaining 71,548 participants were not included in the analysis. COVID-19 infection rate was 49% lower for regular users (3.40%) than non-users (6.64%) (risk rate (RR): 0.51; 95% CI: 0.45-0.58; p < 0.0001), and 25% lower than irregular users (4.54%) (RR: 0.75; 95% CI: 0.66-0.85; p < 0.0001). The infection rate was 32% lower for irregular users than non-users (RR: 0.68; 95% CI: 0.64-0.73; p < 0.0001). Among COVID-19 participants, regular users were older and had a higher prevalence of type 2 diabetes and hypertension than irregular and non-users. After PSM, the matched analysis contained 283 subjects in each group of non-users and regular users, between regular users and irregular users, and 1,542 subjects between non-users and irregular users. The hospitalization rate was reduced by 100% in regular users compared to both irregular users and non-users (p < 0.0001), and by 29% among irregular users compared to non-users (RR: 0.781; 95% CI: 0.49-1.05; p = 0.099). Mortality rate was 92% lower in regular users than non-users (RR: 0.08; 95% CI: 0.02-0.35; p = 0.0008) and 84% lower than irregular users (RR: 0.16; 95% CI: 0.04-0.71; p = 0.016), while irregular users had a 37% lower mortality rate reduction than non-users (RR: 0.67; 95% CI: 0.40-0.99; p = 0.049). Risk of dying from COVID-19 was 86% lower among regular users than non-users (RR:..
Discussion The program in Itajaí, Brazil: ivermectin prophylaxis for COVID-19 The present study provides in-depth results on the prospective study of ivermectin as prophylaxis for COVID-19 in Itajaí, located in Southern Brazil. Particularities of Itajaí included its dynamic population due to the presence of an overwhelmingly large port compared to the size of the city. This explained why the city was one of the first in the state to reach 1,000 cases in 2020 [26] . In the past, the city experienced some of the highest rates of HIV infections in Brazil [27] , partially substantiated by being a port city, an "independent" predictor of a higher prevalence of HIV infection [28] . The decision to adopt a prophylaxis program with ivermectin in Itajaí was based on (1) the fact that case numbers rose rapidly and at a higher speed than in other cities; (2) the inability to isolate port workers in the absence of pharmacological or non-pharmacological therapies for COVID-19; (3) because it had already been proven to be a potent antiviral for over 20 viruses, studied independently and peer-reviewed, including the first severe acute respiratory syndrome coronavirus (SARS-CoV) epidemic before the COVID-19 pandemic; and (4) the extensive safety profile and favorable cost-effectiveness of ivermectin. Hence, the program of Itajaí strictly followed all bioethical principles using ivermectin as prophylaxis for COVID-19. The ivermectin was offered optionally, as prophylaxis for..
References
Boing, Lunardon, Trend in the mortality and incidence from AIDS in Itajaí (Santa Catarina) between 1990 and 2005. (Article in Portuguese), Arch Catarin Med
Juarez, Schcolnik-Cabrera, Dueñas-Gonzalez, The multitargeted drug ivermectin: from an antiparasitic agent to a repositioned cancer drug, Am J Cancer Res