c19ivm.org
.Although the first author has responded to the confounders on Twitter, we do not see mention of them in the paper. Author is also aware that the larger sets of all trials, all RCTs, or all mortality results do not show the effect, however we also do not see this mentioned in the paper. These omissions suggest investigator bias. Author claims they could not discuss these issues due to publication delays, however the paper was accepted Jan 31, 2022, and author was aware of the issues months before, for example discussing treatment delay and dose in Nov 2021. These confounders are also basic and not really possible to miss.The meta analysis for
Hashim
includes critical patients, however these patients were always allocated to the treatment arm for ethical reasons, therefore including them is not logical and introduces substantial bias. According to the author response, this appears to have been known, suggesting investigator bias. Authors include
Shahbaznejad
where the only death was a critical patient that died within 24 hours of admission.Although authors note following PRISMA guidelines, we do not see registration of the protocol or discussion thereof. We note that the current protocol is the result of multiple changes to the original methodology as posted on Twitter: from 3 groups to 2 groups, altering the included studies, and switching from using one source for prevalence estimates to selecting estimate sources on a per study basis, which allows potential bias in the selection. Notably, this resulted in moving the Together Trial (Brazil) into the low prevalence category.Author's results rely on trials with a very small number of mortality events — the high stronglyoides prevalance group has trials with 1, 3, 4, and 13 events. Authors do mention limitations due to the small number of events and the reliability of strongyloides estimates.Authors changed from taking all prevalence estimates from the same source, to using a separate source for the two Brazilian studies. This moved those trials to the low prevalence group, which was required to show the effect. However, according to
, authors have mixed adjusted and unadjusted prevalence estimates, and after adjustment the new source would also place these studies in the high prevalence group.Authors indicate no conflicts of interest, however the first author has been an investigator on a Pfizer trial, which may be
NCT04092452
(history)
, showing completion in January 2022
clinicaltrials.gov, openpaymentsdata.cms.gov
.For other issues see
medicospelavidacovid19.com.br,
.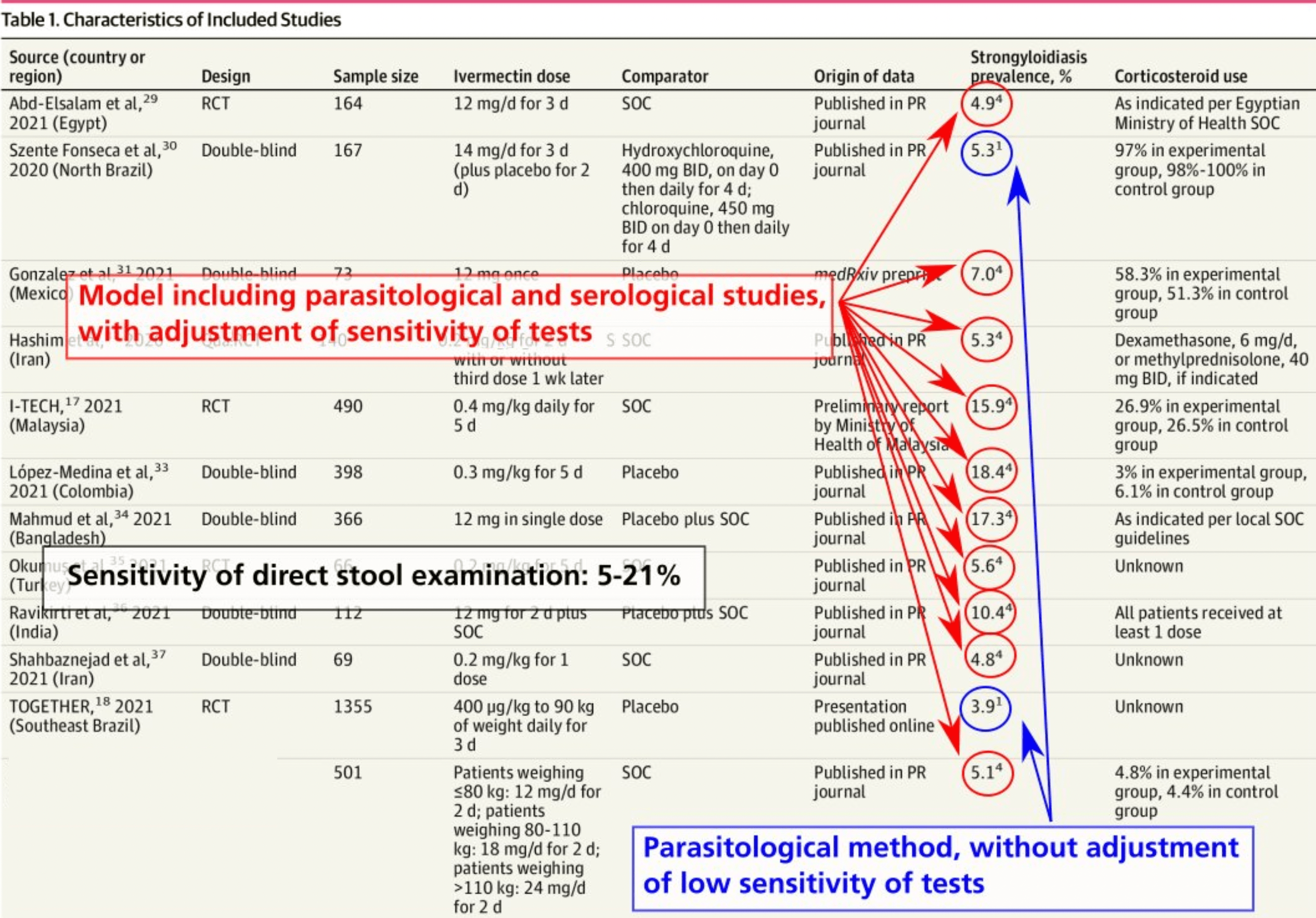 Comparison of Trials Using Ivermectin for COVID-19 Between Regions With High and Low Prevalence of Strongyloidiasis
JAMA Network Open, doi:10.1001/jamanetworkopen.2022.3079
IMPORTANCE A widely cited meta-analysis of randomized clinical trials has claimed ivermectin as an effective treatment for prevention of mortality in COVID-19. However, an unrecognized interaction variable with the relative risk (RR) of mortality may substantially change the appropriate interpretation of this analysis. OBJECTIVE To evaluate the association between regional prevalence of strongyloidiasis and ivermectin trial results for the outcome of mortality by testing the hypothesis that strongyloidiasis prevalence interacts with the RR of mortality. DATA SOURCES Original meta-analysis as well as a manual review of all references in a dedicated ivermectin trial database (c19ivermectin) from January 1, 2019, to November 6, 2021. STUDY SELECTION Randomized clinical trials using ivermectin as a treatment for COVID-19 and reporting the outcome of mortality. Studies were excluded in the event of publications revealing suspected trial fraud and/or randomization failure. DATA EXTRACTION AND SYNTHESIS Study characteristics and RR estimates were extracted from each source. Estimates were pooled using random-effects meta-analysis. Differences by strongyloidiasis prevalence were estimated using subgroup meta-analysis and meta-regression. The Preferred Reporting Items for Systematic Reviews and Meta-analyses (PRISMA) guideline was followed. MAIN OUTCOMES AND MEASURES Relative risk of mortality in ivermectin trials in regions of high vs low strongyloidiasis prevalence and correlation coefficient of meta-regression analysis between RR of mortality and regional prevalence of strongyloidiasis. RESULTS A total of 12 trials comprising 3901 patients were included in the analysis. Four trials (33%) took place in regions of high strongyloidiasis prevalence and 8 (67%) trials took place in regions of low strongyloidiasis prevalence. Ivermectin trials that took place in areas of low regional strongyloidiasis prevalence were not associated with a statistically significant decreased risk of mortality (RR, 0.84 [95% CI, 0.60-1.18]; P = .31). By contrast, ivermectin trials that took place in areas of high regional strongyloidiasis prevalence were associated with a significantly decreased risk of mortality (RR, 0.25 [95% CI, 0.09-0.70]; P = .008). Testing for subgroup differences revealed a significant difference between the results of groups with low and high strongyloidiasis prevalence (χ 2 1 = 4.79; P = .03). The estimate for τ 2 (the variance of the study effect sizes) was 0 (95% CI, Key Points Question Does prevalence of strongyloidiasis interact with the relative risk (RR) of mortality in ivermectin trials for the treatment of COVID-19? Findings In this meta-analysis of 12 randomized clinical trials involving 3901 patients, favorable mortality results were limited to trials in high-prevalence regions, with no evidence that ivermectin had a mortality benefit in low-prevalence regions. Metaregression found an association between the regional prevalence of..
Source Risk of bias by item a Random sequence generation Allocation concealment Blinding of participants and personnel Blinding of outcome assessment Incomplete outcome data Selective reporting Other bias Abd-Elsalam et al, 29 were not clear for all trials, precluding the inclusion of this variable in the regression model. Third, low event counts in the trials may make the results less reliable. Fourth, varying trial recruitment across urban and rural populations (where strongyloidiasis prevalences often differ) may diminish the reliability of strongyloidiasis trial prevalence estimates. Despite these limitations, the findings warrant concern for ivermectin trials for the treatment of COVID-19 that are not designed to address this interaction. Conclusions In this meta-analysis of 12 trials comprising 3901 patients, strongyloidiasis prevalence was found to interact with the RR of mortality when ivermectin was used as a treatment for COVID-
References
Core, R: A Language and Environment for Statistical Computing
Foundation, for Statistical Computing
Ganesh, Cruz, Strongyloidiasis: a multifaceted disease, Gastroenterol Hepatol
General, Health, Kenyataan Akhbar KPK 3 November 2021-Hasil Dapatan Kajian Keberkesanan Rawatan Ivermectin Untuk Pesakit COVID-19 Berisiko Tinggi (I-TECH Study
Harrer, Cuijpers, Furukawa, Ebert, Doing Meta-Analysis With R: A Hands-On Guide
Higgins, Thomas, Chandler, JAMA Network Open | Infectious Diseases Trials of Ivermectin for COVID-19 Between Regions With High and Low Prevalence of Strongyloidiasis JAMA Network Open
Kassalik, Mönkemüller, Strongyloides stercoralis hyperinfection syndrome and disseminated disease, Gastroenterol Hepatol
Mills, Early treatment of COVID-19 with repurposed therapies: the TOGETHER adaptive platform trial
Statacorp, None
Statacorp, None, STATA Statistical Software
Wickham, ggplot2: elegant graphics for data analysis