The association between the use of ivermectin and mortality in patients with COVID-19: a meta-analysis
et al., Pharmacological Reports,
The association between the use of ivermectin and mortality in patients with COVID-19: a meta-analysis
,
Pharmacological Reports, doi:10.1007/s43440-021-00245-z (meta analysis)
,
Small meta analysis of 6 RCTs showing mortality OR 0.21 [0.11-0.42]. Authors do not include two more recent RCTs with mortality results, 10 other studies with mortality results, and a total of 42 other studies including other outcomes. Authors do not distinguish between studies with very different treatment delays (earlier treatment is more successful).Currently there are
95 ivermectin studies
and meta analysis shows: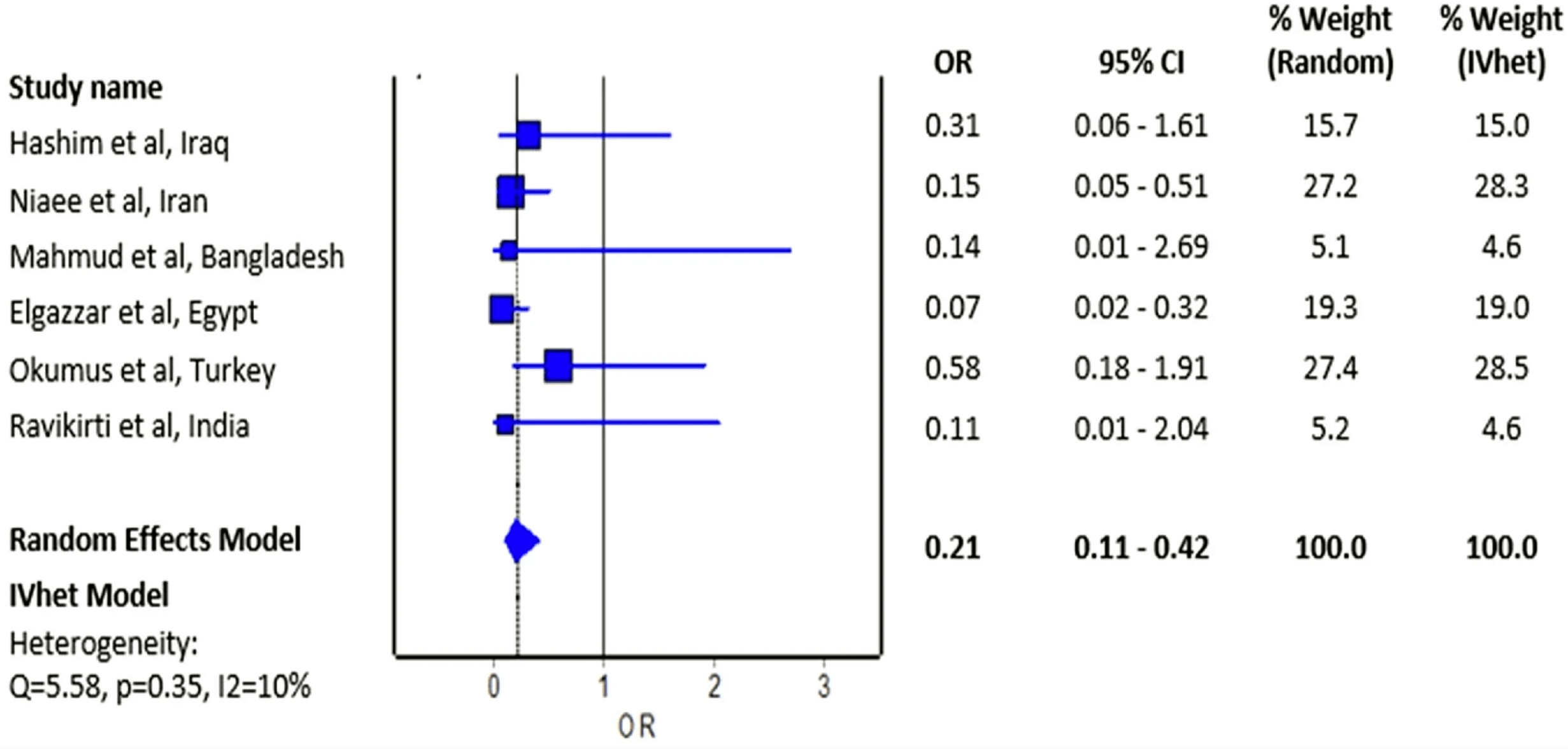 Kow et al., 29 Mar 2021, peer-reviewed, 4 authors.
Abstract: Pharmacological Reports (2021) 73:1473–1479 https://doi.org/10.1007/s43440-021-00245-z SHORT COMMUNICATION The association between the use of ivermectin and mortality in patients with COVID‑19: a meta‑analysis Chia Siang Kow1 · Hamid A. Merchant2 · Zia Ul Mustafa3 · Syed Shahzad Hasan2,4 Received: 6 January 2021 / Revised: 27 February 2021 / Accepted: 6 March 2021 / Published online: 29 March 2021 © Maj Institute of Pharmacology Polish Academy of Sciences 2021 Abstract Objective The effect of ivermectin on mortality in patients with novel coronavirus disease 2019 (COVID-19) has been investigated in many studies. We aimed to perform a meta-analysis of randomized controlled trials to investigate the overall effect of ivermectin on the risk of mortality in patients with COVID-19. Methods We systematically searched PubMed, Cochrane Central Register of Controlled Trials, Google Scholar, and preprint repository databases (up to February 28, 2021). Random-effects and inverse variance heterogeneity meta-analysis were used to pool the odds ratio of individual trials. The risk of bias was appraised using Version 2 of the Cochrane risk-of-bias tool for randomized trials. Results Six randomized controlled trials were included in this analysis with a total of 658 patients who were randomized to receive ivermectin and 597 patients randomized in the control group who did not receive ivermectin. Of six trials, four had an overall high risk of bias. The estimated effect of ivermectin indicated mortality benefits (pooled odds ratio = 0.21; 95% confidence interval 0.11–0.42, n = 1255), with some evidence against the hypothesis of 'no significant difference' at the current sample size. Conclusion We observed a preliminary beneficial effect on mortality associated with ivermectin use in patients with COVID19 that warrants further clinical evidence in appropriately designed large-scale randomized controlled trials. Keywords Bias · Clinical trial · COVID-19 · Ivermectin · Mortality
Please send us corrections, updates, or comments. Vaccines and treatments are complementary. All practical, effective, and safe means should be used based on risk/benefit analysis. No treatment, vaccine, or intervention is 100% available and effective for all current and future variants. We do not provide medical advice. Before taking any medication, consult a qualified physician who can provide personalized advice and details of risks and benefits based on your medical history and situation.
FLCCC
and
WCH
provide treatment protocols.
Submit