Clinical efficacy and safety of ivermectin (400 μg/kg, single dose) in patients with severe COVID-19: a randomized clinical trial
Clinical efficacy and safety of ivermectin (400 μg/kg, single dose) in patients with severe COVID-19: a..
,
Revista Infectio, NCT04602507
,
RCT 75 very late stage patients in Colombia, showing no significant difference in outcomes with a single dose of 400μg/kg ivermectin.Although the 57% lower mortality is not statistically significant, it is consistent with the significant 51% lower mortality
[37‑62%]
from meta analysis of the
48 mortality results to date
.
risk of death,

57.0% lower

, HR 0.43, p = 0.35
, treatment 2 of 37 (5.4%), control 4 of 38 (10.5%), NNT 20, Cox proportional hazards.
risk of mechanical ventilation,

34.0% higher

, HR 1.34, p = 0.62
, treatment 7 of 37 (18.9%), control 5 of 38 (13.2%), Cox proportional hazards.
risk of ICU admission,

37.0% higher

, HR 1.37, p = 0.52
, treatment 8 of 37 (21.6%), control 6 of 38 (15.8%), Cox proportional hazards, primary outcome.
Effect extraction follows pre-specified rules prioritizing more serious outcomes. Submit updates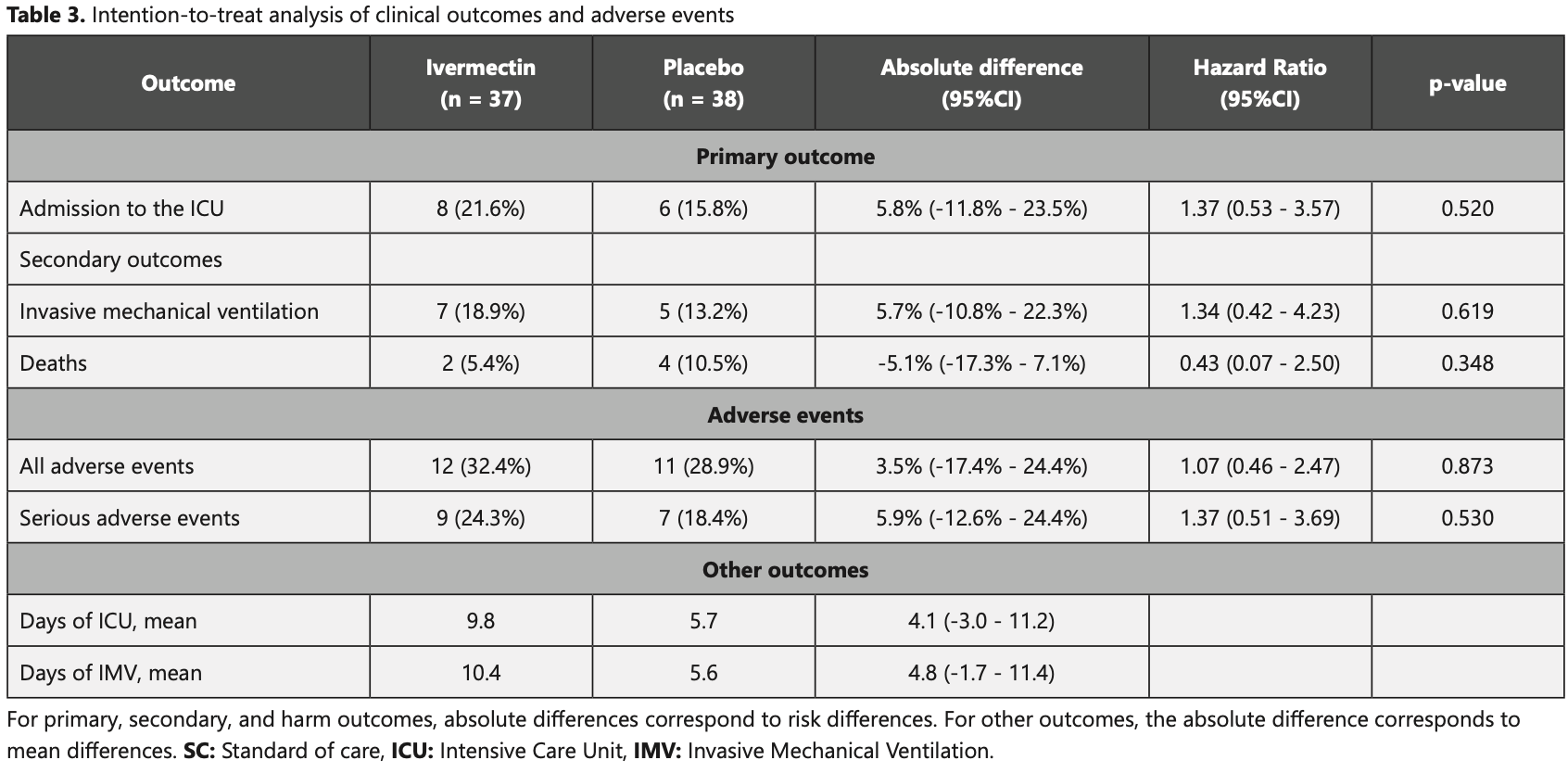 Ochoa-Jaramillo et al., 21 Oct 2022, Double Blind Randomized Controlled Trial, placebo-controlled, Colombia, peer-reviewed, 8 authors, average treatment delay 8.8 days, dosage 400μg/kg single dose, trial
NCT04602507
(history)
.
Abstract: ARTÍCULO ORIGINAL Clinical efficacy and safety of ivermectin (400 μg/kg, single dose) in patients with severe COVID-19: a randomized clinical trial Francisco Ochoa-Jaramillo1,*, Nora Cardona-Castro2, Federico Rodriguez-Vega3, Veronica Posada-Velez4, Diego Rojas-Gualdron5, Heidy Contreras-Martinez6, Ana Romero-Millan7, Jessica Porras-Mansilla8 Abstract Purpose: To evaluate the clinical efficacy of including Ivermectin (single dose on day 1 of 400 μg/kg PO) in the standard of care in hospitalized adults with severe COVID-19. Methods: Double-blinded, parallel, placebo-controlled, single-center, randomized clinical trial. Seventy-five patients were randomly assigned (1:1) to receive standard of care plus ivermectin or placebo and were followed up for 21 days. Primary outcome measure was admission to ICU and secondary outcomes were the requirement of intensive mechanical ventilation (IMV) and in-hospital death. Intention-to-treat analyses, estimated risk differences (RD), and Hazard ratios (HR) with Cox regression were performed. Results: Enrollment stopped due to the lack of eligible patients. Thirty-seven patients were assigned to intervention and 38 to placebo. Patients in the ivermectin group were 54.5 years on average, 62.2% were male. Comorbidities were more prevalent in the control group (78.9% vs. 56.8%). There was no difference in the 21-day risk of admission to the ICU between ivermectin (21.6%) and placebo (15.8%) (RD= 5.8%; 95%CI: -11.8%-23.5%); neither in the risk of requirement of IMV (18.9% vs 13.2%), mortality (5.4% vs 10.5%) or in adverse events (32.4% vs. 28.9%). Discussion: Ivermectin showed no significant benefit in reducing the requirement of ICU, IMV, or mortality for severe COVID-19 patients. Keywords: Ivermectin, COVID-19, ICU admission, mechanical ventilation, mortality, randomized, placebo Eficacia clínica y seguridad de ivermectina (400 μg/kg, única dosis) en pacientes COVID-19 severo: un ensayo clínico aleatorizado Resumen Propósito: Evaluar la eficacia clínica de incluir Ivermectina (dosis única el día 1 de 400 μg/kg via oral) en el estándar de atención en adultos hospitalizados con COVID-19. Métodos: ensayo clínico aleatorizado, doble ciego, paralelo, controlado con placebo, de un solo centro. Setenta y cinco pacientes fueron asignados al azar (1:1) para recibir tratamiento estándar de atención más ivermectina o placebo y fueron seguidos durante 21 días. La medida de resultado primaria fue la admisión a la UCI y los resultados secundarios fueron el requerimiento de ventilación mécanica intensiva (IMV) y muerte intrahospitalaria. Se realizaron análisis por intención de tratar, diferencias de riesgo estimadas (DR) y cocientes de riesgos instantáneos (HR) con regresión de Cox. Resultados: La inscripción se detuvo debido a la falta de pacientes elegibles. Treinta y siete pacientes fueron asignados a la intervención y 38 al placebo. Pacientes en la ivermectina grupo tenían 54,5 años en promedio, el 62,2% eran del sexo masculino. Las comorbilidades fueron más prevalentes en el grupo control (78,9% vs. 56,8%). No hubo diferencia en el riesgo a 21 días de ingreso en UCI entre ivermectina (21,6%) y placebo (15,8%) (DR= 5,8%; IC95%: -11,8%-23,5%); ni en el riesgo de requerimiento de IMV (18,9% vs 13,2%), mortalidad (5,4% vs 10,5%) o en eventos adversos (32,4% vs 28,9%). Discusión: La ivermectina no mostró un beneficio significativo en la reducción del requisito de UCI, IMV o mortalidad para pacientes graves con..
Please send us corrections, updates, or comments. Vaccines and treatments are complementary. All practical, effective, and safe means should be used based on risk/benefit analysis. No treatment, vaccine, or intervention is 100% available and effective for all current and future variants. We do not provide medical advice. Before taking any medication, consult a qualified physician who can provide personalized advice and details of risks and benefits based on your medical history and situation.
FLCCC
and
WCH
provide treatment protocols.
Submit