RCT 69 outpatients in Jordan, showing improved viral clearance and CRP with mebendazole.Authors note that mebendazole, like ivermectin, has been shown to have antiviral activity against multiple viruses.
relative Ct improvement,

85.1% better

, RR 0.15, p = 0.04
, treatment mean 3.15 (±5.4) n=34, control mean 0.47 (±5.33) n=35, day 3.
risk of no viral clearance,

58.8% lower

, RR 0.41, p = 0.43
, treatment 2 of 34 (5.9%), control 5 of 35 (14.3%), NNT 12, day 5.
Effect extraction follows pre-specified rules prioritizing more serious outcomes. Submit updates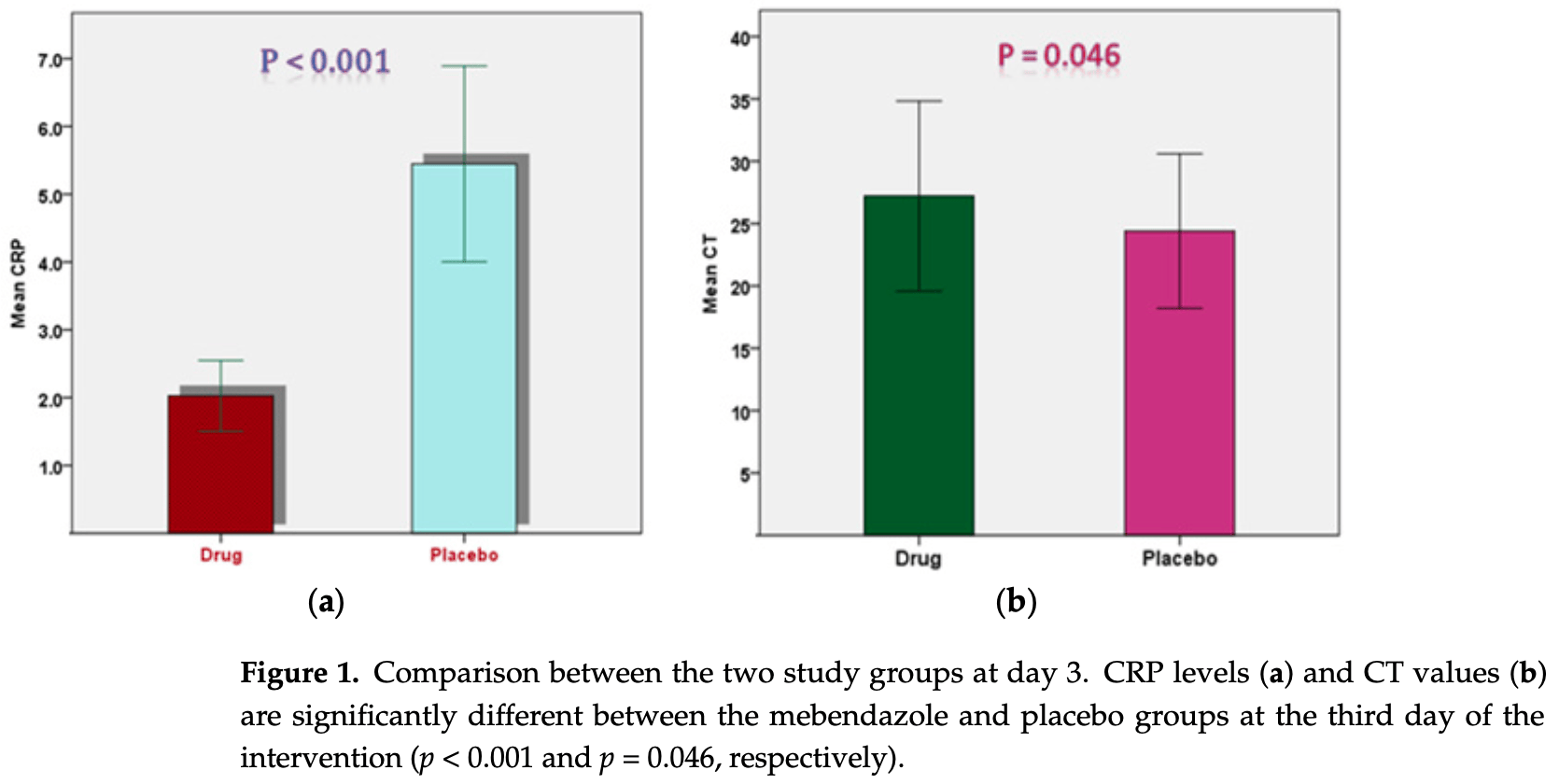 El-Tanani et al., 29 May 2023, Double Blind Randomized Controlled Trial, placebo-controlled, Jordan, peer-reviewed, 5 authors, study period 11 January, 2022 - 12 March, 2022.
Contact: m.el-tanani@bradford.ac.uk (corresponding author), k.ahmed@ammanu.edu.jo.
Phase II, Double-Blinded, Randomized, Placebo-Controlled Clinical Trial Investigating the Efficacy of Mebendazole in the Management of Symptomatic COVID-19 Patients
Pharmaceuticals, doi:10.3390/ph16060799
The outbreak of the COVID-19 pandemic has spread throughout the world, affecting almost all nations and territories. The current double-blind, randomized, placebo-controlled, phase II clinical trial sought to evaluate the clinical efficacy and safety of mebendazole as an adjuvant therapy for outpatients with COVID-19. The patients were recruited and divided into two groups: a Mebendazole-treated group and placebo group. The mebendazole and placebo groups were matched for age, sex, and complete blood count (CBC) with differential and liver and kidney function tests at baseline. On the third day, the C-reactive protein (CRP) levels were lower (2.03 ± 1.45 vs. 5.45 ± 3.95, p < 0.001) and the cycle threshold (CT) levels were higher (27.21 ± 3.81 vs. 24.40 ± 3.09, p = 0.046) significantly in the mebendazole group than in the placebo group on the third day. Furthermore, CRP decreased and CT dramatically increased on day three compared to the baseline day in the mebendazole group (p < 0.001 and p = 0.008, respectively). There was a significant inverse correlation between lymphocytes and CT levels in the mebendazole group (r = -0.491, p = 0.039) but not in the placebo group (r = 0.051, p = 0.888). Mebendazole therapy increased innate immunity and returned inflammation to normal levels in COVID-19 outpatients faster than it did in the placebo group in this clinical trial. Our findings add to the growing body of research on the clinical and microbiological benefits of repurposing antiparasitic therapy, specifically mebendazole, for SARS-CoV-2 infection and other viral infections.
Conflicts of Interest: The authors declare no conflict of interest.
References
Covid-19, Treatment Guidelines Panel. Coronavirus Disease 2019 (COVID-19) Treatment Guidelines, National Institutes of Health: Bethesda
De Witt, Gamble, Hanson, Markowitz, Powell et al., Repurposing mebendazole as a replacement for vincristine for the treatment of brain tumors, Mol. Med
Domenico, Vanelli, WHO Declares COVID-19 a Pandemic, Acta Biomed
Karuppagounder, Zhai, Chen, He, Ratan, The interferon response as a common final pathway for many preconditioning stimuli: Unexpected crosstalk between hypoxic adaptation and antiviral defense, Cond. Med
Seitz, Schwerk, Arnold, Hepatocellular drug reaction caused by mebendazole therapy in cystic echinococcosis, Z. Gastroenterol
Worldometer, Cwg, Coronavirus Worldwide Graphs. Available online
Yele, Sanapalli, Mohammed, Imidazoles and benzimidazoles as putative inhibitors of SARS-CoV-2 B. 1.1. 7 (Alpha) and P. 1 (Gamma) variant spike glycoproteins: A computational approach, Chem. Zvesti