Prospective study of 63 outpatients in Peru treated with ivermectin, reporting significant improvement within 24 hours.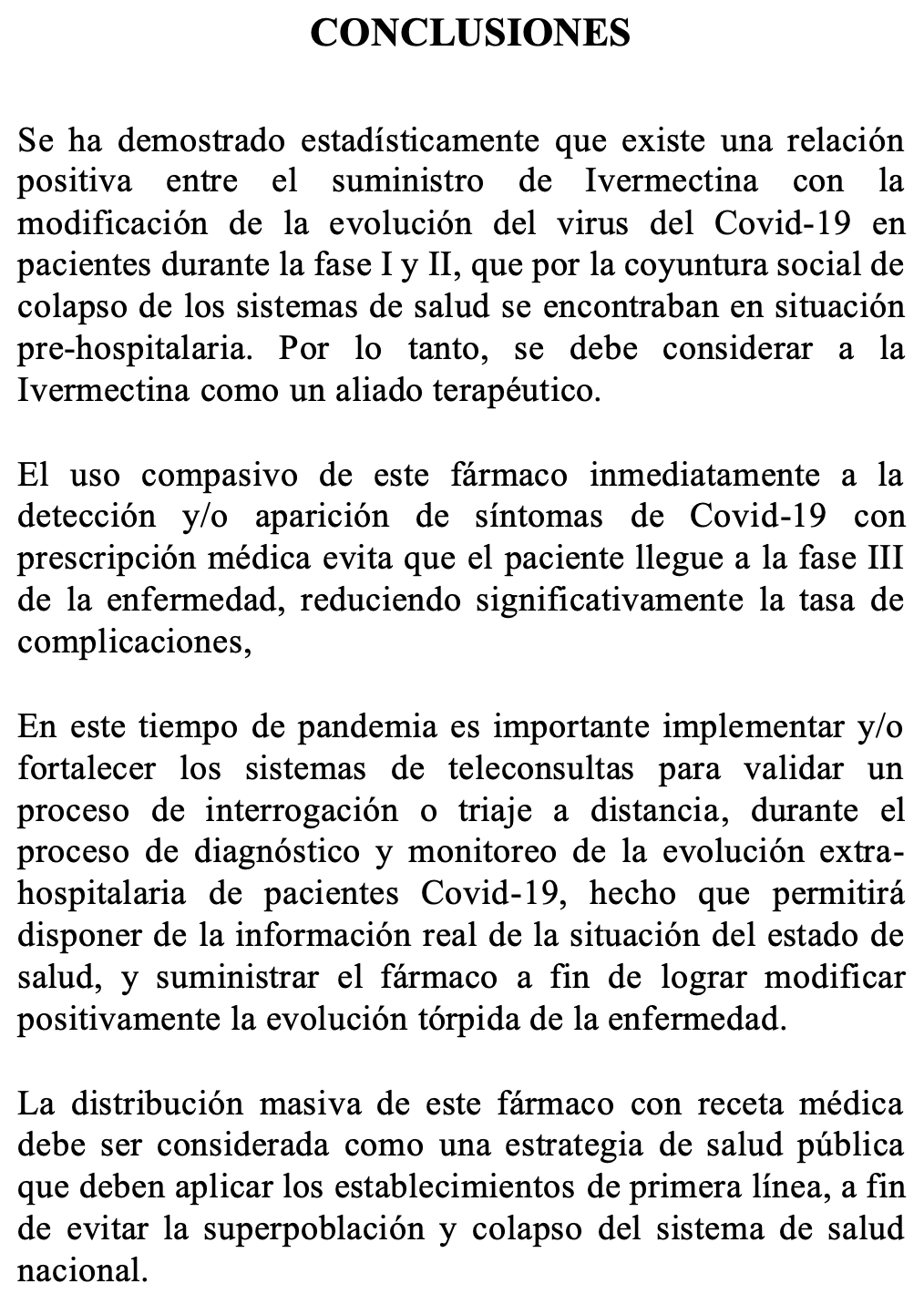 Ramos et al., 16 Jun 2020, preprint, 9 authors.
The FDA-approved drug ivermectin inhibits the replication of SARS-CoV-2 in vitro
Antiviral Research, doi:10.1016/j.antiviral.2020.104787
Resumen -El estudio tuvo por objetivo determinar la relación del suministro de Ivermectina en la modificación de la evolución del virus del Covid19 en pacientes en situación prehospitalaria, con la finalidad de recomendar un tratamiento de soporte precoz en personas con infección sospechada o confirmada de SARS-CoV-2 durante la fase I y II. El marco metodológico consideró un enfoque cuantitativo, de alcance correlacional, diseño pre-experimental de corte prospectivo; la muestra estuvo constituída por 63 pacientes altamente sospechosos de SARS-CoV-2. Los resultados obtenidos en cuanto al suministro de Ivermectina durante 48 horas a los pacientes evidenció una recuperación favorable. Por lo tanto, se ha llegado a la conclusión que la intervención farmacológica de la Ivermectina modifica sustancialmente la evolución del coronavirus Covid-19 durante la etapa I y II de la enfermedad.
References
Bray, Rayner, Noël, Jans, Wagstaff, Ivermectina y COVID-19: Un Informe en Antiviral Research, interés generalizado, una advertencia de la FDA, dos cartas al editor y las respuestas de los autores
Caly, Drucea Mike, David, Jans Kylie, Wagstaff, El medicamento aprobado por la FDA Ivermectina inhibe la replicación del SARS-CoV-2 in vitro
Navarro, Camprubí, Requena-Méndez, Buonfrate, Giorli et al., Seguridad de altas dosis de ivermectina: una revisión sistemática y metaanálisis