Retrospective 423 patients in Pakistan, 216 receiving 6 day treatment, showing lower mortality, lower ICU admission, and faster viral clearance with treatment. Limited baseline information per group is provided. There were more severe patients in the ivermectin group. Logistic regression results are mentioned without full details. The difference in mortality was not statistically significant in logistic regression. This study is excluded in meta analysis: pending additional information from authors.
risk of death,

90.4% lower

, RR 0.10, p < 0.001
, treatment 2 of 216 (0.9%), control 20 of 207 (9.7%), NNT 11.
risk of ICU admission,

71.6% lower

, RR 0.28, p < 0.001
, treatment 8 of 216 (3.7%), control 27 of 207 (13.0%), NNT 11.
risk of no hospital discharge,

79.6% lower

, RR 0.20, p < 0.001
, treatment 10 of 216 (4.6%), control 47 of 207 (22.7%), NNT 5.5.
time to viral-,

58.8% lower

, relative time 0.41, p < 0.001
, treatment mean 8.39 (±2.04) n=216, control mean 20.38 (±6.32) n=207.
Effect extraction follows pre-specified rules prioritizing more serious outcomes. Submit updates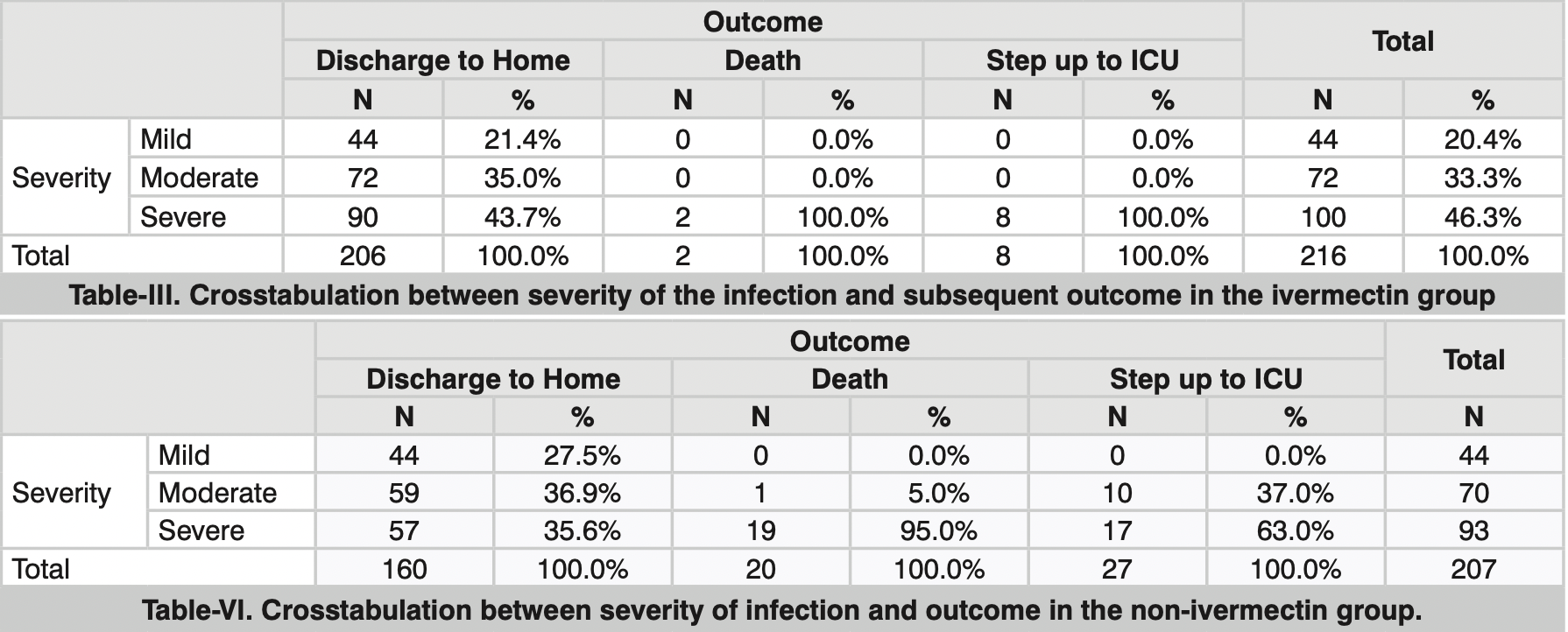 Akhtar et al., 1 Sep 2022, retrospective, Pakistan, peer-reviewed, mean age 51.9, 9 authors, dosage 12mg days 1-6.
Contact: umarraza028@gmail.com.
Does ivermectin reduce COVID-19 mortality and progression of disease severity? – A retrospective study.
The Professional Medical Journal, doi:10.29309/tpmj/2022.29.09.6634
Material & Methods: Medical records of 423 patients during a selected duration of 6 months were reviewed. Patients were stratified into two groups based on whether or not they received a 6-day course of ivermectin in addition to the standard treatment for COVID-19. Primary outcome measures were rate of mortality, days from the start of treatment to negative SARS-CoV-2 PCR, and rate of step-up to the intensive care unit. Results: Patients who received ivermectin required a lesser number of days (8.39 days ± 2.04) to become COVID negative than the patients who didn't receive ivermectin (20.38 days ± 6.32), (p < 0.001). Multinomial logistic regression showed that the patients who were given ivermectin for COVID 19 infection were four times more likely to be discharged home than stepping up to ICU. The ICU step-up rate in the ivermectin group was found to be 3.7% compared to 13.04% in the non-ivermectin group. No significant differences in mortality were found. Conclusion: Treatment with ivermectin in COVID-19 infection is associated with improved outcomes in terms of reduction in duration of illness as well as the progression of disease severity.
References
Cohen, Hall, John, Rapoport, The Early Natural History of SARS-CoV-2 Infection: Clinical Observations from an Urban, Ambulatory COVID
Dr, Ruth, Pfau, Hospital, None
Mbbs, Dr, None
Mbbs, Dr, None
Mbbs, Dr, None
Mbbs, Dr, None
Mbbs, Medical Officer, Ruth, Pfau, Hospital, None
Mbbs, Officer, Ruth, Pfau, Hospital, None
Mbbs, Officer, Ruth, Pfau, Hospital, None
Mbbs, Officer, Ruth, Pfau, Hospital, None