Systematic Review and Meta-Analysis of Ivermectin Safety Profile in COVID-19 Trials
Systematic Review and Meta-Analysis of Ivermectin Safety Profile in COVID-19 Trials
,
Open Forum Infectious Diseases, doi:10.1093/ofid/ofab466.728
,
Systematic review and meta-analysis of safety in ivermectin COVID-19 trials, showing no significant difference in adverse events between treatment and control arms. Authors conclude that ivermectin is safe and well-tolerated.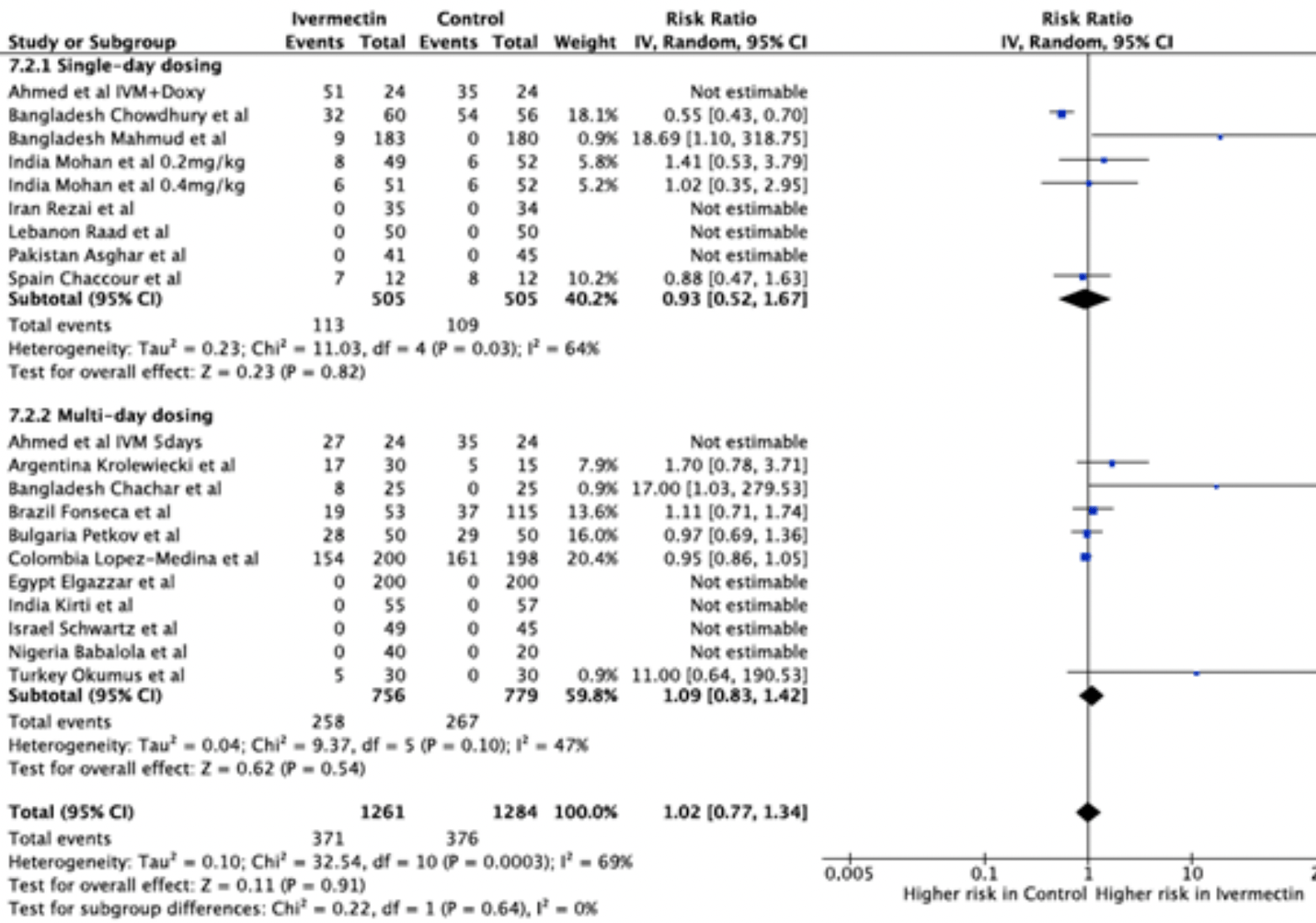 Wentzel et al., 4 Dec 2021, peer-reviewed, 7 authors.
Abstract: Session: P-24. COVID-19 Treatment 529. Systematic Review and Meta-Analysis of Ivermectin Safety Profile in COVID19 Trials Hannah Wentzel, MPH1; Junzheng Wang, BSc (Hons)1; Abbienaya Dayanamby, n/ a1; Victoria Pilkington, BSc MBBS2; Jacob Levi, BSc MBBS3; Andrew Hill, PhD4; Leah Ellis, MPH5; 1Imperial College, London, UK; 2University of Oxford, Oxford, UK; 3University College London Hospitals, London, UK; 4University of Liverpool, London, UK; 5Imperial College London, London, UK Session: P-24. COVID-19 Treatment Background. There is a continued and pressing need for safe and effective treatment of COVID-19. Significant survival benefits have been shown by dexamethasone, tocilizumab and sarilumab, however they are only recommended in hospitalised COVID-19 patients. Ivermectin is a well-established and readily available antiparasitic drug which may be suitable for treatment in mild and moderate disease stages. It recently demonstrated anti-viral properties in vitro and now over 80 clinical trials have been registered worldwide to test its effectiveness in COVID-19 patients. This meta-analysis aims to collect data on adverse events reported in new COVID-19 treatment trials for the use of ivermectin as a repurposed medication. Methods. Data was extracted from randomised trials of COVID-19 treatment trials identified through systematic searches of PUBMED, EMBASE, MedRxiv and trial registries. The primary outcome of this meta-analysis is the frequency of adverse events. Key safety events included serious, gastrointestinal, neurological, cardiovascular and dermatological adverse events. Results. Overall, 18 trials investigating ivermectin for COVID-19 in a total of 2496 participants reported safety data and were included. There was no significant difference in the proportion of all adverse events between ivermectin and the comparator. There were 371/1261 (29%) adverse events recorded in the ivermectin containing arms and 376/1284 (29%) in the control arms (RR 1.02 [95% CI 0.77 - 1.34]; p = 0.91). There was no significant difference in the rate of serious adverse events across treatment arms (RR 1.95 [95% CI 0.75 - 5.11]; p = 0.18). No significant differences between ivermectin and the control were seen across different subcategories of adverse events. Figure 1 shows a summary of the results for all adverse events. Forest plot comparing ivermectin and the control for all adverse events in COVID19 trials, subdivided into single-day dosing trials and multi-day dosing trials. Conclusion. The results of recent COVID-19 trials show that overall, ivermectin is safe and well-tolerated. No significant difference in adverse event reporting was found across all subgroups in single and multi-day treatment regimens for the studies analysed. Safety reporting methodologies often varied across trials. Future and ongoing trials should be encouraged to collect and monitor safety data systematically. Disclosures. All Authors: No reported disclosures 530. Bamlanivimab (BAM) for SARS-CoV-2 Infection: Rates and Risk Factors for Hospitalization after Monoclonal Antibody Administration in a High-Risk Population John M. Curtin, MD1; Varea H. Costello, DO1; Benjamin L. Custer, M.D.1; Jason M. Blaylock, MD2; Catherine F. Decker, MD3; Roseanne Ressner, DO4; Sara Robinson, MD4; Wesley R. Campbell, MD, MTM&H1; Dana M. Blyth, MD1; Dana M. Blyth, MD1; Anuradha Ganesan, MBBS, MPH5; 1 Walter Reed National Military Medical Center, North Bethesda, Maryland; 2Walter Reed..
Please send us corrections, updates, or comments. Vaccines and treatments are complementary. All practical, effective, and safe means should be used based on risk/benefit analysis. No treatment, vaccine, or intervention is 100% available and effective for all current and future variants. We do not provide medical advice. Before taking any medication, consult a qualified physician who can provide personalized advice and details of risks and benefits based on your medical history and situation.
FLCCC
and
WCH
provide treatment protocols.
Submit