Clinical protocol for early treatment of COVID-19 in a real-world scenario: Results of a series of patients
Clinical protocol for early treatment of COVID-19 in a real-world scenario: Results of a series of patients
,
Medicina Clínica Práctica, doi:10.1016/j.mcpsp.2022.100346
,
Retrospective 116 patients between May and September 2020 in Brazil receiving an early treatment protocol including ivermectin and azithromycin, showing no mortality compared to up to 5.7% CFR in Brazil during the study period.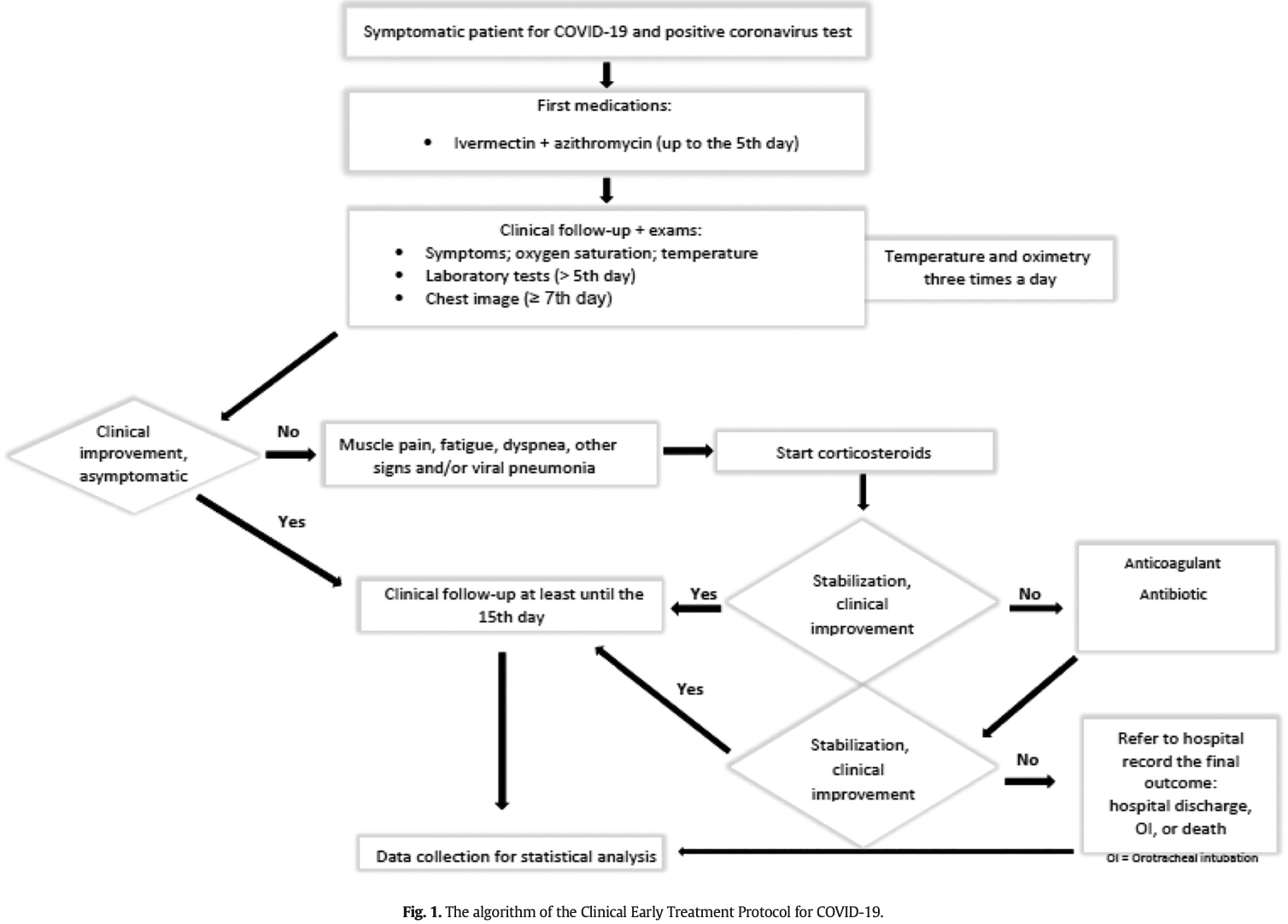 Sobrinho et al., 22 Sep 2022, Brazil, peer-reviewed, mean age 48.0, 4 authors, study period May 2020 - September 2020.
Abstract: Medicina Clínica Práctica 5 (2022) 100346 www.elsevier.es/medicinaclinicapractica Original Clinical protocol for early treatment of COVID-19 in a real-world scenario: Results of a series of patients Silvestre Sobrinho a,⁎, Fabiana Perrone a, Guilherme Montal b, Aroldo Bacellarc a b c Department of Internal Medicine and Emergency Service, Hospital da Cidade, Salvador, BA, Brazil University Hospital Prof. Edgard Santos, Salvador, Brazil Monte Tabor Foundation, Hospital São Rafael, Salvador, Brazil a r t i c l e in f o a b s t r a c t Article history: Received 10 July 2022 Accepted 11 September 2022 Available online 22 September 2022 Introduction: Despite the advance in vaccination, the SARS-CoV-2 infection remains a challenge for the medical community. Outpatient and hospital therapy for COVID-19 are still improving. Our study aimed to report the results of a series of patients with COVID-19 who participated in an outpatient treatment protocol since the first clinical manifestation. Methods: A case series report of individuals aged ≥18 years with clinical symptoms and a confirmed test for COVID-19 submitted to a treatment protocol. Patients were enrolled between May and September 2020 and followed for at least 15 days. The assessed clinical outcomes were the need for hospitalization, admission to the intensive care unit, orotracheal intubation, and death. Results: We studied a 116 patients. The mean age was 48 ± 14 years. Females formed 53%. The main comorbidities wereobesity (15.5%), systemic arterial hypertension (10.3%) ,type II diabetes (6%), and lung diseases (6.0%). Temperature N 37.7 °C (51.7%), cough (55.2%), myalgia (37.1%), headache (37.9%), and fatigue (34.5%) were the most frequent signs and symptoms. According to different disease staging, the most administered drugs were: azithromycin, ivermectin, corticosteroid, antibiotics, and anticoagulants. There was no death, and hospitalization accounted for only 8.6% of the patients (1 in ICU); none required orotracheal intubation. The mean length of hospital stay was 5.8 days. © 2022 The Authors. Published by Elsevier Ltd. This is an open access article under the license CC BY-NC-ND (http:// creativecommons.org/licenses/by-nc-nd/4.0/). Keywords: COVID-19 Treatment protocol Ivermectin Corticosteroid Anticoagulant Protocolo Clínico para el Tratamiento Precoz de la COVID-19 en un escenario real: resultados de una serie de pacientes r e s u m e n Palabras clave: COVID -19 Protocolo de tratamiento Ivermectina corticoide anticoagulanteducción Introducción: a pesar del avance en la vacunación, la infección por SARS-CoV-2 sigue siendo un desafío para la comunidad médica. La terapia ambulatoria y hospitalaria para COVID-19 sigue mejorando. Nuestro estudio tuvo como objetivo informar los resultados de una serie de pacientes con COVID-19 que participaron en un protocolo de tratamiento ambulatorio desde la primera manifestación clínica. Métodos: estudio prospectivo con reportes de casos de personas ≥ 18 años con síntomas clínicos y pruebas confirmadas de COVID-19 en protocolo de tratamiento. Los pacientes se trataron consecutivamente entre mayo y septiembre de 2020 y se les dio seguimiento durante al menos 15 días. Los desenlaces clínicos evaluados fueron: la necesidad de hospitalización, la unidad de cuidados intensivos, la intubación orotraqueal y la muerte. Resultados: se estudiaron 116 pacientes. La edad media fue de 48 ± 14 años. Las hembras formaron el 53%. Las principales..
Please send us corrections, updates, or comments. Vaccines and treatments are complementary. All practical, effective, and safe means should be used based on risk/benefit analysis. No treatment, vaccine, or intervention is 100% available and effective for all current and future variants. We do not provide medical advice. Before taking any medication, consult a qualified physician who can provide personalized advice and details of risks and benefits based on your medical history and situation.
FLCCC
and
WCH
provide treatment protocols.
Submit