Vero E6 and H23
In Vitro
study finding SARS-CoV-2 antiviral activity associated with agonism of the sigma-1 receptor, ligation of the sigma-2 receptor, and a combination of the two. Authors identify synergistic effects with the combination of diphenhydramine and lactoferrin.
12 preclinical studies support the efficacy of lactoferrin for COVID-19: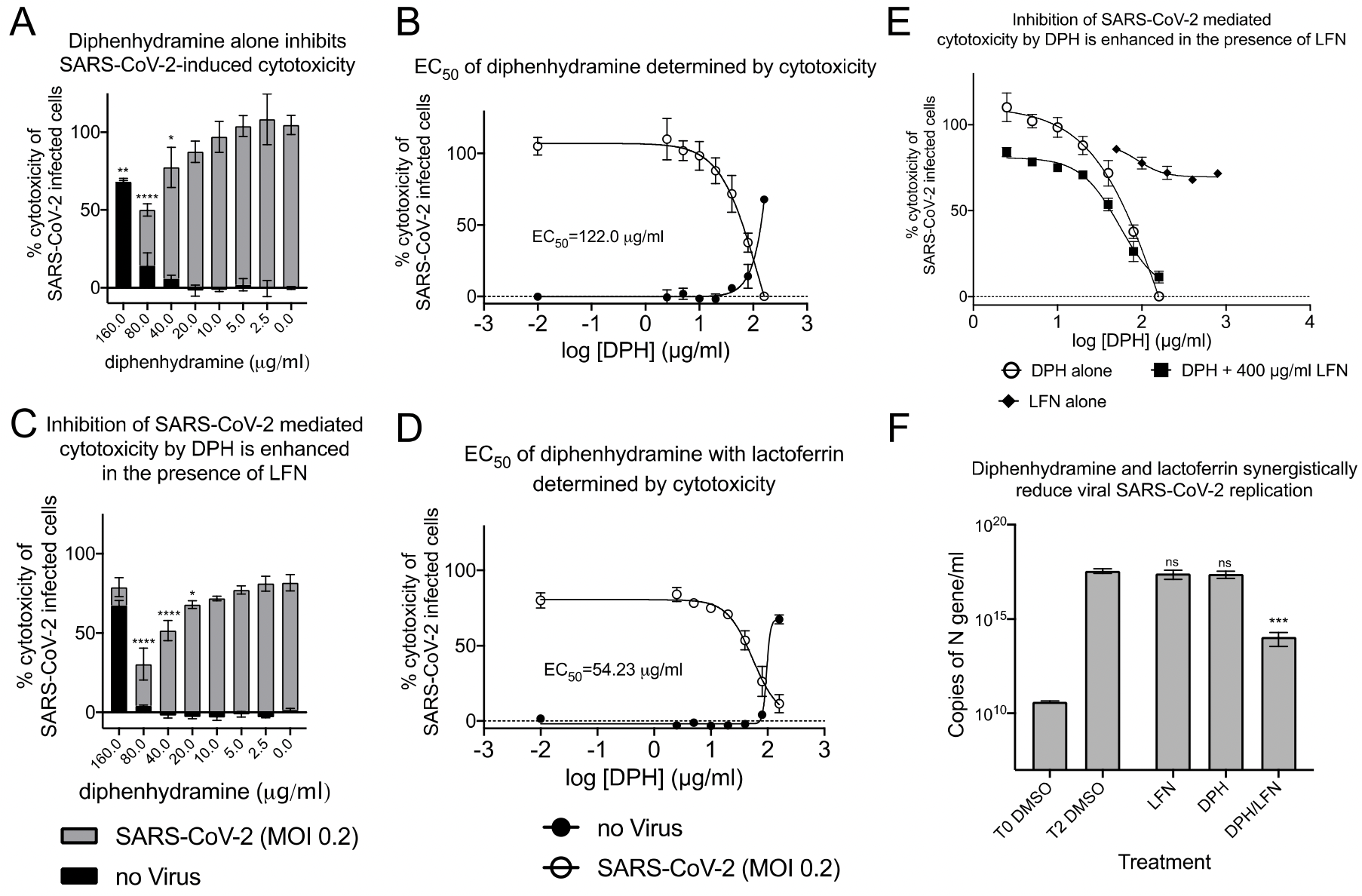 Ostrov et al., 20 Nov 2021, peer-reviewed, 16 authors.
In Vitro studies are an important part of preclinical research, however results may be very different in vivo.
Highly Specific Sigma Receptor Ligands Exhibit Anti-Viral Properties in SARS-CoV-2 Infected Cells
Pathogens, doi:10.3390/pathogens10111514
1) Background: There is a strong need for prevention and treatment strategies for COVID-19 that are not impacted by SARS-CoV-2 mutations emerging in variants of concern. After virus infection, host ER resident sigma receptors form direct interactions with non-structural SARS-CoV-2 proteins present in the replication complex. (2) Methods: In this work, highly specific sigma receptor ligands were investigated for their ability to inhibit both SARS-CoV-2 genome replication and virus induced cellular toxicity. This study found antiviral activity associated with agonism of the sigma-1 receptor (e.g., SA4503), ligation of the sigma-2 receptor (e.g., CM398), and a combination of the two pathways (e.g., AZ66). ( 3 ) Results: Intermolecular contacts between these ligands and sigma receptors were identified by structural modeling. (4) Conclusions: Sigma receptor ligands and drugs with off-target sigma receptor binding characteristics were effective at inhibiting SARS-CoV-2 infection in primate and human cells, representing a potential therapeutic avenue for COVID-19 prevention and treatment.
Controls included total LDH release as measured by lysis of all cells, spontaneous release from uninfected cells, and media alone. The toxicity of sigma ligands alone were also determined in parallel to discriminate the amount of SARS-CoV-2-induced cytotoxicity occurring in the presence of a given treatment. After spontaneous and background subtraction, OD 450 values were transformed to a percent of SARS-CoV-2 infected cells (100%) in the absence of any drug treatment to obtain percent of SARS-CoV-2-induced cytotoxicity. These experiments were carried out twice. Plaque Reduction Assay Vero E6 cells were plated in 24-well plates with triplicate replicates on different plates. Virus master mix was used to dilute down to 20-200 PFU/mL and aliquoted in separate tubes with drugs at the final indicated drug concentrations. The drug virus mixtures were immediately used to infect Vero E6 monolayers for 1 h with rocking every 10 min. Monolayers were then overlaid with MEM in 1.5% low-melt agarose containing drugs at the final concentrations indicated. Plaques were counted at 72 hours post infection and used to calculate the apparent reduction in viral concentration compared to the starting volume. Data presented is representative of two independent experiments. Generation of ACE-2 Lentivirus Particles The lentivirus containing ACE2 were generated by co-transfecting psPAX2, pMD2.G, and an ACE expression vector that also contained a blasticidin selection gene EX-U1285-Lv197..
References
Basile, Paul, Mirchevich, Kuijpers, De Costa, Modulation of (+)-[3H]pentazocine binding to guinea pig cerebellum by divalent cations, Mol. Pharmacol
Riva, Yuan, Yin, Martin-Sancho, Matsunaga et al., Discovery of SARS-CoV-2 antiviral drugs through large-scale compound repurposing, Nature
Zheng, Ma, Xiong, Fan, Efficacy and safety of direct acting antiviral regimens for hepatitis C virus and human immunodeficiency virus co-infection: Systematic review and network meta-analysis, J. Gastroenterol. Hepatol