Clinical characteristics, treatment modalities and outcome of coronavirus disease 2019 patients treated at thisday dome isolation and treatment centre, federal capital territory Abuja, Nigeria
Clinical characteristics, treatment modalities and outcome of coronavirus disease 2019 patients treated at..
,
Nigerian Postgraduate Medical Journal, doi:10.4103/npmj.npmj_532_21
,
Retrospective 300 COVID-19 patients in Nigeria treated with ivermectin, zinc, vitamin C, and azithromycin, reporting no deaths. Authors conclude that early treatment is critical.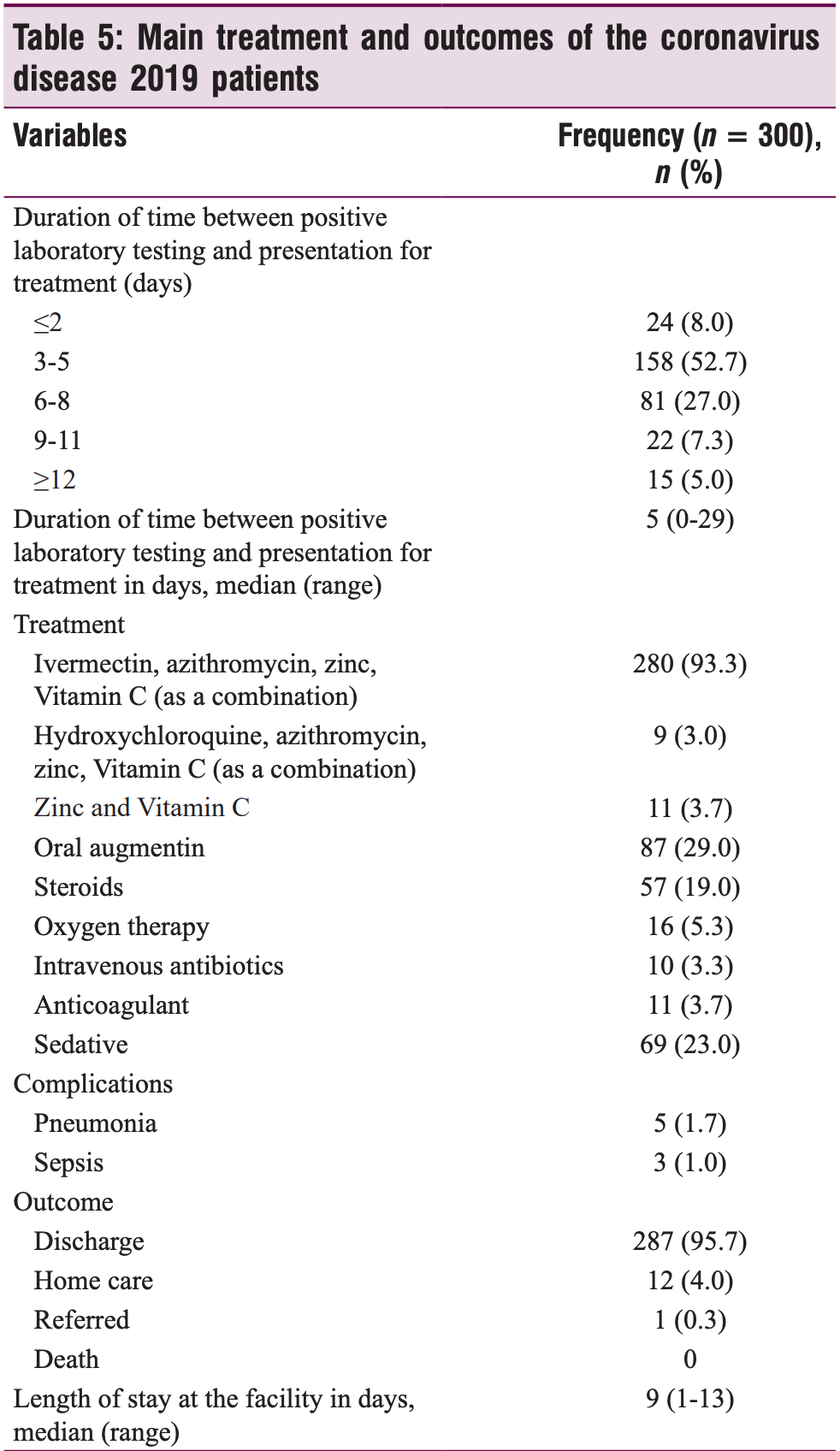 Okogbenin et al., 3 Sep 2021, peer-reviewed, 13 authors.
Abstract: [ Original Article Clinical Characteristics, Treatment Modalities and Outcome of Coronavirus Disease 2019 Patients Treated at ThisDay Dome Isolation and Treatment Centre, Federal Capital Territory Abuja, Nigeria Sylvanus Akhalufo Okogbenin1,2, Cyril Oshomah Erameh2,3,4, Ola Chikerendu Egbuta3,2, Kelly Ohis Iraoyah5,2, Joy Thelma Onyebujoh3,2, Christian Ehigbor Erohubie5,2, Akolo Yohanna Jaggu6, Raymond Onovo6, Mercy Avbuluimen7,2, Modupeola Ajibike Odewale8,2, Elizabeth Ebosebhanlen Enigbe4,2, Ehinomen Cordilia Ifada9,2, Esther Osemudiamen Okogbenin4,10 Departments of 1Obstetrics and Gynaecology, 3Community Medicine, 5Internal Medicine and 10Psychiatry, Irrua Specialist Teaching Hospital, 4Institute of Lassa Fever Research and Control, Irrua Specialist Teaching Hospital, 7Accident and Emergency Unit, Irrua Specialist Teaching Hospital, 8HIV Counselling Unit, Irrua Specialist Teaching Hospital, 9Dialysis Unit, Irrua Specialist Teaching Hospital, Irrua, Edo State, 2ThisDay Dome Isolation and Treatment Centre for COVID-19, Abuja, 6 Department of Community Medicine, University of Abuja Teaching Hospital, Gwagwalada, Nigeria Abstract Introduction: Coronavirus disease 2019 (COVID‑19), a highly transmissible viral infection has spread worldwide causing exponential increase in morbidity and mortality. But so far, there is limited information available to describe the presenting characteristics, outcomes and treatment modalities of COVID‑19 patients in Nigeria. This study aimed to describe the demographic and clinical characteristics, underlying comorbidities, treatment modalities and outcomes of patients isolated and treated in a repurposed COVID‑19 isolation and treatment centre in Abuja, Nigeria. Materials and Methods: A retrospective study which reviewed the medical records of 300 confirmed COVID‑19 patients isolated and treated according to the World Health Organisation and Nigeria Centre for Disease Control guidelines between 22nd July and 26th October, 2020 in ThisDay Dome Isolation and Treatment Centre. Data collected from the medical records include demographics, clinical features, treatment measures and outcomes. Results: Out of 300 patients studied, 61.0% were male. The mean age of the participants was 38.2 ± 14.7. Less than half of the patients (40.3%) had one or more underlying comorbidities with hypertension the most common co‑morbidity. Majority (62%) of patients were mildly symptomatic, 33% were asymptomatic while only 2% were severely symptomatic. The most common presenting symptoms include cough 34.0%, fever 30.3%, anosmia 28.7% and dysgeusia 22.7%. Older age (P < 0.001), tertiary education and the presence of underlying comorbidity (P < 0.001) were significantly associated with symptomatic presentation of COVID‑19. The median duration of time between positive laboratory testing and presentation for treatment was 5 days (0–29). All patients were treated with a combination of Ivermectin, Azithromycin, Zinc and Vitamin C with no recorded death. The median length of stay at facility was 9 days. Conclusion: Close attention should be given to patients with co‑morbidities as an inefficient management of such co‑morbidities could lead to mortalities which may not be directly attributable to COVID‑19. Keywords: Clinical characteristics, coronavirus disease 2019, Nigeria, outcome, treatment modalities
Please send us corrections, updates, or comments. Vaccines and treatments are complementary. All practical, effective, and safe means should be used based on risk/benefit analysis. No treatment, vaccine, or intervention is 100% available and effective for all current and future variants. We do not provide medical advice. Before taking any medication, consult a qualified physician who can provide personalized advice and details of risks and benefits based on your medical history and situation.
FLCCC
and
WCH
provide treatment protocols.
Submit