In Vitro and In Silico analysis showing SARS-CoV-2 antiviral activity of carageenan, and synergistic activity from the combination of carrageenan and griffithsin.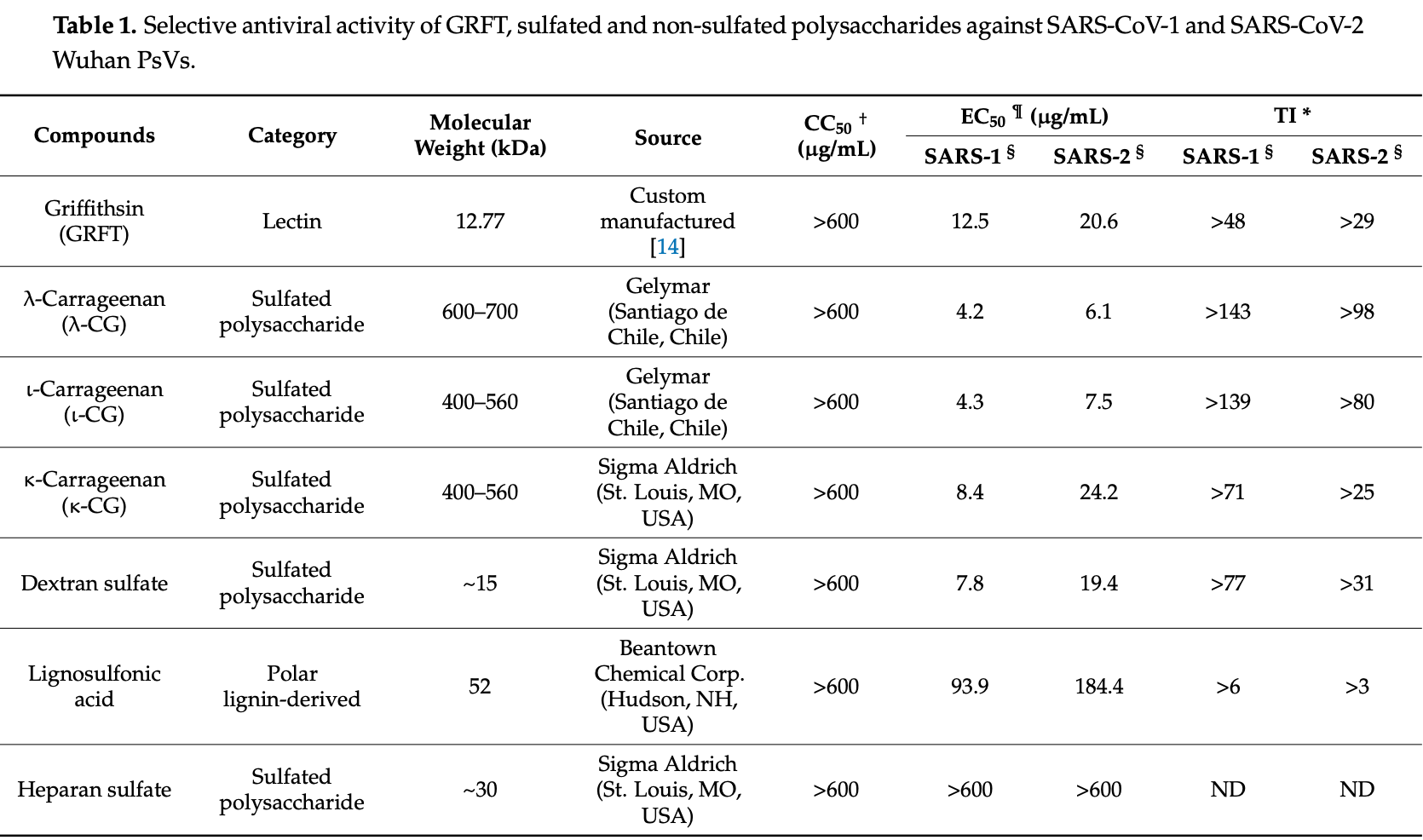 Alsaidi et al., 26 Jul 2021, peer-reviewed, 12 authors.
In Vitro studies are an important part of preclinical research, however results may be very different in vivo.
Griffithsin and Carrageenan Combination Results in Antiviral Synergy against SARS-CoV-1 and 2 in a Pseudoviral Model
Marine Drugs, doi:10.3390/md19080418
Over 182 million confirmed cases of COVID-19 and more than 4 million deaths have been reported to date around the world. It is essential to identify broad-spectrum antiviral agents that may prevent or treat infections by severe acute respiratory syndrome coronavirus 2 (SARS-CoV-2) but also by other coronaviruses that may jump the species barrier in the future. We evaluated the antiviral selectivity of griffithsin and sulfated and non-sulfated polysaccharides against SARS-CoV-1 and SARS-CoV-2 using a cytotoxicity assay and a cell-based pseudoviral model. The half-maximal cytotoxic concentration (CC 50 ) and half-maximal effective concentration (EC 50 ) were determined for each compound, using a dose-response-inhibition analysis on GraphPad Prism v9.0.2 software (San Diego, CA, USA). The therapeutic index (TI = CC 50 /EC 50 ) was calculated for each compound. The potential synergistic, additive, or antagonistic effect of different compound combinations was determined by CalcuSyn v1 software (Biosoft, Cambridge, UK), which estimated the combination index (CI) values. Iota and lambda carrageenan showed the most potent antiviral activity (EC 50 between 3.2 and 7.5 µg/mL). Carrageenan and griffithsin combinations exhibited synergistic activity (EC 50 between 0.2 and 3.8 µg/mL; combination index <1), including against recent SARS-CoV-2 mutations. The griffithsin and carrageenan combination is a promising candidate to prevent or treat infections by SARS-CoV-1 and SARS-CoV-2.
References
Morokutti-Kurz, Froba, Graf, Grosse, Grassauer et al., Iota-carrageenan neutralizes SARS-CoV-2 and inhibits viral replication in vitro, PLoS ONE
Who, Coronavirus Disease (COVID-19) Pandemic